When decorating your house, window treatments are among the most important considerations. Each piece helps to tie everything together and create a solid appearance in your home. One of the biggest challenges in window treatments is what to put in the bathroom.
"Bathroom curtains are meant to provide privacy, be durable to withstand moisture and humidity, and create an atmosphere for relaxing," explains Blake Lockwood of the blog Décor Snob.
With this in mind, there are a few window treatments that are better suited for bathrooms than others.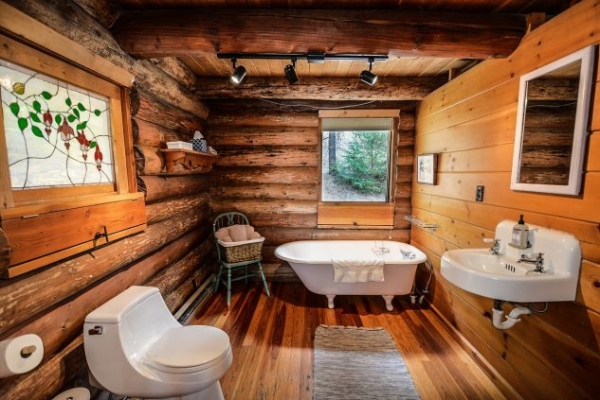 Wood shutters are among the most sophisticated window treatments, adding a touch of luxury to your bathroom. However, wood isn't the best material for bathrooms, since moisture is its arch enemy.
The solution is faux wood shutters, which offer the same look as wood but without the negatives. "The composite materials used in…faux wood shutters make them completely waterproof," says an article from window treatment retailer Blindster. "Whether you're cleaning them with water, they're exposed to rain or spills, or they're installed in a humid environment, you won't have to worry about wood causing damage to your shutters."
Although not the most sophisticated item on the list, vinyl blinds are very practical for the bathroom. This material is easy to clean, moisture resistant, and won't crack. It does a great job of providing privacy, although light filtering options are minimal.
Curtains are another functional and stylish way to dress up your bathroom. However, note that not all curtains are made from materials that can be machine washed. Some must be dry cleaned or sent out to an upholsterer, which is an expensive hassle.
Instead, get curtains made from materials you can wash. This allows you to enjoy the beauty of bold patterns and colors in your bathroom but will prevent the growth of mold or mildew and allow you to wash out toothpaste splatters.
Often called Roman shades, this window treatment fits perfectly into your window frame to offer privacy and light extinction, if that's what you'd like. You can also get light-filtering options as well.
Roller shades add a vintage feel to the bathroom. You can purchase them in virtually any color or pattern. They're also extremely functional, since they're easy to operate and install and they insulate against cold outdoor air.
Valance and Curtain Combo
There's nothing more classic in a bathroom than the layered option of valance and curtain. More and more bathroom windows are being decked out with a small gap between the upper valance and the lower curtain. It allows more light to filter through and creates greater visual interest. Again, be sure to buy machine-washable fabric.
Woven woods offer the perfect blend of light filtering and privacy for your bathroom window. They are attractive, contemporary, and can lend themselves to the overall theme of your bathroom décor.
They also come in bottom-up options so that you can block the bottom half of the window for privacy and leave the top half open for light.
You might not want to block any natural light that spills into your bathroom with curtains, blinds, shutters, or shades. However, privacy is still an issue. In this case, many homeowners choose frosted glass.
You can replace the panes in your windows with frosted glass options, although this may be a pricey update. It can add value and efficiency to your home, however, so many find that it's worthwhile.
There's also the option of adding window films to your bathroom window. It's kind of like a large sticker that goes over your window to prevent anyone from looking through. They come in a variety of patterns, which can bring additional charm to the room while affording the utmost privacy, light, and energy efficiently.