As any other room in our home, the bathroom has to be well designed and equipped with all the necessary elements. And it is very important to have enough storage space for the toiletries, the towels and everything that found its place in the bathroom. Many people had storage issues in their bathroom, whether they have a small or large bathroom, especially those who have a small bathroom. They often don't have enough space to store all those bathroom must-haves, especially the towels that maybe take most of the available space in the cabinets. That is why here you have 15 simple and inexpensive DIY towel holder ideas to help you keep your bathroom uncluttered and well organized.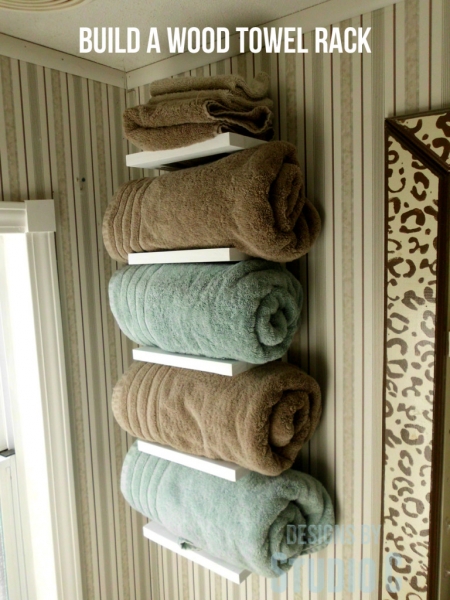 Repurpose two old wooden hangers as towel bars and create a sturdy place to hang a towel by anchoring a piece of dowel to the wall before attaching a hanger with screws.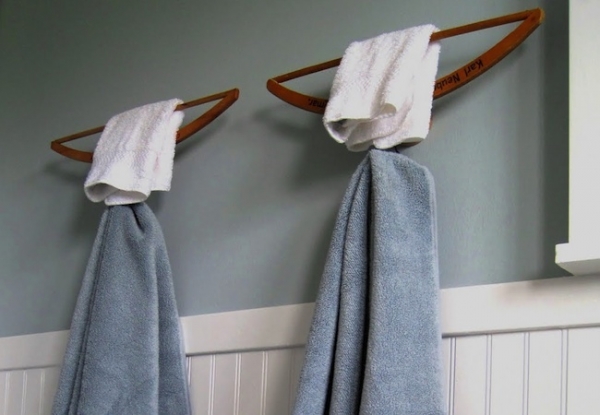 You can make a vertical shelving unit for your towels and add a small hook at the bottom of the section for the hand towel. This will free up more space for your regular towels, and you'll have easy access when you need to dry your hands.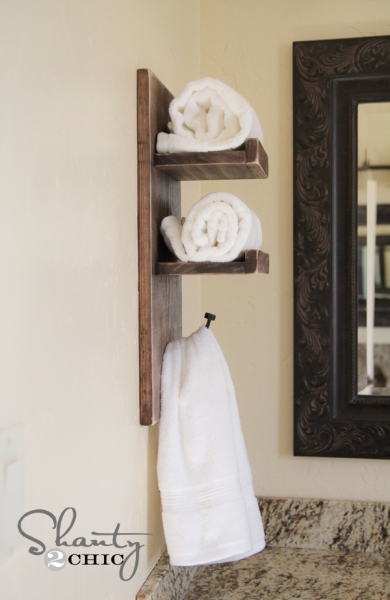 Choose to decorate the ordinary hooks and make them an attractive detail in the bathroom.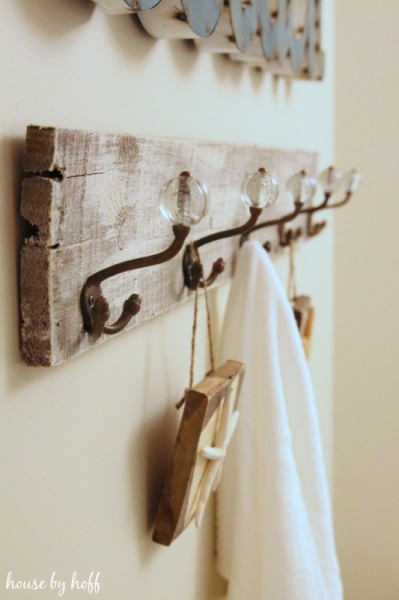 A few feet of rope can be a perfect towel rack for the bathroom, especially if you are looking for an easy DIY project. Tie the ends of the rope in knots and secure with a little glue. When hanging your rope, be sure it is taunt enough that your towels won't touch the floor when hanging.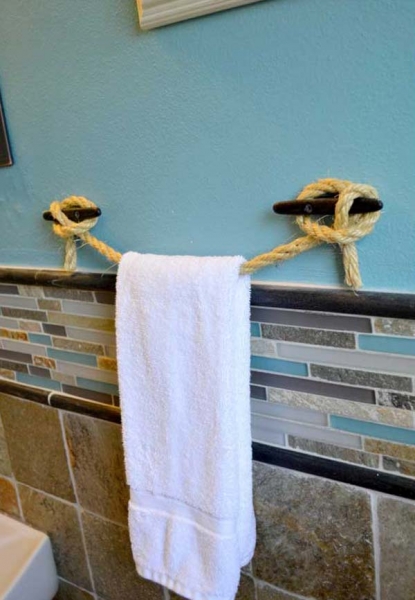 A few plastic tubes and rope can also be used to create an effective bathroom hanging rack.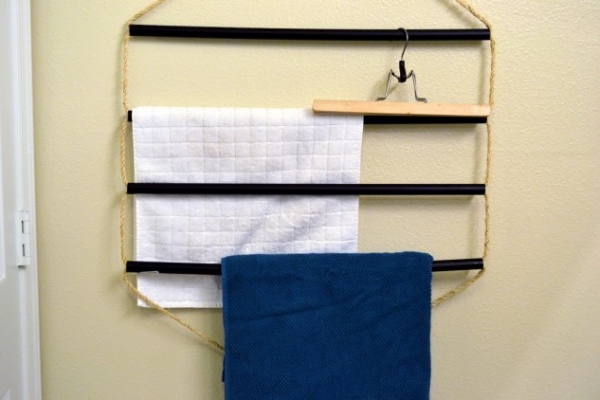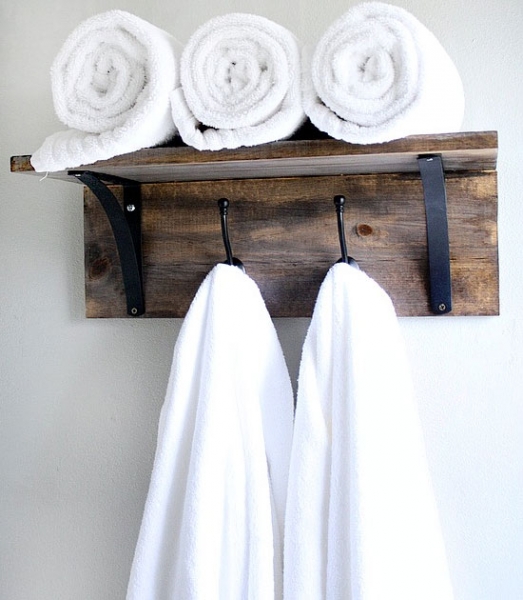 A wooden basket with interesting shape can be hanged on a hook in the bathroom and can be used for storing the towels. We must admit it provides a decent storage space.
Or, you can use some tin cans and use them to store your folded towels. This way they will not take up much space and will stay organized.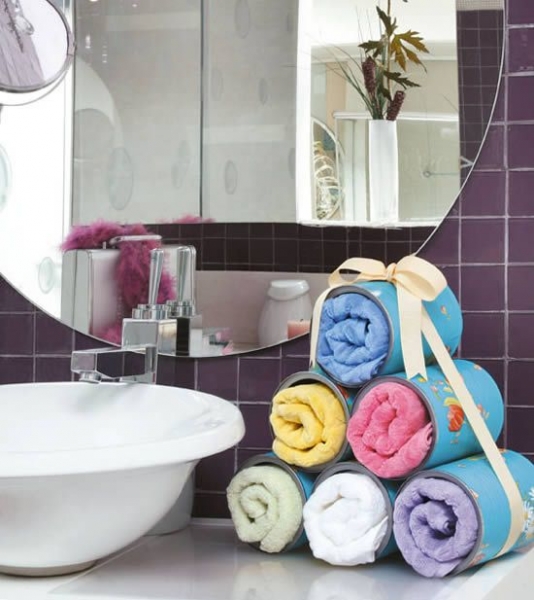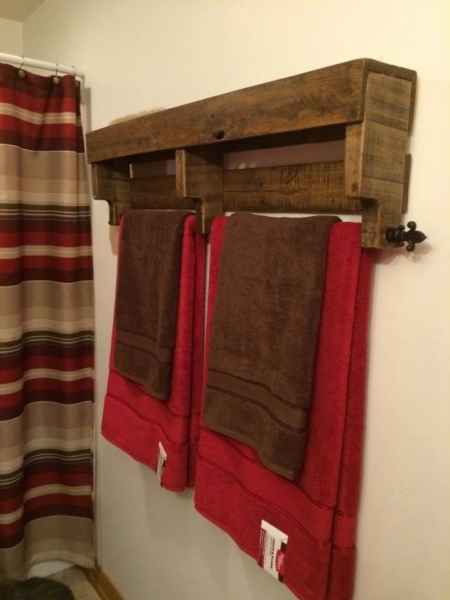 Some old picture frames can also e repurposed and used to hang the towels in the bathroom. Hang two on the sides on the wall close one to another and the one that will serve as a hanger should be attached to them to have enough space for hanging the towels.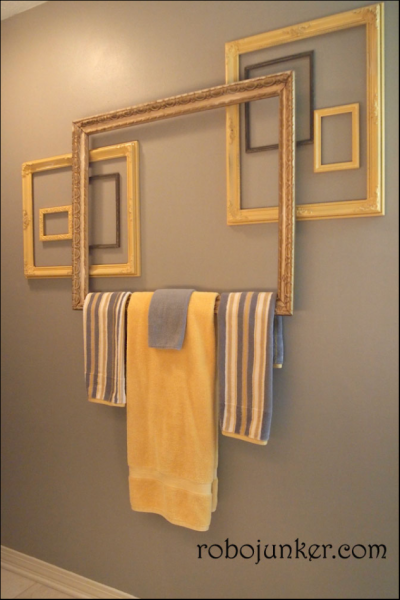 Wood is always welcomed in our interior decoration, so it is to make a nice towel rack. Wooden crates or a wooden ladder are another option for storing towels in the bathroom.