If you have small bedroom and have so much stuff it can easily get cluttered, messy, and completely disorganized. In this case it is very important to organize your things the best way possible and to have everything clean and tidy ready for use. Probably you are familiar with clothes on the floor, on the bed or on the vanity chair because they couldn't fit in the drawers, makeup spilling all over the vanity, and just tons of little things literally everywhere in the bedroom. The ideas below are inspired from these problems and they show some bedroom organization tips that will help you no matter what issues you're having. If you want to clean and tidy up your small space in the bedroom, these ideas will definitely be helpful. Here are 15 inventive organization tips to cleverly make use of small bedroom space. Enjoy!
1. Drawer Separator
Keep your drawers more organized with this separator.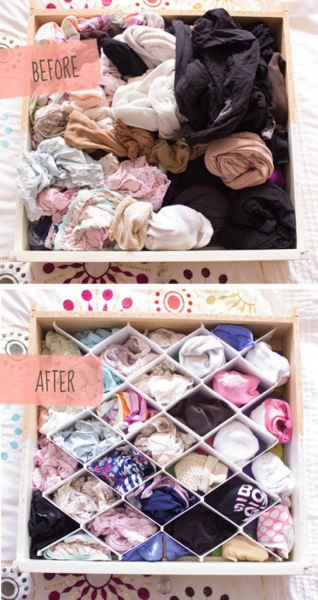 2. Roll up the clothes to free some space
If your clothes are taking over your room, try rolling them up instead of folding. It takes up less space.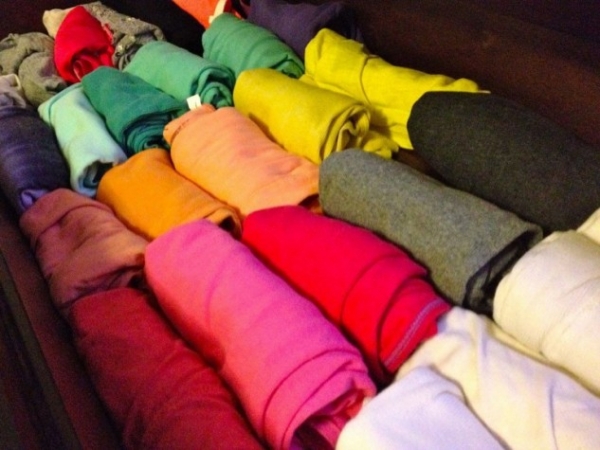 3. Floating Nightstand
If you don't have space to place a bedside table right next to your bed, this floating nightstand is a very good alternative and it can still hold the essential things.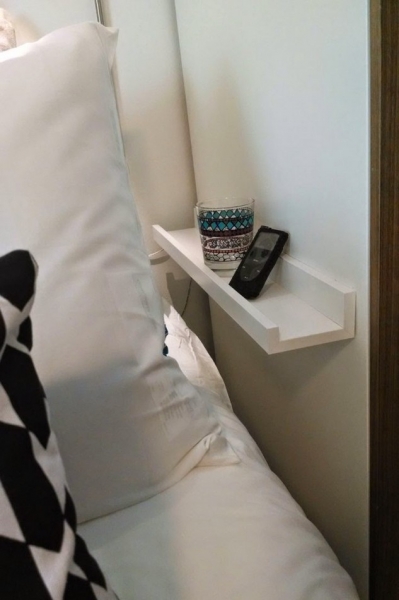 4. Corner Shelf
Recycle this old magazine holder into cute corner shelf for your bedroom.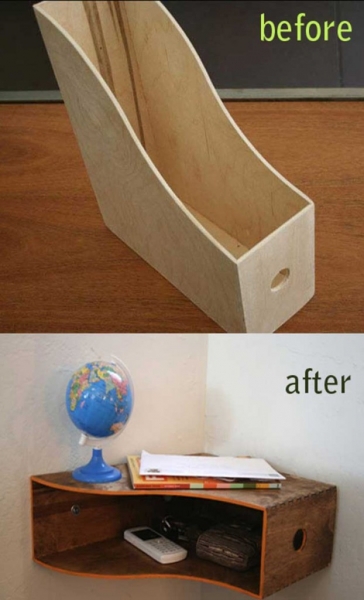 5. Organize Your Makeup And Jewelry
Put pretty bowls in there and organize your jewelry and makeup inside so you can find easily every piece you need.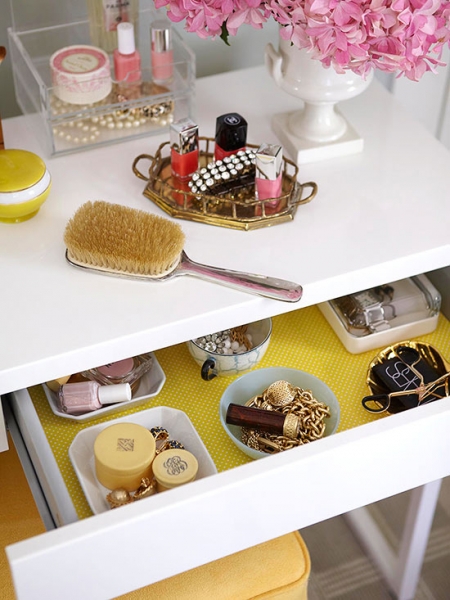 6. Display Your Perfumes
A decorative stand makes a big difference. Instead of letting a tone of perfumes to take up the whole space on this side table, buy a cake or cupcake stand that takes up less room while still holding all your stuff. You can put anything on this, not just perfumes.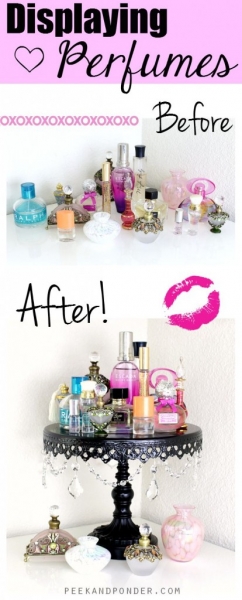 7. Hidden power strip
Instead of taking up space on a shelf or something, set up a charging station instead of a drawer next to your bed. It keeps things out of the way and organized.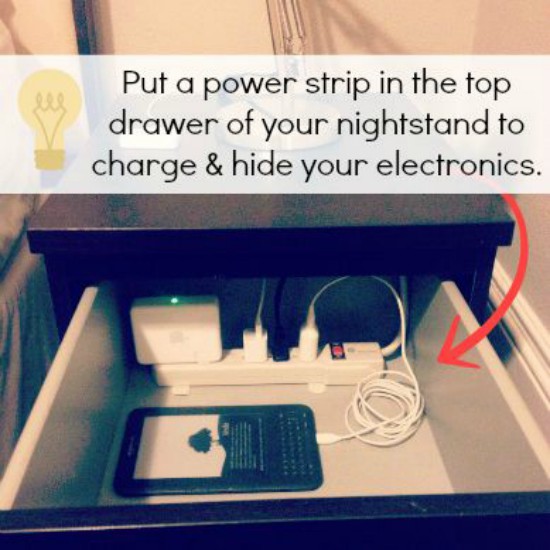 8. Bedside Organizers
These bedside organizers are worth purchasing because they will save you space and you still can store in them a bunch of stuff.
9. Use the door
If you are searching for more storage space your bedroom door or closet door can also serve well. Use that space to hold as much stuff as you can. You can put hooks for hoodies or bags, magnetic strips…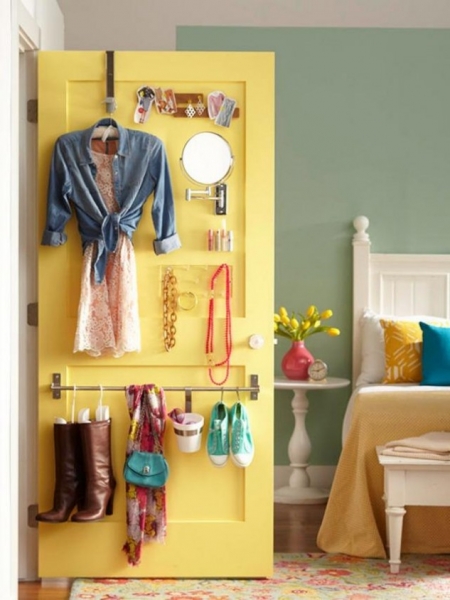 10. French Memory Board
Don't let important things get lost in your room and make this little board to hold things you need to remember. If you don't have space for a nightstand to store miscellaneous notes, make a reminder board.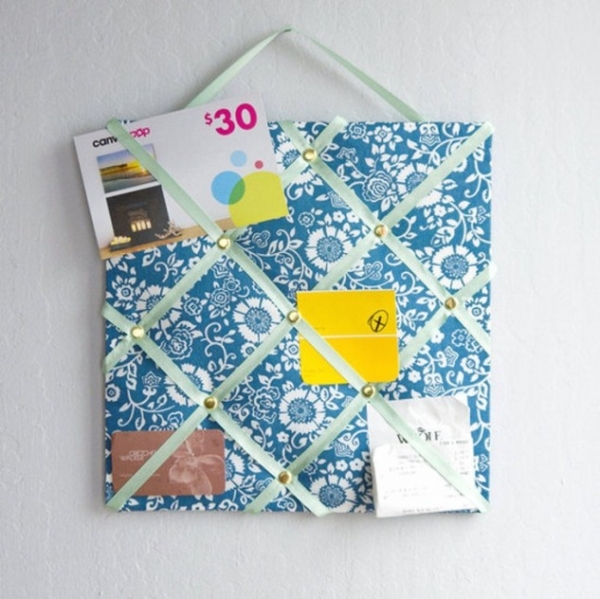 11. Use The Space Under The Bed
If you have a small room, you should definitely try storing as much as you can under the bed. Make it more organized by getting a shelf unit like this one.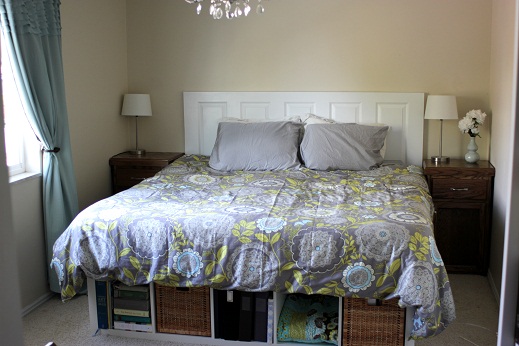 12. Shelf With Lights Above Bed
If you need more lighting by your bed install lights into the bottom of a shelf above your bed. This way you'll get storage space and lighting.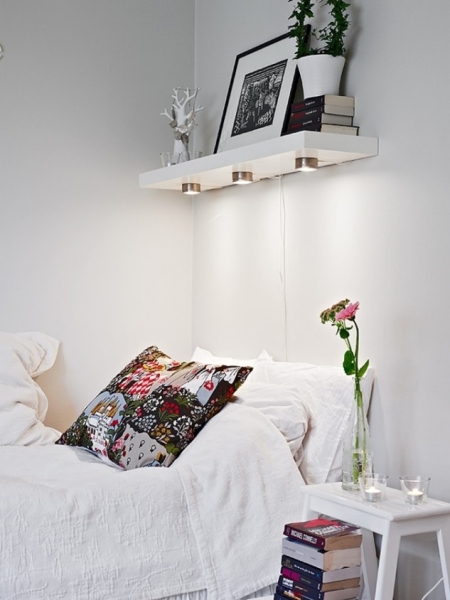 13. Shopping Bags As Storage
Display pretty shopping bags without taking up room and save on space by using them as storage hanging them on your walls.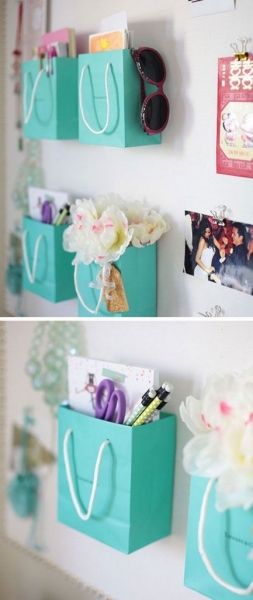 14. Phone Pouch
Up-cycle a plastic water bottle and turn it into a phone charging station. Smart and space saving idea.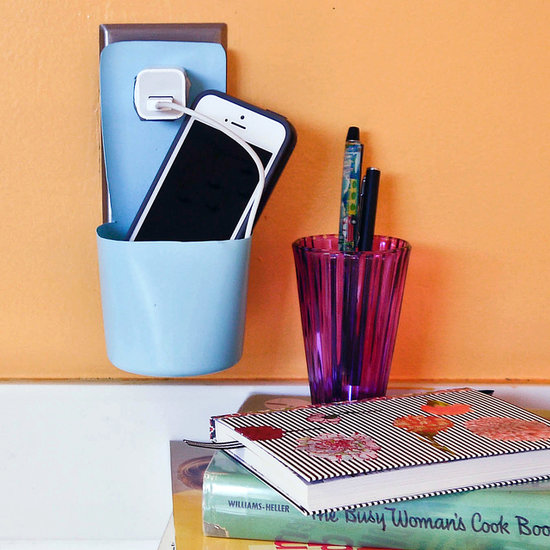 15. Bags Storage Solution
Hang your bags in the closet or on the wall instead of letting them take up space elsewhere.