Waking up to a boring bedroom with some dreary color walls can be pretty depressing. So here are some ideas of colorful bedrooms and how to include some bright colors in yours too.
1.Green and mustard combination
This green and mustard combination works great and it gives a a bit of a garden feeling. The green fabric used around the window and mirror is the same as the on used headboard of the bed and seats bellow the window.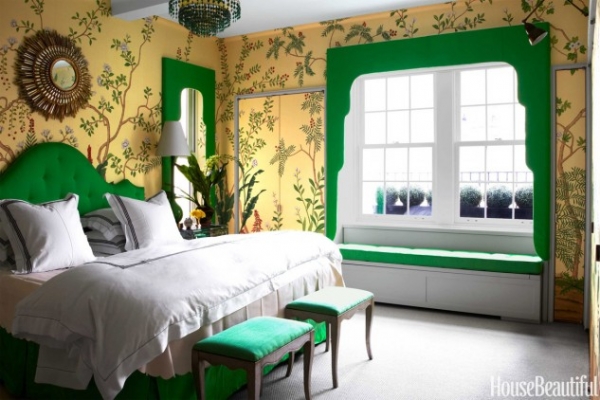 2. Aqua and Tiffany blue combination
This combination is very easy on the eyes and never goes out of style. It gives you a nice comforting feeling and in the same time it is still very classy and elegant.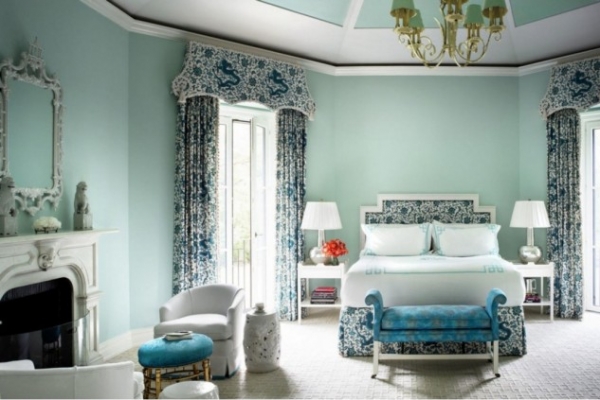 3. Pea green
You always need a little softness in your bedroom and that is why this pea green and silk combination is a perfect choice for your bedroom.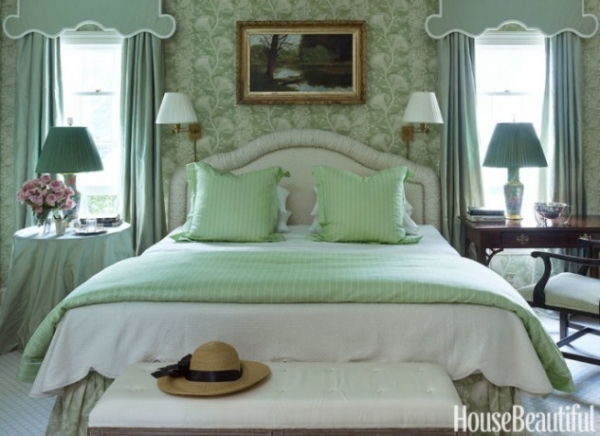 4. Mint green
This light colors combination can be used for a children's as well as an adults bedroom. The combination of lime green, turquoise and mint look perfect with this well lit room.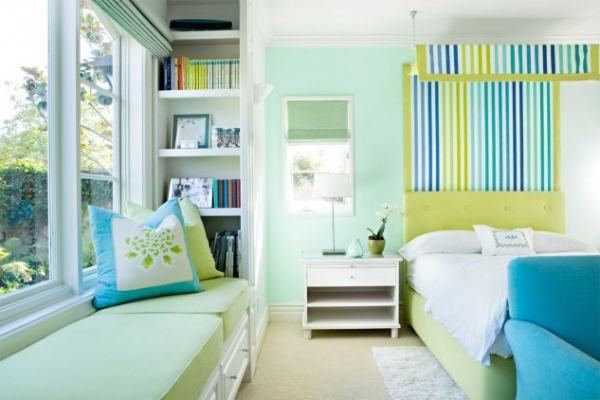 5. Purple and blue
These turquoise and lavender shades give a beautiful pastel tonality to this bedroom. The purple shades implicate that it is a girl's bedroom but not necessarily too girly and make this room youthful and sophisticated.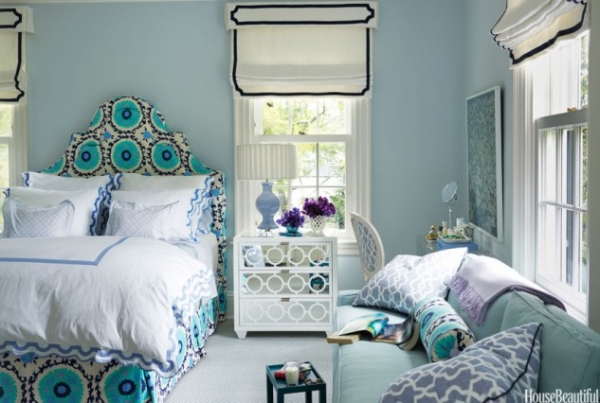 6. Silvery blue
This kind of coloring is perfect if you are a fan of a little 'Hollywood glam'. It has grey silk-satin headboard, mirrored bedside tables, also grey sofa and a beautiful sun shaped mirror over the bed which makes this bedroom glamorous and sophisticated.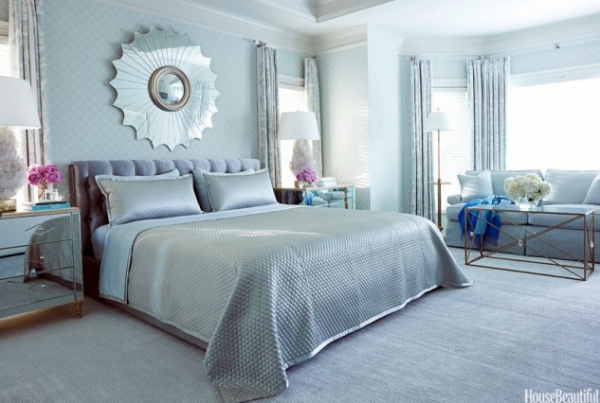 7. Peacock blue
This peacock blue on the walls works perfectly with the combination of earthly brown used on the bed and the clover shaped mirror. The magenta pillow and armchair add a bit vividness to the room.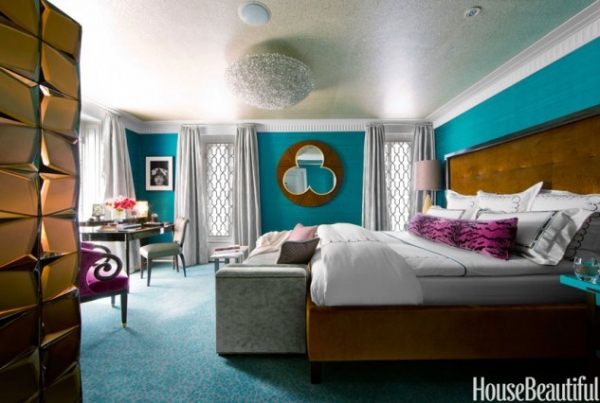 8. Navy blue and red
This navy blue walls work perfectly with that red leather headboard. The lavander drapes, lamps and pillows soften the tonality in the room.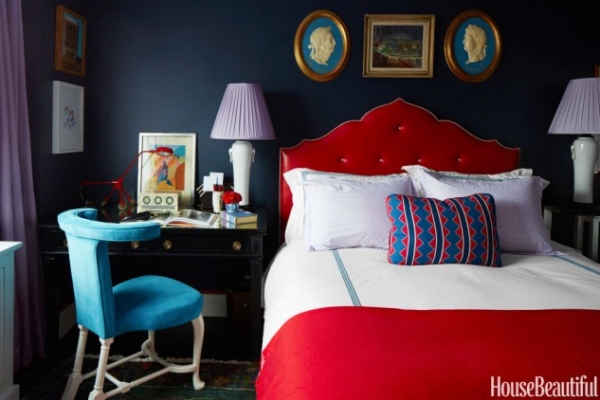 9. Green and cream
This creamy bedroom combined with the green walls make this place feel inviting, soft and inviting.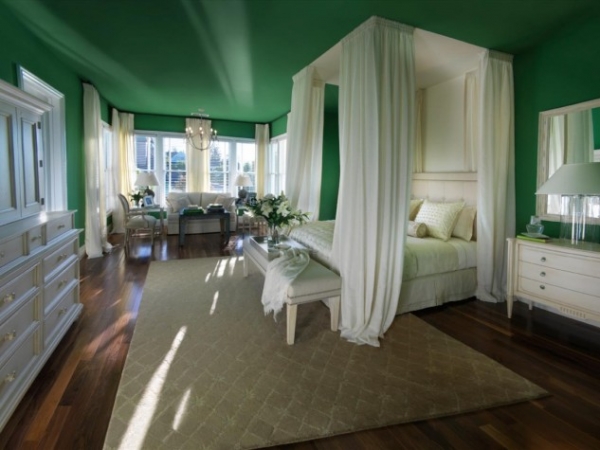 10. Shades of greens and browns
Using these soft colors, this bedroom gives you a feeling of calmness and has a spa-like design.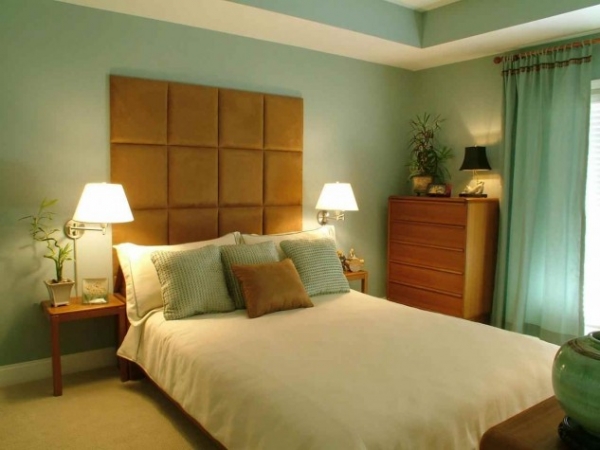 You can use all of these examples of color designs in your own bedroom and give it a bit more vividness and elegance.