Where inspiration is found in the midst of war
Creative professionals are professionally sensitive to subtle changes in contexts. The war changed the contexts violently. Radically new needs of the audience dictated new forms of information presentation.
At the same time, creative people look for new sources of inspiration and give advice to their own devastation and apathy. How have priorities changed? From what does the construct grow in the midst of danger and grief? How does the epicenter of a historical event affect communication design?
Creative agency Twid invited its colleagues to collect moodboards: about what inspires them, as well as what they would be interested in implementing in the near future. A moodboard is a familiar tool of a creative's work, and looking at it now, we can trace where new design trends are born.
Each of the participants did it in their own way. So you will find a diversity of approaches and visual experiences, and at the same time many common images.
"FOR A CERTAIN TIME IT SEEMS LIKE ALL THIS DESIGN, ADVERTISING, IT IS SO UNIMPORTANT COMPARED TO WHAT IS HAPPENING IN UKRAINE NOW" – ANYA POLY, UX/UI DESIGNER.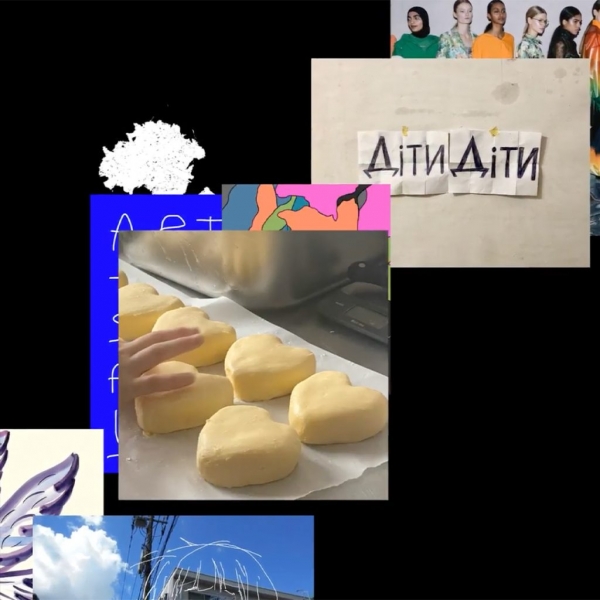 Anya fled Kyiv from the rockets to Warsaw. Together with friends who experienced the same thing, they chanted: "Close the sky over Ukraine" at the demonstrations. In Warsaw, Anya designed communication materials about fundraising for body armor for the army and is now mastering a new tool, Webflow. After all, "if I continue to use Tilda, I will be sponsoring the enemy."
In the moodboard, Anya showed design practices that became more relevant for her, and also shared her thoughts on how her visual perception has changed.
"THE DESIRE TO SEARCH FOR A BALANCE WITH MAXIMUM CONTRAST, TO COMBINE UNCOMBINED THINGS IS EVEN MORE STRENGTHENED" — ALEX TWISTA, CREATIVE DIRECTOR.

"I changed my attitude towards the combination of yellow and blue very dramatically. There was a desire to combine these colors and find connections with others. The military began to be interested in aesthetics: manufacturability, clarity, khaki, chevrons, technology. The desire to find a balance with maximum contrast, to combine incompatible things, increased even more. One of the sources of this contrast is children."
"History, the search for inspiration and forms in the past is of great interest now. In particular, in ethnicity. The love for naive illustrations and for the combination of digital and offline craft increased. Much beauty and solutions are found in nature, so plant images are used literally. As well as the state of openness and transparency. Also literally. Now one of the main indicators has become the speed of implementation. So this is served by the use of ready-made material, a greater emphasis on text, screenshots, live photos," Alex adds an annotation to his moodboard.
"I WANT TO LEARN TO TAKE EVERYTHING INTO ITS COMPONENTS" — LINA-MARIA SHLAPAK, POSTER ARTIST, DESIGNER.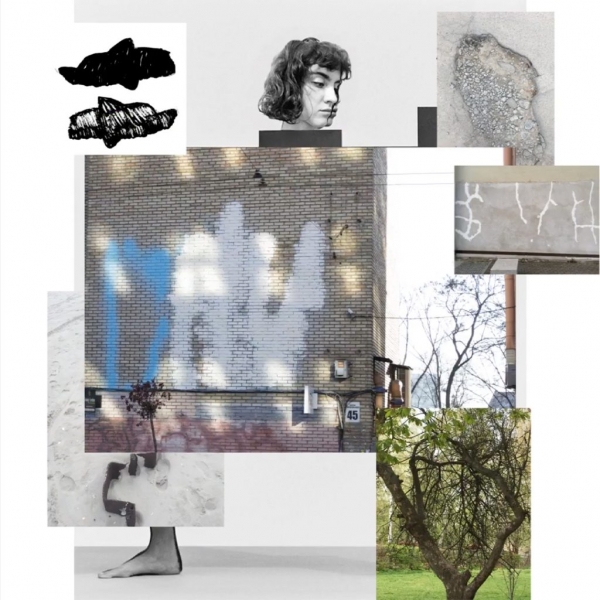 "My moodboard is a constructor. Now I am inspired by the opportunity to assemble and disassemble something from the details. For example, elements of the street space that can be transformed into components of a picture or concept. I don't know if it was the war, but these days I often feel torn apart and have to put myself back together. Collect from what is around. I want to learn to take everything apart. Maybe that's how I'm looking for some sort of orderliness, when there's none around me at all."
"War gives me more certainty about what makes sense and what doesn't" – Kost Kalyukin, creative copywriter.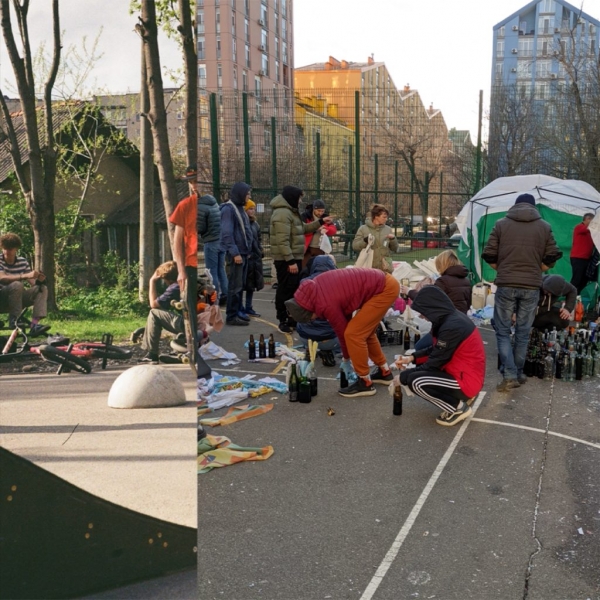 "Collected my moodboard from impressions of military tourism about actions and moods. Farther from the front, brighter clothes, closer – more inventive ways of volunteering. The rear cities fill the gaps of national identity with active cultural activity."
"I observe how people actively acquire new skills, learn on their own initiative or due to circumstances. War gives me more certainty about what makes sense and what doesn't. My profession now has tangible benefits for the community — it brings money into the economy from the outside. My creativity captures reality, which will then have to be reflected. I made my moodboard from these pieces of reality."
"MY TASTE USUALLY DOESN'T CHANGE AND I ALWAYS LIKE THE SAME THINGS" – MASHA BYSTROVA, ART DIRECTOR.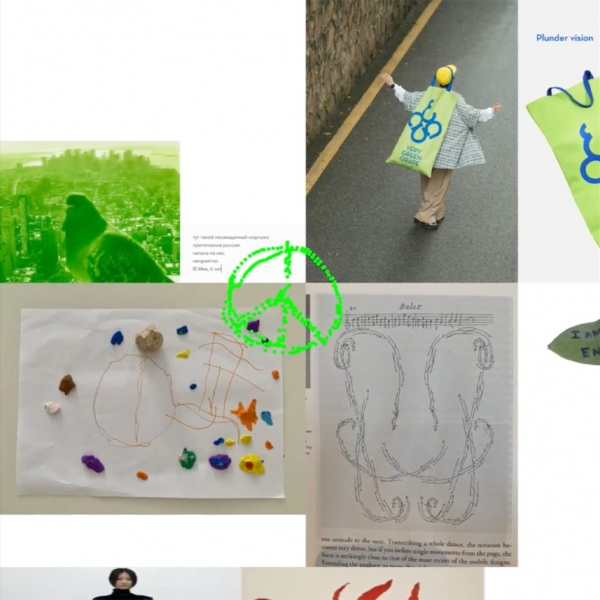 "At the end of April, my husband and I returned to Kyiv, home. During this time, the struggle was divided into two directions, apparently, as it is with most civilian Ukrainians now. The first is a little help with the packing of the humanitarian box, helping the elderly and, of course, sending donations. The second is to adjust one's life and state in such a way as to have at least some productivity, remain a consumer of goods and services, continue to work and enrich the economy. And both "fronts" are very important for our victory. A lot of things began to look, be perceived and valued differently in all this. I wrote these thoughts in my moodboard."
Moodboards are a request for a person's inspiration and mood. Among those collected here, two aspects attract attention:
1) images are able to compete for attention with war and influence the mood;
2) direct manifestations of war, which in some places can inspire humanity and indicate the need for new ideas.
What can a creative specialist find inspiration in when it is necessary to create new narratives in tragic conditions.
Certain trends are already being followed by creative materials. Time matters more, so it has become more important to quickly convey an idea, quickly achieve a result. So the focus has somewhat shifted to working with the text, it conveys information more easily and clearly. And various forms of decoration recede into the background or disappear.
Ethnic images have become common and are being reinterpreted. Now creative people are inspired by national culture, look for its most interesting and relevant manifestations, and modernize them. This often leads to a contrast between technology and tradition.
As well as the global economy, Russia's war with Ukraine will have an irreversible impact on visual culture and communications. Ukrainian creatives are now at the epicenter of these changes and feel them most sharply and radically. Will these new trends become a prototype for what will happen in culture in other parts of the world? Time will tell. But even now it can be argued that world design cannot remain inert before this war.