The Media Architecture Biennale 2023 (MAB23) will be held on June 14-15 (online) and June 21-23 (in-person) in Toronto, Canada. This event provides a platform for research and practice communities concerned with media and the built environment, and includes keynotes, roundtables, and awards. MAB23 aims to bring together professionals from various fields such as architecture, art, design, urban planning, media and communication, urban informatics, and public policy to share new ideas and shape the evolving field.
One of the themes for MAB23 is (Dis)engagement. This theme explores the role of media architecture in the proliferation of "smart city" plans and platforms of data representation and capture, and how it is resisted, reworked, or rejected in theory or practice. It also considers the potential of media architecture to address issues of trust, safety, and consent in digitally mediated urbanism.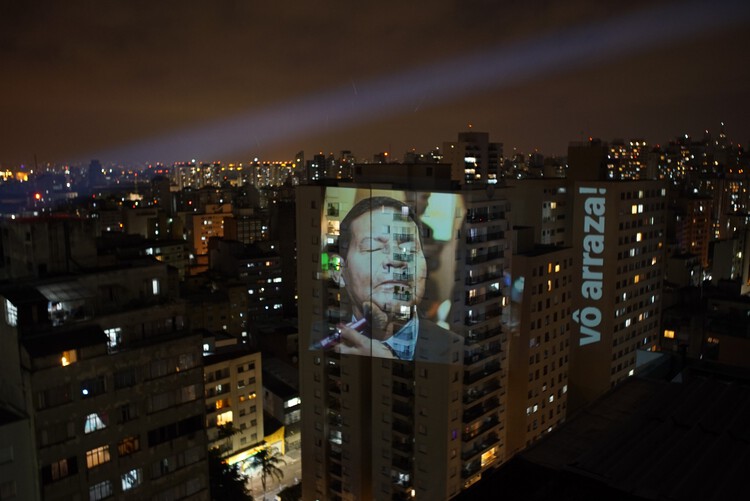 The Participatory Media Architecture and Infrastructures category is associated with the (Dis)engagement theme and is one of the seven MAB award categories. This award seeks projects that engage with the social and political life of the city and empower citizens to take part in collaborative city-making, particularly through processes of placemaking and placekeeping. It also highlights projects that encourage exchanges between citizens for civic engagement or management of urban infrastructures and shared resources.
Two examples of this category are Megaphone and Guerrilha Projects against Bolsonaro, both of which were nominees for MAB20 awards. Megaphone was a large-scale urban installation in Montreal's Quartier des spectacles, where visitors spoke into a giant megaphone, and their voices were translated into images projected onto the façade of the Université du Québec à Montréal's Kennedy Building. Guerrilha Projects against Bolsonaro were guerrilla projections in Sao Paulo, Brazil, against the government of President Jair Bolsonaro. These projects illustrate the potential of media architecture to engage citizens in collaborative city-making and political action.
An additional striking instance is the Guerrilha Projects against Bolsonaro, a more recent creation by Alexis Anastasiou during the COVID pandemic's peak. Trapped in his São Paulo apartment during the city's prolonged lockdown in 2020, the artist projected protest images aimed at the Bolsonaro government onto nearby buildings in the crowded downtown area. Accompanied by the cacophony of São Paulo residents protesting in the background, images of Bolsonaro—some masked, others imprinted with words like "Genocida" and "Impeachment"—lit up the night sky. These projections rapidly spread on social media and were picked up by global news outlets. In a time when Brazilians were infuriated with Bolsonaro's disregard for the pandemic that claimed nearly 700,000 lives, and unable to assemble in public, these projections embodied a potent collective visual language of opposition.