LANO FRUITS Office / Laura Ortín. Image Courtesy of Laura Ortín
From assigned cubicles to open plan coworks, workspaces have been transforming their design strategies following society's changing lifestyles. While traditional layouts encouraged more independent work (avoiding social distractions), adjusting to new technologies and ways of thinking has enhanced productivity while respecting communication, wellness consciousness and the benefits of feeling comfortable at work.
Architects have followed these changing trends, proposing diverse workspace typologies, adapting to multiple working styles, and organizing them to create optimal productive spaces. Among them, Spanish women-led architecture offices from different backgrounds and styles stand out for introducing layouts that redefine what is commonly known as a workspace. Below we present a selection of innovative refurbishment projects, all of which showcase flexible and dynamic workspace design.
From Laundry Room to an Open Studio
Led by Anna Puidjaner and Guillermo Lopez from MAIO's design team, the project involves the conversion of a former washing house into an open studio for a variety of architecture and design professionals. Embracing the complexity of changing work spaces, the proposal arises from subtle interventions for an open space that encourages interaction between users and the city.
Making use of a continuous 40-meter long space –with extremely poor lighting– the design strategy opens the patio and divides the space into two areas. Destined for social activities, the front area opens and connects with the city, while the rear side develops the main workspace around a 12.5 meter long table. Rethinking the existing walls to add three new large windows enhances the relation with the outer space while turning intermediate thresholds into habitable spaces.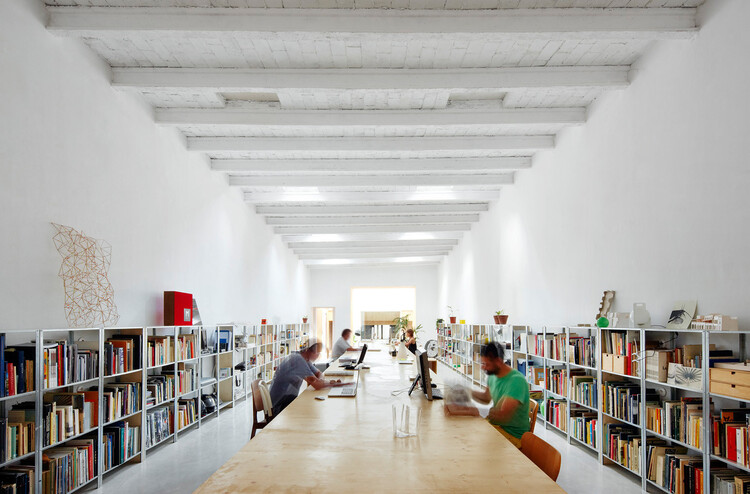 MAIO Studio / MAIO. Image © José Hevia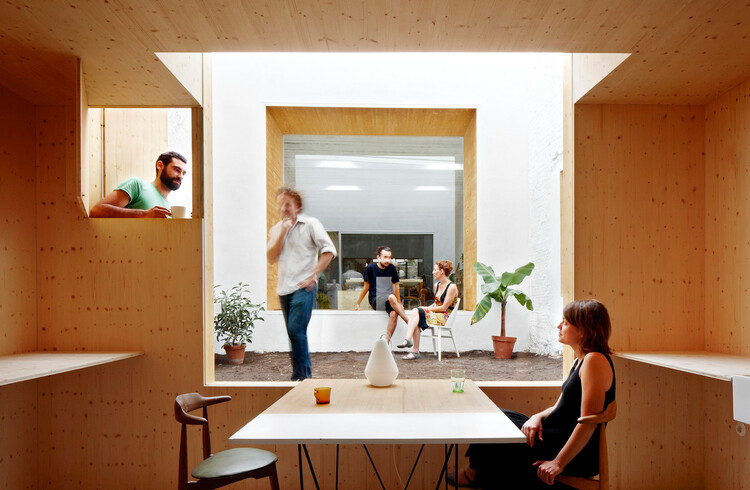 MAIO Studio / MAIO. Image © José Hevia
Coworking Inside the Gracia Neighborhood
Inspired by the character of the Gracia neighborhood –which combines a rural preexistence with modernist buildings such as Casa Vincens, a nature-inspired aesthetic with varied ceramic artisanry– Izaskun Chinchilla's architecture office develops a coworking space for social interaction surrounded by cultural heritage.
Emulating Casa Vicens' materialism and raw origins, the proposal plays with clay-colored tones and ceramic traces scattered throughout the facade and interiors. Naturally inspired, the design not only incorporates trees for creating a green environment, but also uses their geometry, color and material as a guide for the illumination, electrics and wall finishes. In addition to the small scale, all these layout strategies –for a relaxed, cozy and natural interior atmosphere– aspire to encourage a closer relationship between users. Escaping from the urban stress of the city, a hidden garden enables a space for calm and decompression.
As a complement to the overall strategy, the design proposes sustainability as one of the main priorities, where solar panels and passive ventilation techniques lower energy consumption.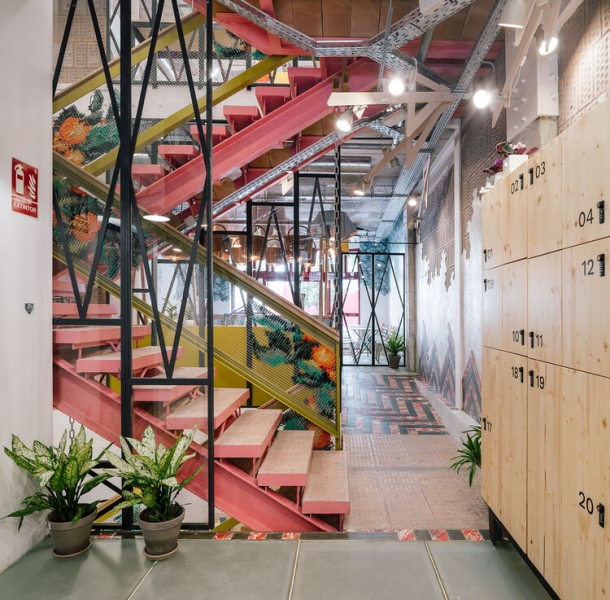 Utopicus Clementina Cowork / Izaskun Chinchilla Architects. Image © Imagen Subliminal (Miguel de Guzmán + Rocío Romero)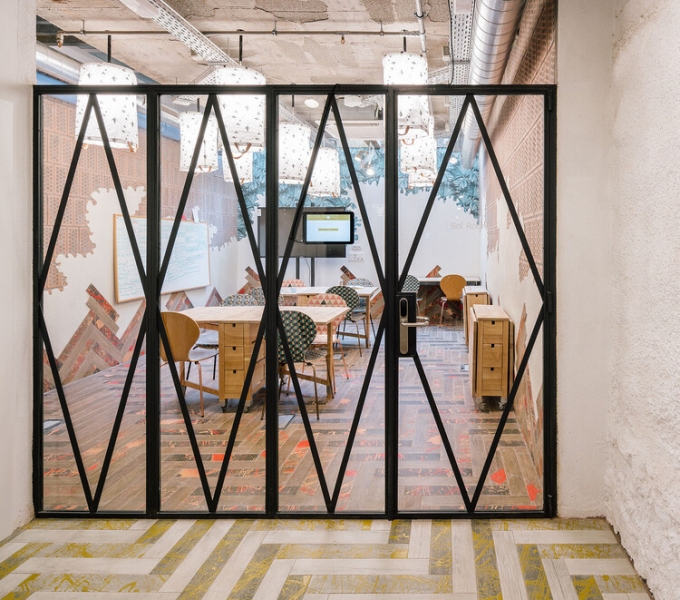 Utopicus Clementina Cowork / Izaskun Chinchilla Architects. Image © Imagen Subliminal (Miguel de Guzmán + Rocío Romero)
Workspaces for Creative Development
Designing a workspace for a creative audiovisual company –Sauvage TV– Cosy Barcelona, led by Ana Hirigoyen and Vania Gaetty, joins architecture and interior design throughout all the phases of the creation process. With a clear task for a large coworking space with multiple closed areas for recordings, the new office conveys the firm's strong personality.
Filled with natural light from large windows, the entire length of the 650m2 hangar is able to save energy while increasing the employees' well-being. This lighting also counteracts the great weight from industrial elements such as roof trusses. Inspired by the streets of Barcelona, chromaticism plays a key role for contrasting the industrial brutalism of concrete and steel with the incorporation of striking colors. The central corridor acts as the project's backbone, distributing all of the workstations and, at the same time, providing a social meeting point.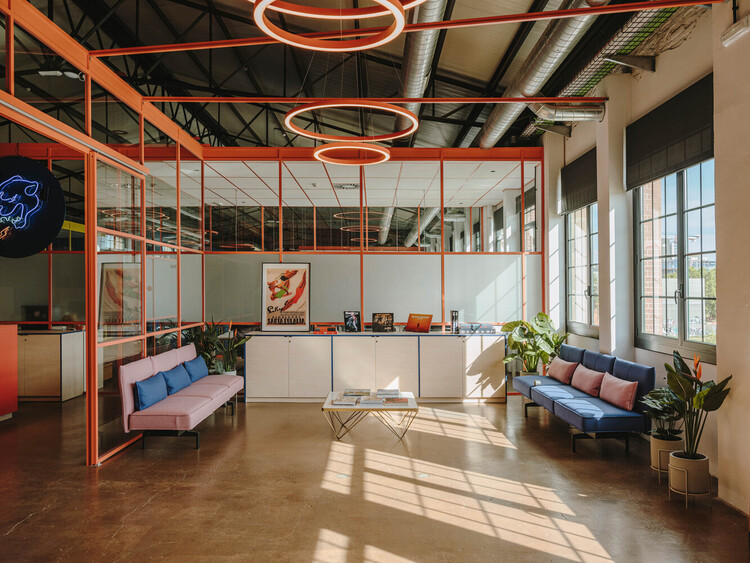 Sauvage Tv Offices / Cosy Barcelona. Image © Salva Lopez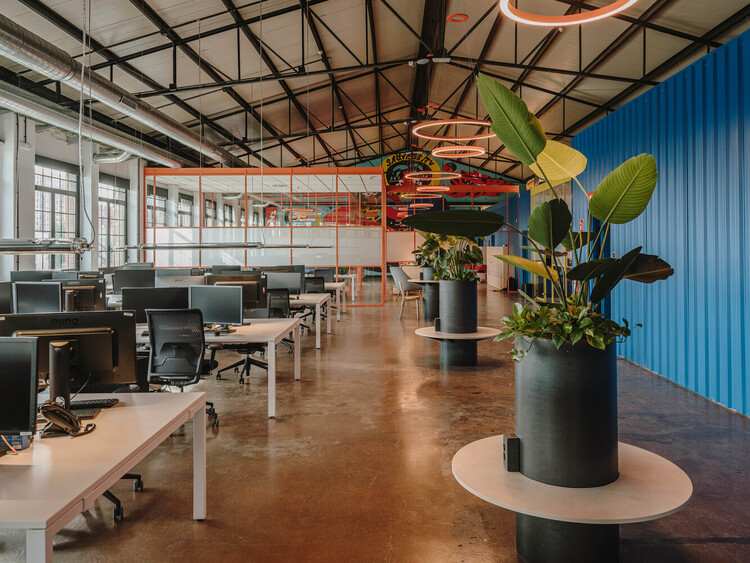 Sauvage Tv Offices / Cosy Barcelona. Image © Salva Lopez
Collective Spaces Around an Orange Tree
A distributor of fruits around the world, the Lano Fruits office is the space where all the arrangements take place. Looking to create healthy spaces for human interaction, Laura Ortin proposes a dynamic design –with open- and closable systems– where comfortability and functionality share the same space.
Refurbishing an old warehouse, a structural strategy was carried out by the reinforcement of the structure with a delicate concrete operation. Reorganizing existing installations allowed them to maintain the original height and the opening of a skylight to fill the office with natural light. With no studies, the layout uses light polycarbonate lines to differentiate spaces that surround an orange tree, emulating a small garden to balance work rhythm.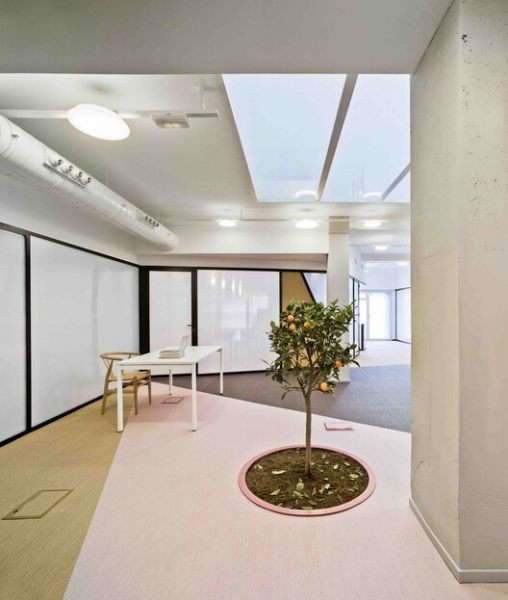 LANO FRUITS Office / Laura Ortín. Image © David Frutos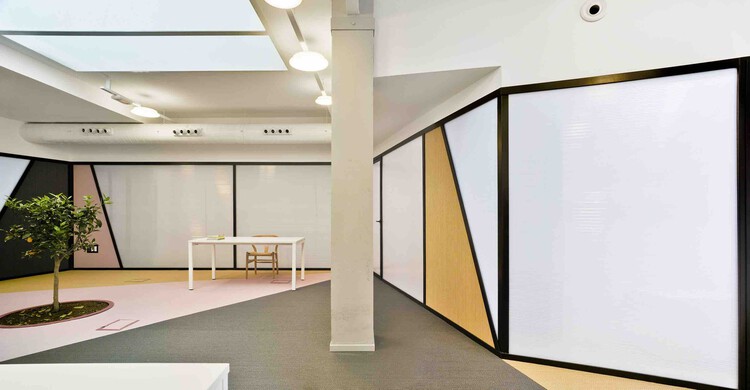 © David Frutos
Organic Lines for Dynamic Layouts
From a totally empty industrial space, Patricia Von Arend, founder and CEO of Denys and Von Arend, makes use of organic curved lines to create a new workspace layout that combines private and collective spaces.
Based on one of the company's products, bakery molds, the design incorporates the presence of patterns, repeating elements to give rhythm to the interior. Enhancing movement flow, the material strategy introduces a semi transparent metallic mesh that differentiates zones without dividing them completely. Within the different volumes inside the space, the layout conceives both permeable and nonpermeable areas that respond to the different activities that coexist in a workspace, such as meeting rooms, phone booths or focus areas.
The sum of different elements: patterns, dividers, light and a variety of textures, makes the workspace a timeless space that enhances productivity through teamwork and individual work areas, where employees interact socially and professionally in a healthy environment.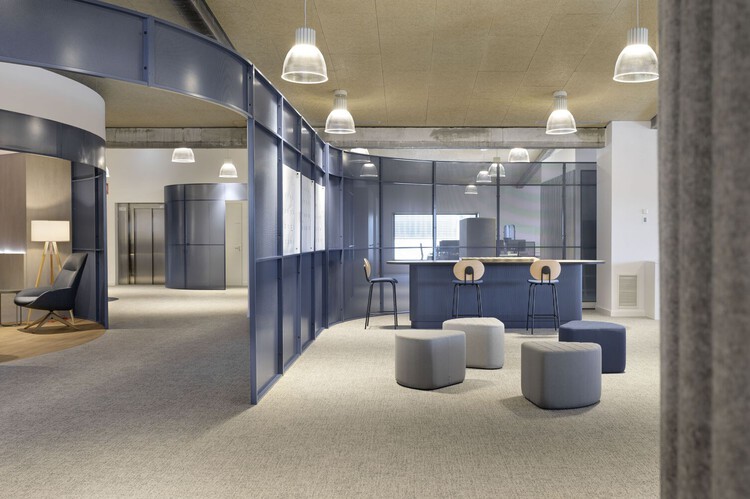 Coatresa Offices / Denys & von Arend. Image © Vicugo Studio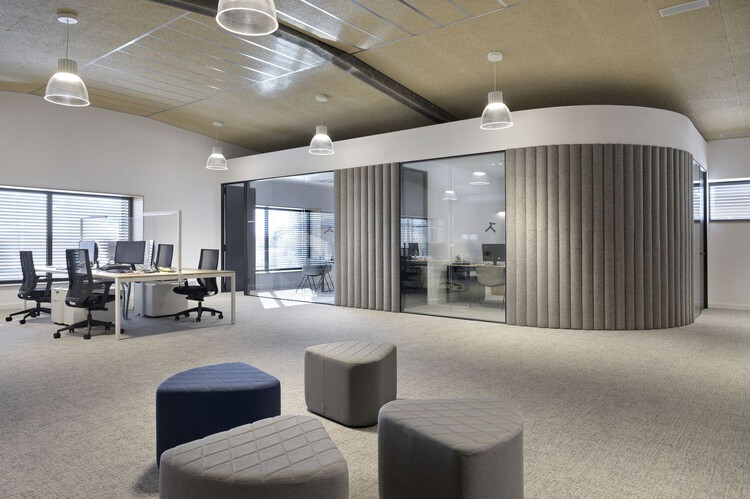 Coatresa Offices / Denys & von Arend. Image © Vicugo Studio
Find more inspiring Spanish office interior designs here.