A balanced interior with two sculptural elements side by side: the new Melt Cone floor lamp in silver by Tom Dixon next to an extraordinary cast concrete staircase by AKT structural engineers and Herzog & de Meuron at the One Park Drive resident in Canary Wharf. Image © Robert Rieger
With a simple flick of a switch, lighting has the ability to completely transform a space, define its ambiance and create a mesmerizing, multi-sensory experience. It can cast shadows and highlights, add depth and texture, and even has the power to stir emotions and influence our well-being. More than just a practical source of illumination, it's a tool for sculpting spaces and making a bold statement. Lighting fixtures come in various shapes, sizes and styles, each with a unique character and purpose; from the ornate elegance of a chandelier hanging from the ceiling to the sleek minimalism of a recessed light installed into a wall. The possibilities for creative expression are endless. Innovating and breaking the boundaries of traditional lighting design, Tom Dixon's sculptural luminaires are a testament to these possibilities.
Known as a creative powerhouse in the design industry, Tom Dixon develops products that are instantly recognizable for their sculptural qualities and material explorations. His lighting collections, including Melt, Mirror Ball and Plane, have become icons of contemporary design, shifting away from a soulless, overly minimalist aesthetic to infuse rooms with style, liveliness and a touch of drama. Besides illuminating spaces, these sculptural pieces generate focal points, add flair and draw attention with their unique geometries and surprising textures. They become works of art on their own. And in doing so, they aim to create spaces that are both functional and visually appealing, regardless of their intended use. This way, the use of lighting as a sculptural element is impactful in any interior, blurring the traditional lines between residential, corporate and hospitality design.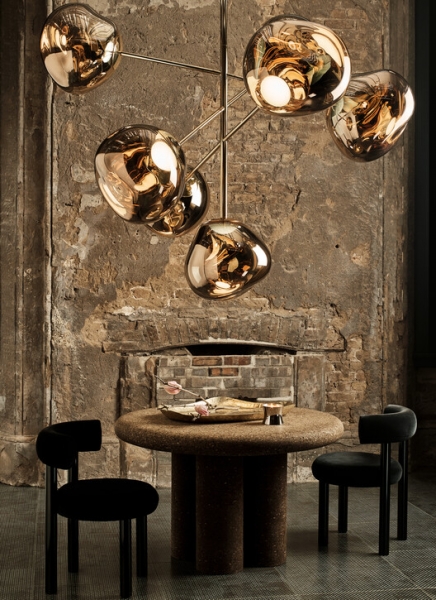 Coal Office Restaurant. Image Courtesy of Tom Dixon
From a penthouse apartment to a restaurant on a cruise ship, below we explore how these different settings enhance their design using sculptural lighting fixtures.
An elevated dining experience
The Coal Office Restaurant in London, created by Tom Dixon's interior design corporation Design Research Studio, was seen as an opportunity to test new ideas in comfort, luminosity and tableware. Functioning as a dining playground that is half kitchen, half dining, the restaurant seeks "to offer an active and engaged experience beyond just eating," says Chef Assaf Granit. A large, extravagant cluster of Mirror Ball lights forms a sculptural canopy that elevates this experience, making a strong impact through spherical shapes and highly reflective, aluminum-coated surfaces that mirror their surroundings.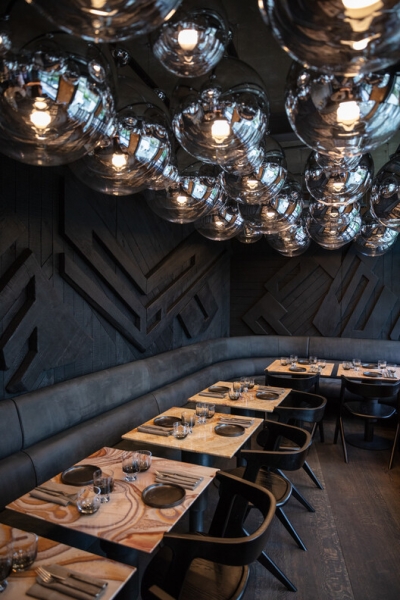 Coal Office Restaurant. Image Courtesy of Tom Dixon
Bringing texture, grit and materiality
This penthouse apartment for One Park Drive is an avant-garde embodiment of a collector's home, offering a fresh take on elevated urban living through a bold, unexpected interior concept that promotes new ways of working and entertaining. Bringing texture, grit and materiality, designers worked with objects of scale to curate the vast spaces of high ceilings and expansive walls. This includes a cast concrete staircase paired with a prototype Melt Cone floor lamp –two sculptural elements side by side–, as well as an eye-catching Spring pendant in the artist's studio that adds a touch of elegance while illuminating the space. Meanwhile, a futuristic, limited-edition LED Stack light greets visitors upon entering the penthouse. With an intricate and impactful geometry, it succeeds in creating a striking first impression that anticipates what is to come.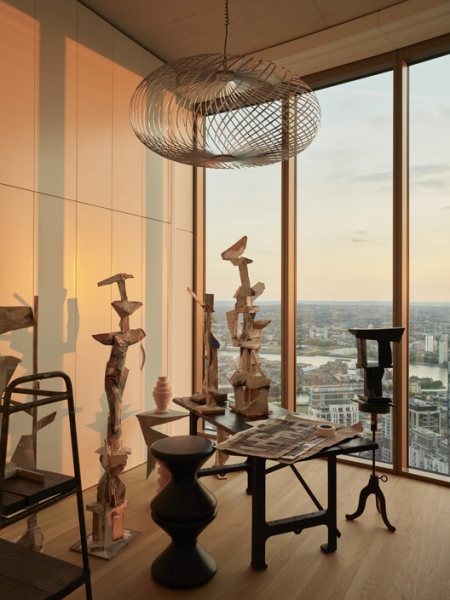 One Park Drive. Image © Robert Rieger
Hybrid living with quality design
Responding to the growing demand for a multifunctional way of living, these forward-thinking residences aim to promote a strong sense of community, multi-purpose usage and premium interiors. The first building by Unity is in Hammarby Sjöstad, a former production factory, and offers flexible spaces to work, live and socialize in one place, featuring a range of high-quality, custom-made items that aid that purpose. A series of grand Globe Burst Chandeliers, for instance, illuminate a large co-working space while fostering collaboration and productivity. The spherical orbs in chrome shades are highly reflective during the day, and when switched on reveal interesting reflective patterns that certainly attract attention.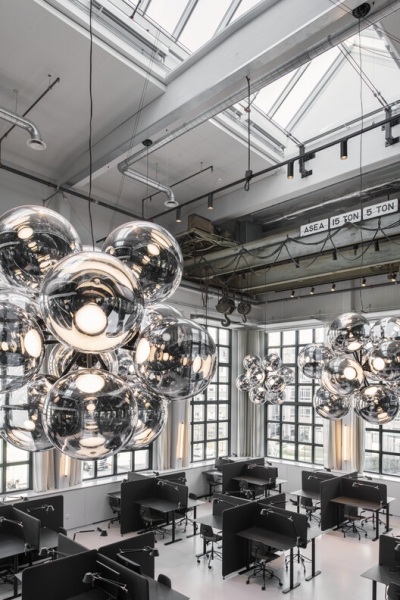 Unity. Image Courtesy of Tom Dixon
Reimagining the modern cruise
Adventuring out onto the open sea, Tom Dixon was tasked with reimagining the modern cruise experience –one where the journey is just as important as the destination. "At sea there is freedom to provide new experiences to new things," and that was precisely the idea behind the design of Virgin Voyages' first ship; to push the boundaries. A multitude of vibrant Melt surface lights adorns the entryway to one of the ship's upscale restaurants, creating a dramatic portal inspired by dazzling city lights and the futuristic nautical landscape of sea creatures and submarines. With their distinctive sculptural qualities, the lights set the tone for the rest of the interior.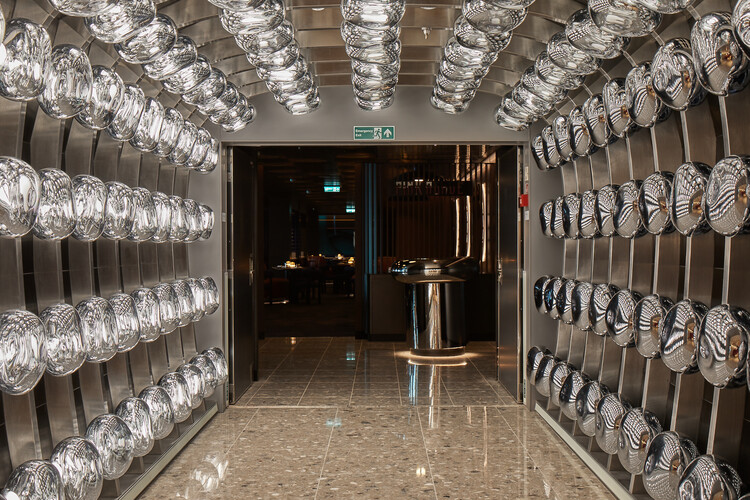 Virgin Voyages. Image Courtesy of Tom Dixon
A culinary and design experience
The Manzoni, located right near the Duomo in central Milan, aims to be more than a restaurant. It's a permanent experimental space; "a theatrical backdrop for the best of Italian food and British design" where visitors can experience multiple atmospheres, with each room exploring its own narrative, décor and character. A striking Mirror Ball pendant system accentuates the private dining area and forms a visual dialogue with Melt Surface lights, both in a gold finish. At the same time, Globe lights in opalescent finish form visual lines that create a cohesive, contemporary and sleek aesthetic.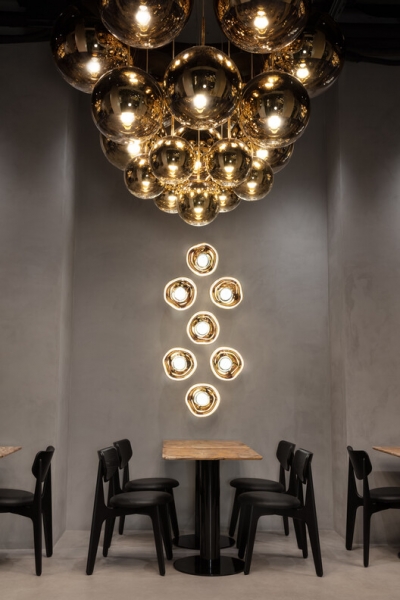 The Manzoni. Image Courtesy of Tom Dixon
Sculptural lighting fixtures can be, without a doubt, true works of art. Whether it's a cluster of Mirror Ball lights or a multitude of Melt lights intricately placed one next to the other, these statement pieces instantly captivate the eye, adding an element of drama and sophistication to any interior. Their effect is so powerful that they can blur the lines between traditional design categories –residential, corporate, hospitality–, creating spaces that are versatile, dynamic and, above all, memorable for those who experience them.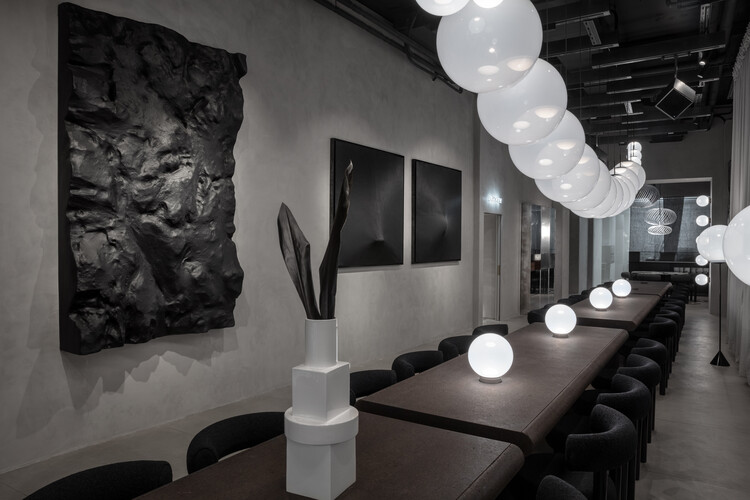 The Manzoni. Image Courtesy of Tom Dixon
Discover more sculptural lighting systems on Tom Dixon's website or in our catalog.