JFL Living, manager of high-end real estate assets, has just delivered to the city of São Paulo a new space for public use designed by Estúdio Campana. The area is located in the recently opened JFL 125, a development located in the Pinheiros neighborhood, and its highlight is an unprecedented installation by Fernando Campana, who died in 2022.
Developed in tiles and created from the adaptation of a collage produced by Fernando, the artistic panel portrays a dreamlike landscape measuring 7.7 meters high and 6 meters wide, composed of two classes of carnivorous plants (Dionaea muscipula Ellis and Drosera Capensis ). The work has around 1,800 ceramic tiles painted one by one, in shades of blue on white.
"It is a great challenge to carry out large-scale projects with a high public reach, especially in urban centers like São Paulo, as people will have the chance to interact with our work on a daily basis, and in different ways, depending on their pace of life. A mural with a surreal, contemporary theme, executed in such an artisanal way and with a permanent character, is something rare nowadays", says Humberto Campana, Fernando's brother and partner in the studio since 1984.
Aligned with the landscaping project, the concept intends to rescue characteristics of the colonial period in a contemporary way.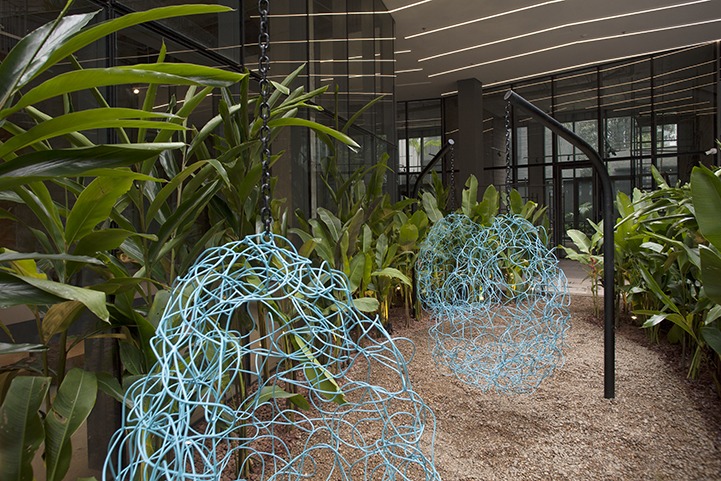 The space is located in the JFL 125 building and combines design, landscaping and an installation based on a collage by Fernando Campana.
The space, designed by Estúdio Campana, is complemented by three Bubbles swings, which were arranged in the middle of the vegetation, inviting the public to contemplate and seek moments of tranquility within an urban environment. Suspended, the swings represent a tribute to childhood, bringing all the imaginary of the first phase of life. Each piece is produced in carbon steel with automotive paint, polyurethane foam cushion and fabric.
Co-founding partner and CEO of JFL Living, Carolina Burg Terpins points out that all of the company's developments have contemporary art as a pillar and that, in JFL 125, it was decided to share this art and design space in an environment for public use. . "It is an unprecedented project in the city, which features an installation rich in detail in a space that can be experienced by all. In this area of the building we will have an active façade, with shops and restaurants, and our mini forest will be a breath in this space junction with the passing public, who do not necessarily inhabit the building", he completes.
Within the next few months, the capital of São Paulo should have yet another space with the signature of the Campana Brothers, a green area of 10,000 m² furnished with pieces from the studio.