In a world where information circulates almost in real time globally, it is interesting to observe how local particularities are recognized and interpreted not only by their own, but also by foreigners who visit and interact with them.
This is what happens in the new collection of outdoor furniture presented by Modalle, which invited the Dutch designer Edward van Vliet, who signs creations for brands such as Paola Lenti, Moooi and Moroso, to design pieces with a very Brazilian DNA.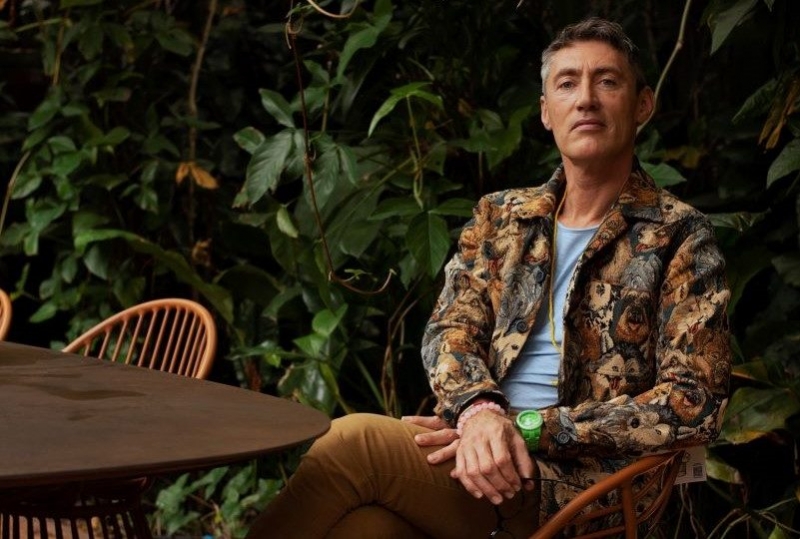 Presented at an event held at Casa Mollde, in São Paulo, at the end of January, they unite rattan and aluminum in a table and chairs that circulate in the external and internal environments, as explained by Vliet, in an exclusive interview for HAUS. Check out!
How would you describe the collection created with Modalle and – especially – the experience of designing it? In the case of a Brazilian brand, whose motto is the national DNA, what were the inspirations that came from these roots, since context is an important point in your work?
For me, the collection is based on and related to nature. Also in the structure of the Parsifal table, the Orfeo chair and the Mimi stools, as we can see in these first launches that we presented in São Paulo of the new line with Modalle, it is possible to notice that they are all built with a base in the shape of sticks, or sticks, which refer visually and sensorially to the branches of a tree. And they are open structures. For me, that's a great thing, because the furniture, in a sense, disappears into nature, so you can look through the pieces. There is a certain transparency. I'm a big believer in layered design composition, which is one of my nine creative keys. With this premise, the user can see what comes next and, in this line, he can really embrace the nature that surrounds him. This premise will also be present in the other pieces of the line, which will be launched throughout the year, such as the lounger and swing models.
Another very important inspiration for this line is Brazil, especially São Paulo, which is where I've been. What stands out most here, for me, is the connection between nature and architecture. The construction of this new line with Modalle is closely related to architecture, involving nature. Then there is the harmonious combination of architecture and nature in the Edward van Vliet + Modalle line. The table tops, for example, come from mineral materials [the natural composite Laminam, also a Modalle launch for the Freedom Collection – 2023], exploring the potential of ceramics. It is also very important to have the work, the craftsmanship. In synergy with natural materials. I believe these are the most important guidelines I chose for this new line with Modalle.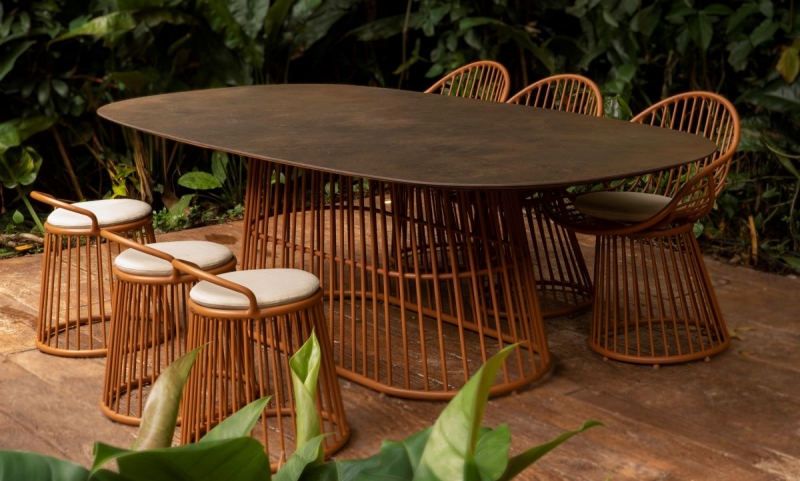 Was it something very particular to create for a Brazilian company, in what sense?
I have always worked, for the most part, with European brands. In my first experience with Brazil, what caught my attention was the quality of the furniture. It's very high. They are very well produced, also in terms of the techniques employed. And in my first contact, I was positively surprised and excited about the possibilities in Brazil. For me, the connection with people is also very important, with the company for which I am creating. And in this case, Modalle's team is very welcoming and friendly, it's really a pleasure to work together. These are people who are very open-minded. I didn't see any signs of arrogance, it's really a pleasure. Both at the factory, in Votuporanga, and here in São Paulo, at the launch event at Casa Mollde.
How is your style translated into this collection? Could you point out some highlights that appear in the pieces and that you see as representative of your nine design keys?
My signature is in fact outlined by what I call "the 09 keys of design". So in everything I do there is this connection. The most important keys that you can see in this new line are: the Layers, as I mentioned before, in which you can look through the furniture and really see how they are built, in their different levels; Materials, which are very important, in this case the combination of metal, aluminum, mineral/ceramic and fabrics – for the collection, we are developing a new line of outdoor fabrics; Colors are also a very important key, here in this first release we brought a more discreet composition, but the idea is to bring incredible colors, with extraordinary combinations; Nature, of course, is a very important key, in which the whole structure was built in a more organic way, referring to the branches of trees; there is also a bit of Tradition key presence, it is a modern line, but it also dialogues with the past; also the Light key, the luminosity is present; as well as the Treasures key, because in the end I think these pieces are little treasures in nature.
Regarding the key Layers, which is very striking in your work, it is also central in your work as an interior designer, right? Are you always thinking about pieces of furniture or decoration and spaces that can either appear, materially delineate, or disappear in context?
What is very important to me is the context. I cannot create any piece of design without considering the context. For the creation of this line with Modalle, the context is Nature. And, along with Nature, the contexts of Space and Freedom. These are aspects that I appreciate very much. Regarding interior design, the context, in my opinion, is about what is surrounding that environment, who are the people using the products or spaces. And I always make combinations of different colors, materials, patterns. In the end, everything is totally in balance. Another attribute that is very important is the proportions. If the space is too big, you might feel lost. So, the sense of intimacy, closeness, is also very important.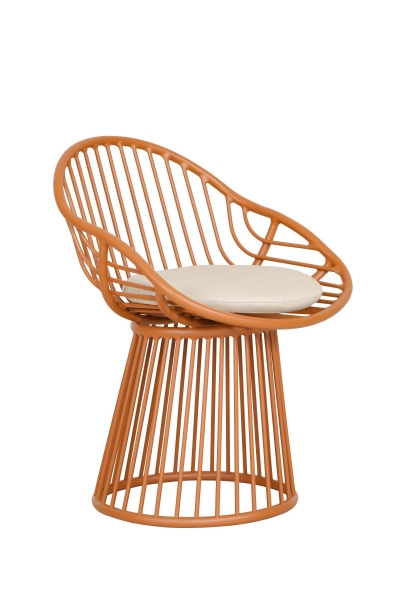 Even if you are in an outdoor area?
Yes, even in an outdoor project. In this scenario where we show the new line here at Casa Mollde, for example, we are surrounded by plants, trees, by nature. And I like it a lot. At the same time, we are protected by the vegetation itself from the sun, we have natural shade.
Could you talk about the choices made for materials and colors? What intention do they carry?
The line was initially conceived in rattan, but for really durable and resistant outdoor furniture it is better to use aluminum, which is even easier to maintain. Lasts much longer in perfect condition. This is very important too. I believe that weight, or lightness, in this case, is an intention, both in aluminum and in Laminam [an innovative natural mineral composite used in the table top]. Ceramic, as is the case with Laminam, is lighter than solid rock. And outdoor furniture has to be practical, too, and functional. You have to be able to move the furniture, organize the space with ease. Today, furniture has to be part of the space, of the context. In terms of colors, as I mentioned, in addition to the options that accompany the launch here, we have created an incredible chart, specific to this collection, which will be launched soon.
Do you always work with aluminum?
I wanted this for the first time. It's really exceptional to be working with aluminum. I really enjoyed working with this material because of its lightness. We work the material into a very organic result. It doesn't look like metal, but something very soft and natural, I think because of the rattan technique, which is very organic, and which we transport here. Aluminum can also be bent, because it is very flexible in its own way compared to steel. Regarding the table top, with Laminam, we were able to work the material with a very thin thickness, which visually gives the sensation of being almost floating. I really like this idea: it's there, and at the same time, it's not. And when you look at the surface, we have the stone, the mineral. It is very connected to nature. I particularly like the lightness, even when working with very strong and resistant materials. I don't like heavy pieces that are too dominant. For me, this question of being and not being there is very important. Especially outdoors. In my view, nature should be the dominant aspect and not the furniture or decoration. The pieces are part of nature and the environment.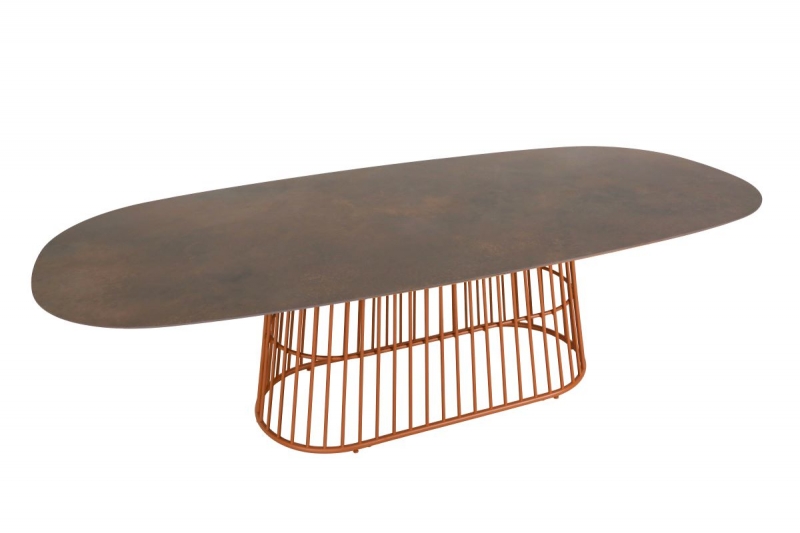 Can your new line with Modalle also be used indoors?
Yes, outdoor can always be used indoor. They have this flexibility.