Perkins & Will has just begun construction on the Gateway Project for the University of British Columbia. The project will serve as the primary entrance point to the campus, as well as the new hub for the Nursing, Kinesiology, Language Science, and the university's health clinics.
This project is inspired by the surrounding landscape and is informed by the Musqueam people, who have been occupying these territories for generations.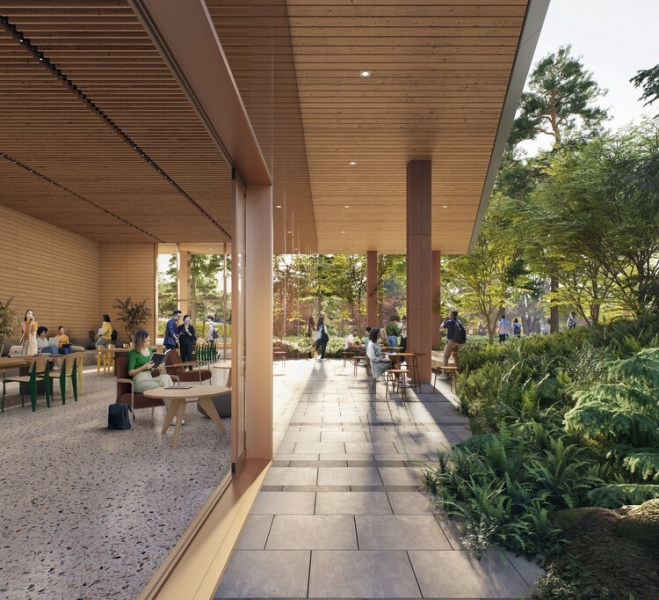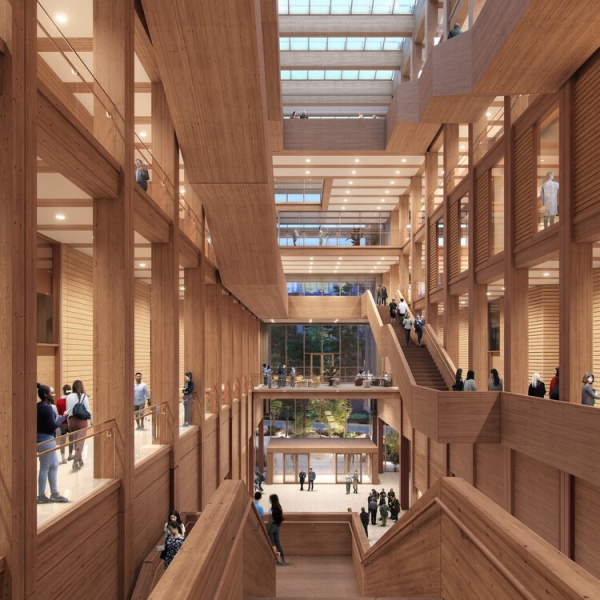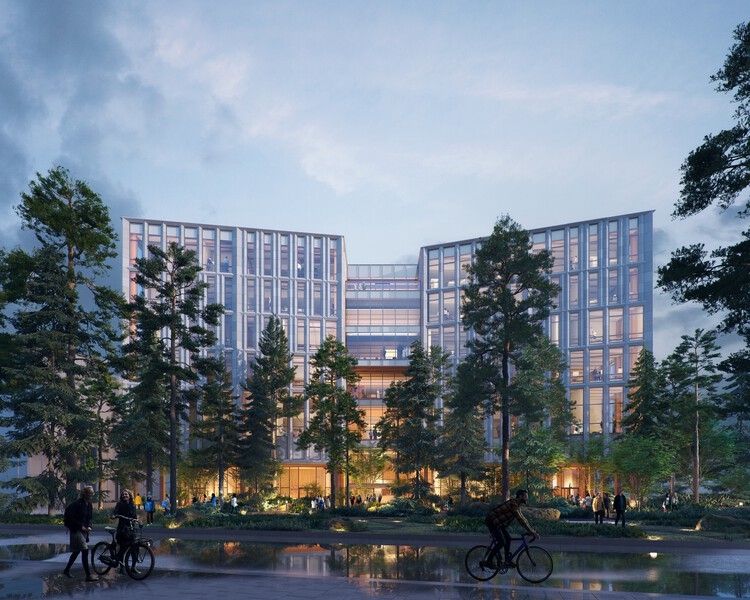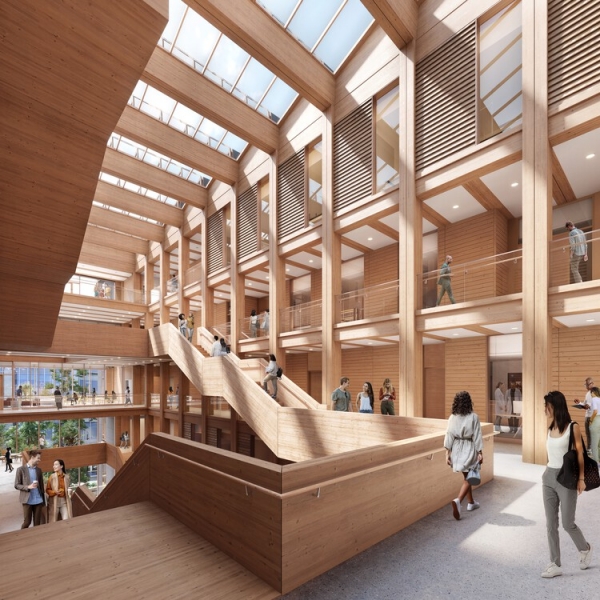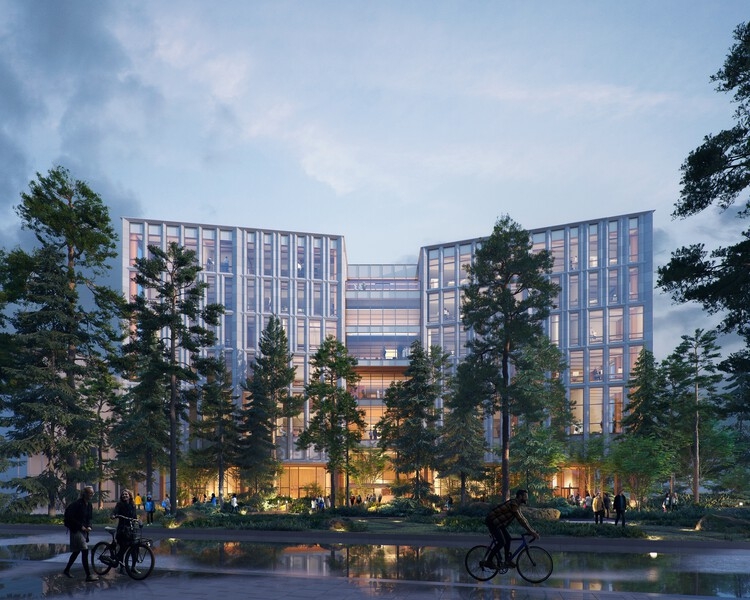 Fundamentally, the project attempts to pull the surrounding landscape inwards by having the entire ground floor of the project treated as a porous extension of the surrounding forest. The design was inspired by the inviting spirit of the Musqueam people and showcases that welcoming energy at the entry point for the UBC campus. Mimicking the feeling of moving through the forest, the project utilizes local wood through the interior cladding of the project, as well as the building's timber structure at large. The exterior of the entire ground floor will be in terracotta, further emphasizing this permanent inspiration and connection with the surrounding fabric.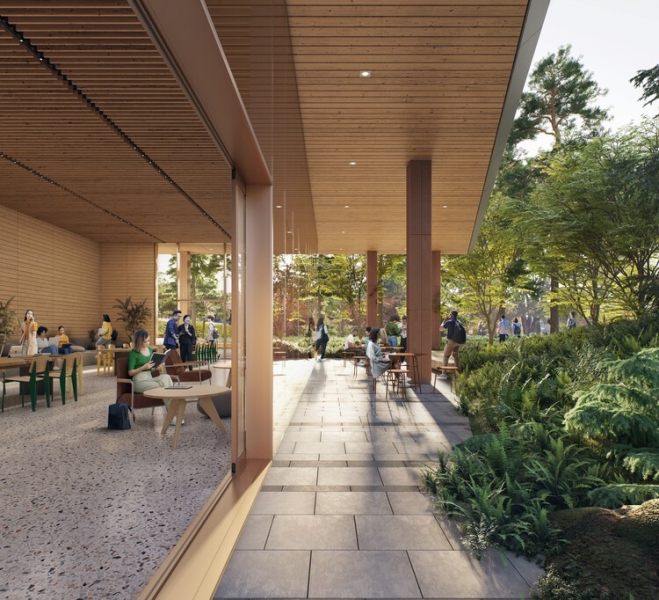 Courtesy of Perkins & Will
At the center of the gateway project, a six-story atrium confirms the "forest first" approach, framing the line of vision as the encompassing forest. The integration of the human body in scale to these massive natural systems also contributes to the overall theme of well-being and health. The building is planned to be pushed back from the road, further emphasizing the indigenous landscape of the site.
Since the departments hosted in the space are heavily focused on health and wellness, this has been integrated into the design thinking. An open feature stair wraps around the entire atrium as a center for community and pause. The feature places emphasis on the importance of movement and active design. The project also incorporates non gendered wellness hubs, family rooms throughout the building, as well as accessible toilet and shower facilities, encouraging inclusive communities.
Courtesy of Perkins & Will
The project is a reflection of the University's greater values: tradition, respect, knowledge, inclusivity, and sustainability. Through the work with the Musqueam peoples and vernacular techniques, each value has been addressed and dealt with collaboratively. The building embodies such values through carefully curated design decisions. For instance, the scale of the human body is heavily considered: how a body arrives, circulates, participates in activities, and experiences space.
Adhering by values of sustainability and inclusivity are the following certifications that the project is aiming to be granted. The Gateway Project is setting out to achieve Gold Certification under LEED V4. It is also expected that the project will receive the Gold Circulation through the Rick Hansen Foundation Accessibility Certification program (RHFAC) for inclusive and accessible design. Finally, the project will be pursuing a net zero carbon certification from the Canadian Green Building Council's Program.