Bathroom accessories have evolved beyond their purely functional role of hygiene and organization to become integral compositional tools in creating an aesthetically pleasing and functional bathroom. With advancements in technology and design, bathroom accessories have become smarter, safer, and more beautiful.
Today's contemporary designs embrace minimalism and simplified aesthetics, featuring clean lines, essential elements, geometric shapes, and a well-considered color palette. This approach has been successful in creating sophisticated and spacious bathrooms, especially in smaller spaces where the absence of clutter and unnecessary decoration can make a big difference.
Antoniolupi, an Italian company renowned for innovative designs and quality materials, produces bathroom components like lavatories, toilets, bathtubs, and other accessories. The company's evolution over the past 20 years has influenced the design of this niche market and its own creations. Notably, their washbasin with clean, straight lines hanging on the wall was a revolutionary product in the early 2000s that defied traditional design, bringing lightness and sophistication to the environment.
However, minimalism doesn't have to be timid. The ANIMA LIQUIDA system is a stunning freestanding sink made of natural stone that honors the primordial value of water through a scenic gesture while maintaining simple, pure lines. The sculptural sink and its natural stone take center stage, standing out against a series of wall modules, both floor-standing and suspended, that accentuate its verticality.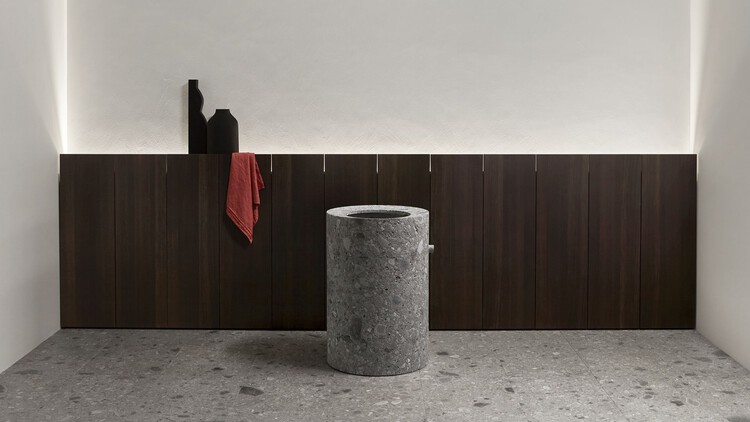 ANIMA LIQUIDA. Image Cortesia de antoniolupi
Antoniolupi's most recent release, the SHOWDOWN collection, is a versatile and adaptable choice for various bathroom designs, drawing inspiration from the company's previous collections. The collection features customizable and modular systems that offer diverse configurations. The accessories can be combined and rearranged to create a personalized layout, making it an excellent choice for maximizing functionality in small spaces.
The collection combines the best features of the company's previous collections, enhancing the functionality of bathroom objects with simple components that can be merged, altered, and chosen for each occasion. This versatility makes the SHOWDOWN collection an excellent choice for creating a unique and tailored bathroom design.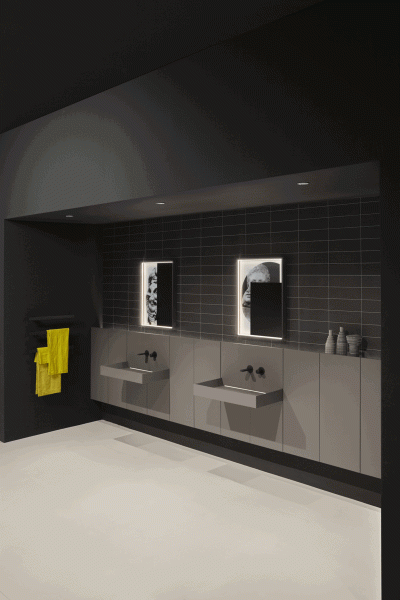 The "Plug and Play" feature, where prefabricated components are designed to be easily assembled or connected on site, provides speed, quality control in installation, and reduces material waste. In this case, the components can be easily connected to existing piping systems without the need for complex installation procedures. This is because the parts are structured on a front panel, which also serves as storage and display space for items, saving time and money during the installation process, reducing the potential for errors or complications, and making the fittings easier and more efficient to maintain.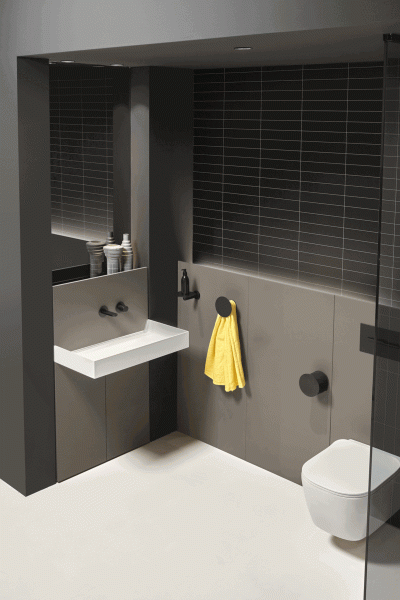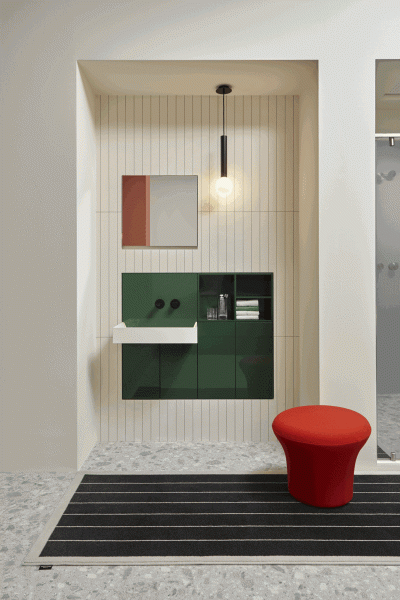 As antoniolupi itself summarizes: "The horizontal dimension of the sink meets the vertical dimension of the furniture modules, defining an architectural front made of overhangs, protrusions, and recesses. It ensures full functionality of the sink by hosting everyday objects and accessories but hiding them from view to preserve the clean and essential image of the composition, enriched by the unique colors and shades of stone or wood that become decorative tools of the project." The sinks in the collection can be customized with multiple options, including dimensions, materials, colors and finishes. Being modular, this means they can be combined and arranged in different ways to suit different sizes and demands: for commercial or residential projects, for example. The collection includes a variety of accessories, including washbasins, bathtubs, and showers, all designed to work together seamlessly.