On the facade of the first building of the National Technical University of Ukraine "Kyiv Polytechnic Institute named after. Igor Sikorsky" the mini-sculpture "Buryachok Bourch" appeared, dedicated to Ukrainian patrons-sukrozavodchik, who reached the rosebud of Kiev.
This is the 39th mini-sculpture within the framework of Yuliya Bevzenko's project "Shukay!", which tells the history of Kiev.
"Buriachok" is dedicated to Ukrainian patrons of art from the end of the 19th century to the beginning of the 20th century. The stinkers were busy with the church weeding, and they invested some surplus at the rozbudov Ukrainian towns, the city of Kiev.
"Behind the tradition, we believe for the skin minisculpture I will especially apply. How many times should it sound like this: "Rub me – your contribution of death." Aje Kozhen is a philanthropist from us. You can snuggle up to those who look like Kiev today and how the place develops tomorrow," says Yuliya Bevzenko, manager of Kiev and author of the Shukay! project.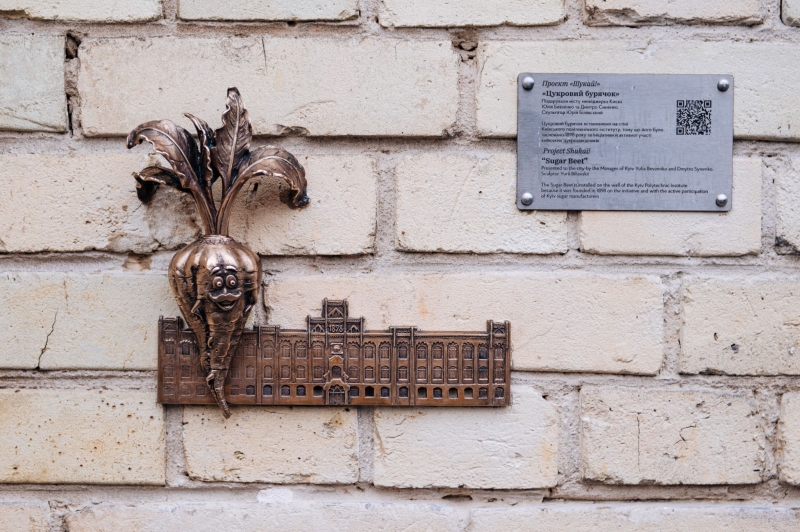 Kyiv Polytechnical Institute was founded in 1898 by the year and year of the birth of Kyiv philanthropists-sukrozavodchiks on the "crown pennies". In 2023, the mortgage is 125-rich.
"At the beginning of 1898, the Kiev Polytechnic Institute first accepted 360 students, and today in the new year they are recruiting over 20,000 young people. For 125 years at the institute, such eminent Ukrainians studied as a helicopter engineer, aircraft designer Igor Sikorsky, rocket engineer Sergiy Korolev, bridge workers Yevgena Boris Patoni, mathematician Mykola Delaunay and dozens of others. Minisculpture of a red beet, as if we were embellishing the facade of our first building, giving the respect of the Kievans to history, I will lay that place," says Natalia Seminska, Vice-Rector of the Primary and Vikhovna Works of the Kyiv Polytechnic Institute. Igor Sikorsky.
The mini-sculpture "Bureachok" was created by Yury Bilyavsky. Next to it, there is a sign with a QR code, for which you can go to the website of the project and learn about the report.
"Tsukrovy Buryachok" of accommodation at the address: Beresteysky Prospekt, 37, the courtyard of the first building of the KPI, Museum Square, on the facade of the levoruch from the window.
Dmytro Sinenko, a patron of the Ministry of Sculpture "Tsukroviy Buryachok", was a patron, a volunteer and a graduate of KPI.
Photo: Roman Eremenko
"Shook!" – project of Kiev manager Yuliya Bevzenko, foundations of 2018. Vіn rozpovidaє about the history of Kiev in bronze minisculptures. Among them, zokrema, "Cutlet in Kiev" on the Andriivsky uzvozi; "Kyiv chestnut", "Kyiv (Scythian) pectoral" to Khreshchatyk; "Kiev Computer", "Golden Gate", "Helicopter Sikorsky" on Yaroslav Val; "Kyiv fountain" and "Kyiv hryvnia" on Volodymyrsky; "Kyivska kava" on Velyky Zhytomyrsky; "Dancers on the Theater", "Ghost of Kiev", "Palyanitsa" and others.