Balneário Camboriú is about to win the highest graffiti in Brazil. The open-air megamural signed by Macanese artist Marlon Gitiranna Silva de Carvalho, known as Muk, will occupy a strip of the side wall of the luxury skyscraper Edificio Cosmos, 111.77 meters high and 5.54 meters wide, totaling an area of 619.20 m². The work, which will also be among the tallest in the world, has been underway since February 17 and should be ready by the end of the month.
The installation of the mural is part of the #cidadeincomparável project, carried out by the construction company Embraed in partnership with the Open Street Gallery movement. The project, which is in its third action – the others were the revitalization of the Encanto viewpoint, in Itapema, and the fire department building, in Balneário Camboriú – aims to enhance the beauties of the coast of Santa Catarina and, at the same time, create a new atmosphere for those who live in the city, in addition to expanding access to art and culture.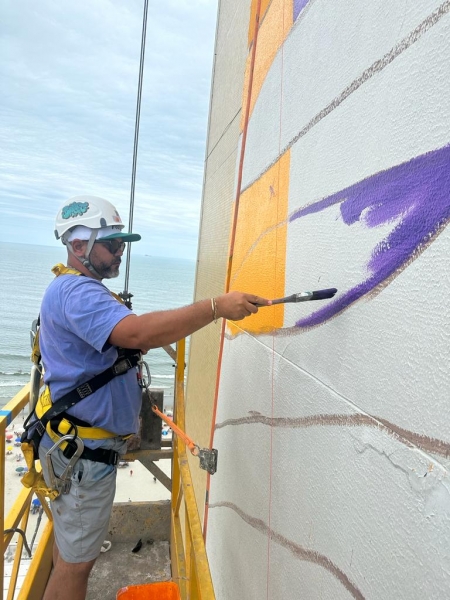 Inspired by the municipality's own natural beauty, the graffiti will bring natural elements such as the sun and Adam's rib leaves. "Balneário Camboriú is a city full of natural beauty and, as it is a building facing the sea, I tried to highlight the sun. It is he who gives the tone to the entire mural, with its rays that permeate the leaves of an Adam's rib. I chose this plant for its symmetry and its meanings", details Muk, in a press release.