The MG Cyberster has scissor doors, a feature usually only seen on supercars.
LONDON — MG gave its Cyberster all-electric roadster 'scissor' doors that open upward because it needed visual drama to stand out in the increasingly competitive Chinese market, said Carl Gotham, the brand's head of advanced design.
The costs to engineer scissor doors have restricted their use to ultraluxury sports cars, but they are becoming more common on more affordable Chinese electric cars, such as the Aion Hyper GT midsize sedan, a Tesla Model 3 rival.
"You have got to take in context what you are seeing coming to China and Shanghai. There is a fight for attention," said Gotham, head of MG's advanced design studio in London and creator of the Cyberster.
"You need to turn up with some drama. It's got to be 110 percent," Gotham told Automotive News Europe at the sidelines of the Shanghai auto show.
The China-built Cyberster is expected to arrive for sale in the UK and mainland Europe in the summer of 2024, MG said. It was revealed at the Shanghai show in April in a video on the MG stand.
The roadster uses a version of the MG's new MSP electric platform that underpins the MG4 electric hatchback available in Europe.
While some automakers give their battery-electric cars a futuristic design, MG took a different approach, seeking to strike a balance between modernity and the brand's sporting past, Gotham said.
"It was tempting to go fully EV for the look for the car," he said. "But we steered away from that and decided to go for 'designers' emotive' rather than something that feels like a machine."
The Cyberster references MG roadsters of old by pushing the windscreen and cab rearward. The underfloor battery pack raises the height of the floor, so MG's designers positioned the driver further back. It also slimmed down the seat and engineered a more laid-back seating position to achieve the feeling of sitting in a traditional sports car.
At first glance, the Cyberster appears to have a softtop in common with all previous MG roadsters, but in reality, MG engineers have grafted material panels onto a foldable hardtop, Gotham said.
Inside MG's London studio is a showcar split down the middle with the Cyberster concept comprising one half and an MGB on the other.The MGB is MG's most famous and longest-running roadster in production from 1962-1980.
Gotham said the design team avoided directly copying the MGB, "You cannot sum up MG with one MG sports car, they are very different," he said.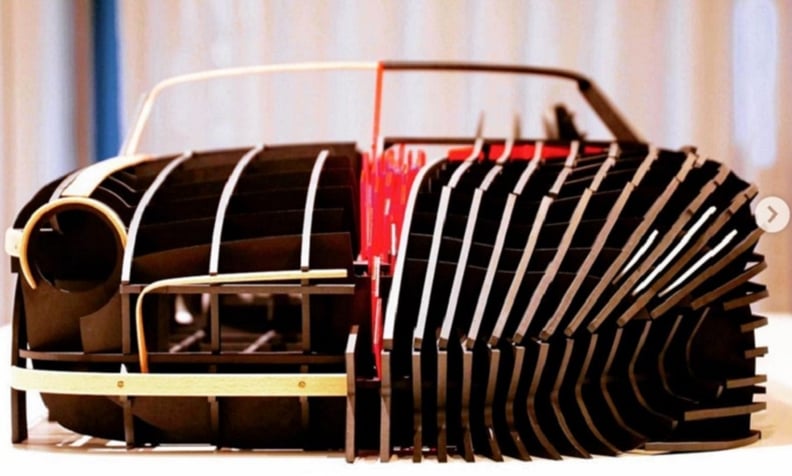 MG's London studio has a show car that shows a merged Cyberster and MGB.
Aside from the scissor doors, the Cyberster is striking for its low nose, rear 'kammback' aerodynamic tail design and arrow taillights.
The first cars arriving in Europe next year are likely to go to fans of the original sports cars, said Aiden He, the managing director of Benelux and Nordics. "They have been waiting a long time for this," he said.
Pricing has yet to be announced but MG says it wants to position the Cyberster within reach of volume buyers.
"We do not want a super expensive price. We want to keep the philosophy of MG to provide affordable electric cars," He said.
One big factor will be the battery price supplied by MG parent company SAIC's joint venture with Chinese battery supplier CATL.
"We need to negotiate with our JV partner to make the battery price stable," He said.
The battery size is expected to be in the range of 70-90 kilowatt hours, He said, without giving a precise figure.
The Cyberster will be available with a single motor fitted to the rear axle or with a second motor fitted to the front axle to give all-wheel drive.
The car "will be a game changer in terms of perception of the brand," MG UK commercial director Guy Pigounakis, told Automotive News Europe last year.