VW Group's battery-electric car sales rose 26 percent in 2022. Shown is production of the Cupra electric hatchback in Zwickau, Germany.
Volkswagen Group expects strong increases in vehicle sales and revenue this year as the automaker benefits from full order books and better access to semiconductors.
Revenue is forecast to grow by 10 percent to 15 percent, indicating 2023 revenue of 307 billion euros  to 331 billion euros. Global deliveries are expected to rise 14 percent to about 9.5 million vehicles.
Operating return on sales is expected to be in the range of 7.5 percent to 8.5 percent, compared with 7.9 percent in 2022, VW said in a statement on Friday.
"We expect the supply chain bottlenecks to gradually ease in the current year, allowing us to service the high order backlog," Chief Financial Officer Arno Antlitz said.
It forecasts operating returns as high as 8.5 percent — roughly on par with last year's result, but better than analysts expected.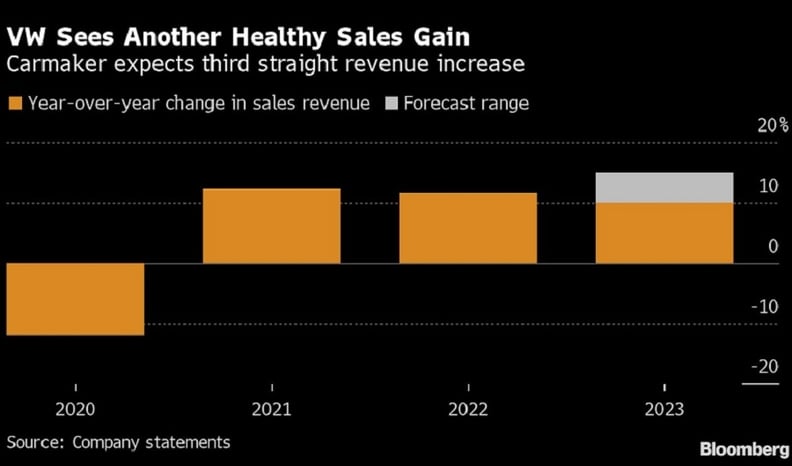 The automaker is proposing a dividend of 8.70 euros per ordinary share and 8.76 euros per preferred share, a 1.20-euro per share increase over last year's payout.
VW Group's deliveries fell 7 percent to 8.26 million last year as chip shortages squeezed production of volume sellers such as the Golf hatchback. Sales of battery-electric cars rose 26 percent to 572,100 as the automaker prioritized EVs for scarce chips.
Waning demand
VW's strong forecast comes amid concerns over waning demand later this year as record inflation and slowing economies increasingly squeeze car buyers.
CEO Oliver Blume, who replaced Herbert Diess in the top job in September, is under pressure to revamp the company's software push and defend VW's position in its biggest market China against home-grown manufacturers.
Mercedes-Benz, Renault and Stellantis reported healthy profits in the past weeks on high prices and orders they accumulated during the height of the supply-chain crisis.
While returns are strong for now, carmakers continue to battle supply-chain snarls. Thousands of unsold vehicles and unused raw materials have been piling up at plants in Europe because of truck and train shortages.
The problems, following chip shortages that are finally easing, have prompted Stellantis and Renault to try and recruit truck drivers among their factory workers.
Bloomberg and Reuters contributed to this report