Ford has released a new teaser photo of its upcoming electric SUV, which is related to the VW ID.4 – you can see the VW logo on the front end. The new electric SUV from Ford, which will be presented on March 21, shows a little more of its appearance in a new teaser.
The official preview does not come directly from the automaker, but from Martin Sander, the head of the so-called "Model-e-Team" in Europe.
As with previous teasers, we don't get to see much, although parallel to various spy sightings we get the impression of a boxy shape that differs from the bulbous VW ID.4.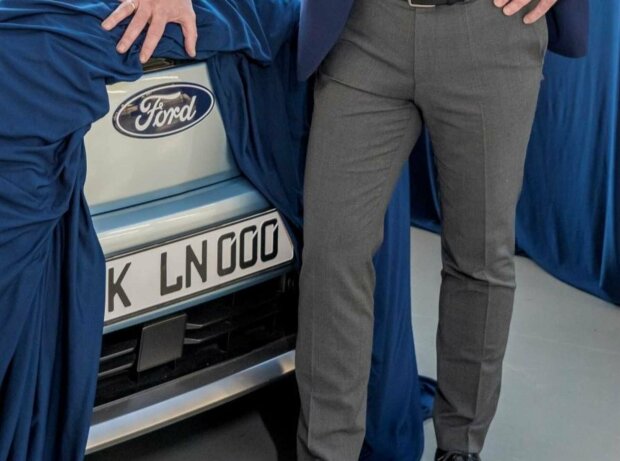 The closed grille houses a surprisingly large blue oval that, according to Sander, "has been refreshed in brilliant white for a new generation of electric cars". Below the license plate is a wide air intake with a radar sensor in the center for the driver and safety assistance systems.
Previous teasers showed aerodynamically optimized wheels and plastic bodywork, giving the vehicle a rugged look reminiscent of Ford pickups and SUVs sold in the US.
Though the latest teaser focuses on what the company calls a "medium-sized crossover," another EV can be seen to its right. It's likely the sports crossover that's the equivalent of Ford's ID.5. Both are assembled in the Cologne plant and are located below the Mach-E.
Another electric SUV will be the zero-emission Puma, which will be built in 2024 at the Craiova plant in Romania.
Although the medium-sized crossover and sports crossover will be based on the MEB, we expect the design to be completely different, inside and out. It will be interesting to see if Ford will use their own SYNC4 or adopt VW's infotainment system. The Ranger-based Amarok midsize pickup uses SYNC4, but it's unclear if it will be the other way around for the two electric crossovers.
More from Ford: Ford Mustang Mach-E: Prices in China reduced by more than 5,000 euros Ford is planning a large battery plant in Turkey
As you've probably heard, Ford's European model range is in the midst of a change: the previous Mondeo was discontinued last year and the Fiesta will be phased out in June 2023. The Focus will be discontinued in 2025, and even the future of the Kuga is uncertain.