The Citroen New C3 (shown) is the first car on Stellantis' Smart Car platform for emerging and developing countries, starting with India, where it is built in Chennai. The platform, derived from Stellantis' CMP architeture, is also able to accommodate an electric powertrain.
The Citroen C3, a small crossover built in India and Brazil, was the only model from a European automaker to win a category at the 2023 Word Car of the Year awards, in an edition dominated by Hyundai and Kia.
The New C3, as it is known in India, a completely different model from the European C3 small hatchback, won in the urban car category.
Hyundai won three awards with the Ioniq 6 midsize electric sedan, including best design, best electric vehicle and best model overall.
This was the second consecutive triple win for Hyundai, as the Hyundai Ioniq 5 was last year's winner in the same three categories.
Sister brand Kia won the best performance car award with the 585-hp, 260 kph EV6 GT midsize electric crossover.
The world luxury car award went to the U.S. automaker Lucid for its Air flagship sedan, a model not sold in Europe.
Five of the six winners were full-electric models; the sixth, the Citroen C3, was launched in India first with internal combustion engines, with a full electric variant added recently.
"We are thrilled to receive this prestigious honor two years in a row, which recognizes the tremendous talents and unrelenting efforts of everyone at Hyundai to bring EVs like Ioniq 6 to market," Jaehoon Chang, President and CEO of Hyundai Motor Company, said in a statement.
In receiving the award for design on the sidelines of the New York auto show on Wednesday, SangYup Lee, Executive Vice President and Head of Hyundai Global Design Center, said that "We always want to connect with customers on an emotional level and with the design of the Ioniq 6 we have created truly one of a kind."
The World Car of the Year jury includes 100 automotive journalists from outlets in 32 countries, including Automotive News Europe.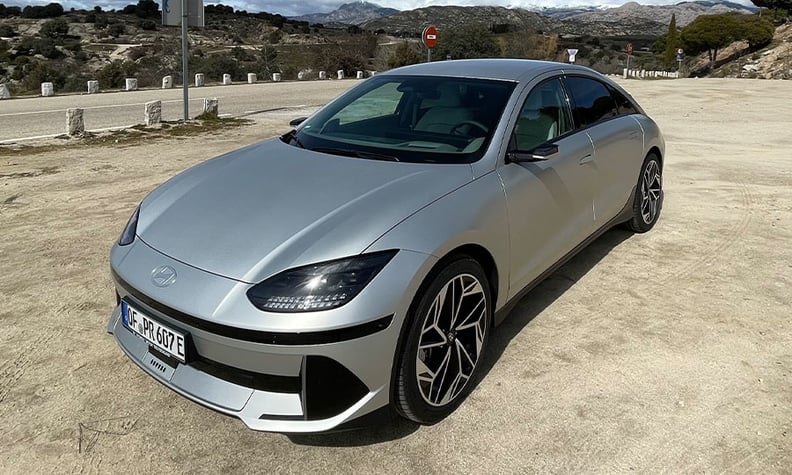 Andrea Malan
Hyundai won three awards with the Ioniq 6 midsize electric sedan, including best design, best electric vehicle and best model overall. 
Citroen's Indian connection
This international C3 model was designed, developed and produced by and for India, Asia and South America.
This award "recognizes the relevance of our growth strategy in India, Asia and South America. As the first model in a family of three cars, the Citroen C3 combines strong, modern styling with a high level of comfort, not to mention the connectivity and technology that customers in these regions expect," Citroen CEO Thierry Koskas said in a release.
To qualify in the urban car category of the World Car of the Year, a model should be under 4,250 mm in length and be on sale in at least two major markets (China, Europe, India, Japan, Korea, Latin America, U.S.), and on at least two separate continents.
The first Citroen model specifically designed and integrated in India, the C3 was launched in summer of 2022, and has already sold almost 7,000 in the country. Citroen just opened orders for the electric ë-C3 in India.
In South America, where C3 has been available since October 2022, over 14,000 units have already been sold, Citroen said.
This C3 for emerging markets, a four-door crossover less than 4 meters long (to meet Indian tax rules), is the first model in Citroen's Smart Car range, which is aimed at emerging and developing markets. It will be followed by two more models in the next two years.
Looking ahead, models in the Smart Car range will also be built at Stellantis' factory in Kenitra, Morocco, which will see an investment of 300 million euros to double capacity. The current Citroen C3 for Europe, which was launched in 2016, is built at Stellantis' factory in Trnava, Slovakia. Supplier sources told Automotive News Europe that the Trnava plant will begin building Smart Car based models for Citroen, Peugeot and Opel/Vauxhall from 2024.
In April 2022 Stellantis said it will build a new battery-electric car at its plant in Kragujevac, Serbia.
The EV, reportedly being based on the Smart Car architecture, will replace production of the Fiat 500L small minivan, Stellantis said in a statement.
The new, yet-to-be named, EV will go into production at the beginning of 2024, Stellantis said. Another electric car might be added at a later date, the company said.