Fendi has transformed six historic rooms of the famous Villa Medici. The Italian fashion brand has teamed up with the French Academy in Rome to give 16th-century interiors a new sound. Set amidst gardens in the heart of the city, this renaissance palace has been given a makeover: the creators hope this decor will encourage creativity and  draw even more attention to modern design.
This partnership, conceived by Kim Jones, Fendi Art Director Fashion & Womenswear, and Silvia Venturini Fendi, Accessory & Menswear Art Director, highlights the deep connection between contemporary design and historical heritage.
There are many stylistic layers here. The villa is known for its unusual architectural and decorative solutions, from   Renaissance until the middle of the last century, when Balthus was responsible for the development of art programs, and later, in the 2000s, designer Richard Peduzzi. Now, as part of the project, the academy has turned to French architect Pierre-Antoine Gatier to restore some of the decorations of the Grand Salon, while the conservation company Bobin Tradition has carried out conservation work on the surviving wall paintings and coverings of the building. The original tones of the mural became the starting point for choosing a palette for each room.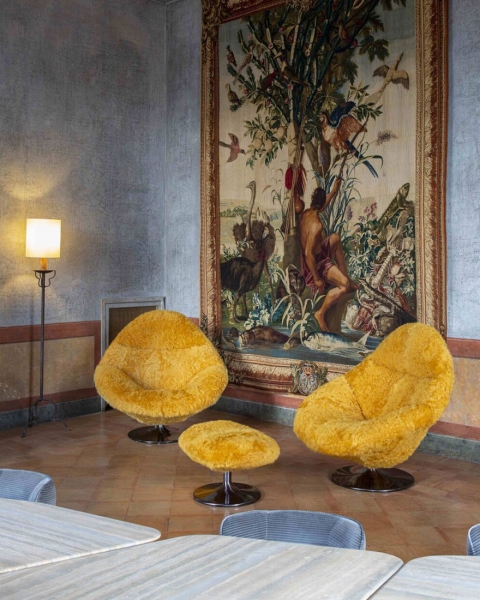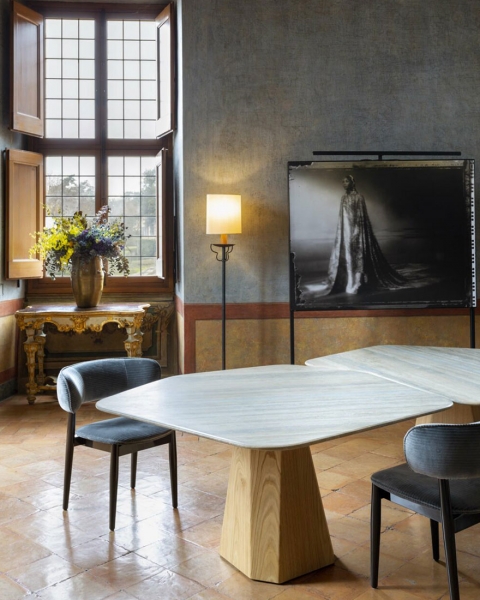 The decor used the work of Italian Chiara Andreatti, French designers Noé Duchaufour-Laurence, Ronan and Erwan Bouroullec, as well as Toan Nguyen. Drawing inspiration from forms typical of Rome, Noët Duchaufour-Laurence created the Borghese table in the Pensionnaires salon: the outlines of umbrella pines are guessed in it. He also made tables for the Salon de Lecture and Bleu, inspired by the paving of the Appian Way. Chiara Andreatti's Virgola chairs are featured in Salon Bleu and Salon de Lecture, while her Welcome sofa and armchairs for Fendi Casa grace the Salon des Pensionnaires.
Fendi and Mobilier National also featured tapestries from renowned artists including Louise Bourgeois, Sheila Hicks and Sonia Delaunay. Devialet acoustic panels have been hidden behind some artwork to improve the sound quality inside the villa.