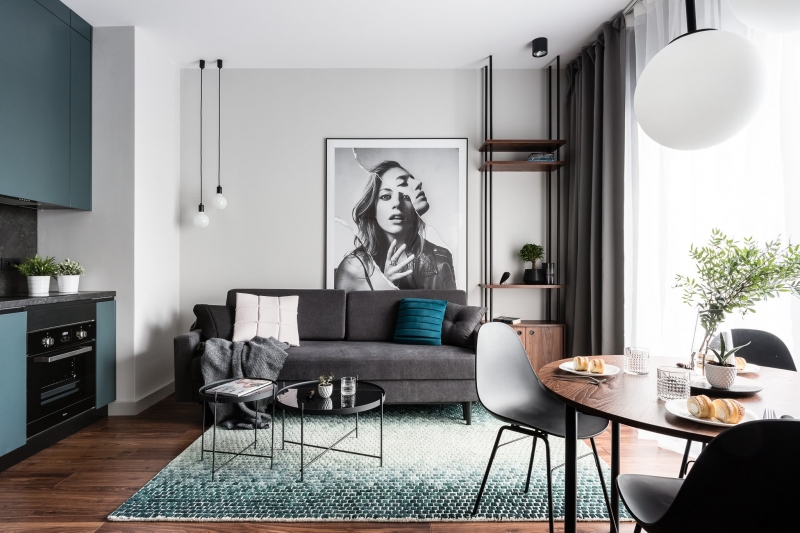 This small apartment in Poland designed for rent, so the designers were set the main task — to arrange comfortable accommodation with full functionality, and to create a modern interior that is equally enjoyable for the accommodation of guests of all ages.
The interior is designed and implemented by a local design Studio Raca Architekci. The simple layout of the apartment (living room, kitchen and separate bedroom), this played into the hands of the designers, because all his attention was concentrated on the details.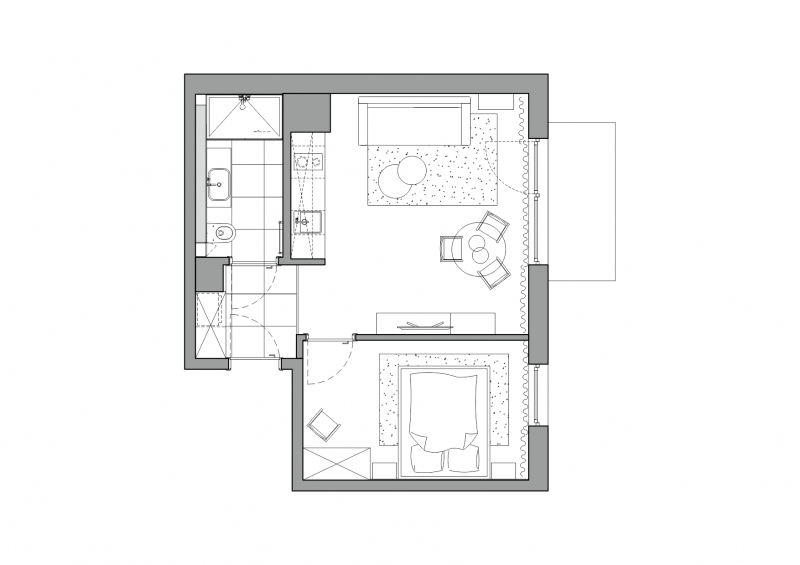 Planning decision
Organization of space
The effective use of small area became possible due to proper arrangement of furniture. Seating is organized as follows: the Central wall is a large soft area (which optionally can be used as an extra bed), kitchen furniture located in the niche — it doesn't occupy much space and seamlessly fit into a small space. The dining area also has placed at the window, so the main volume of the room is free that gives a feeling of spaciousness.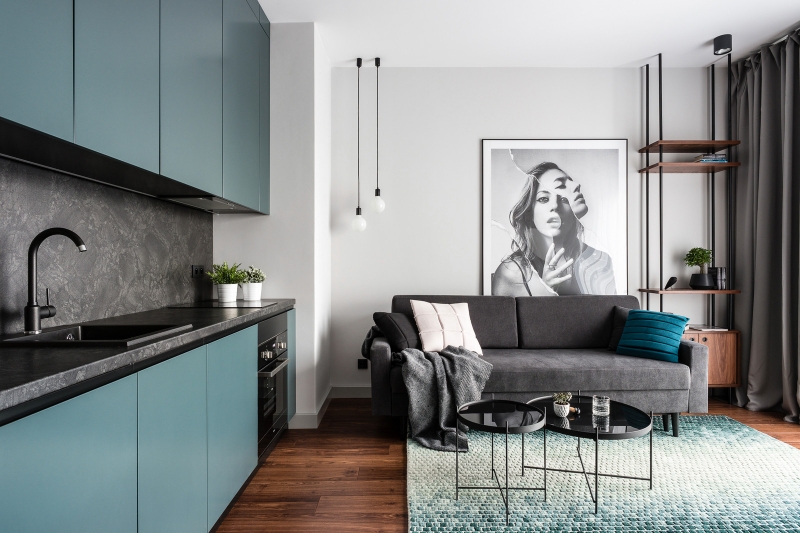 A comfortable lounge area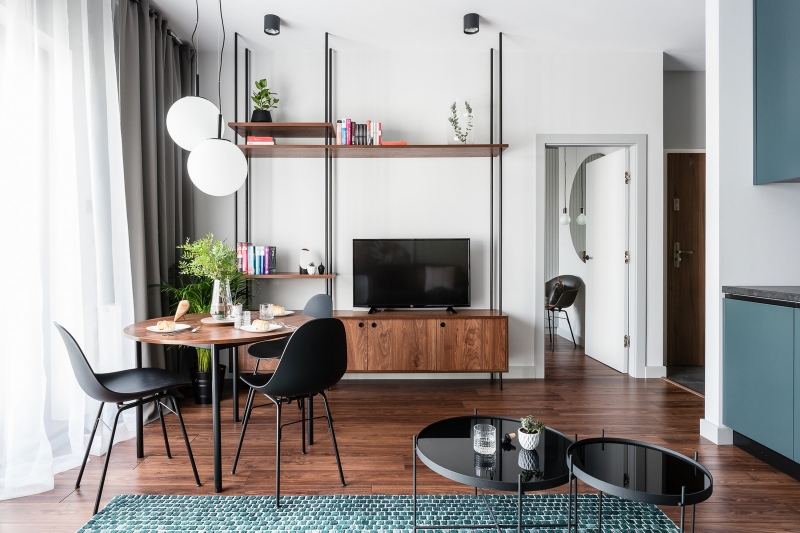 An abundance of natural light adds space
Style
Selected style can be attributed to the modern, which combines several stylistic elements. The basis is the Scandinavian style, therefore, the original color acts as a light gray. But accent the color composition is based on a dark palette of rich shades of dark gray color combined with luxurious deep blue. The abundance of industrial decor and minimalist furniture set the character and form neat interior.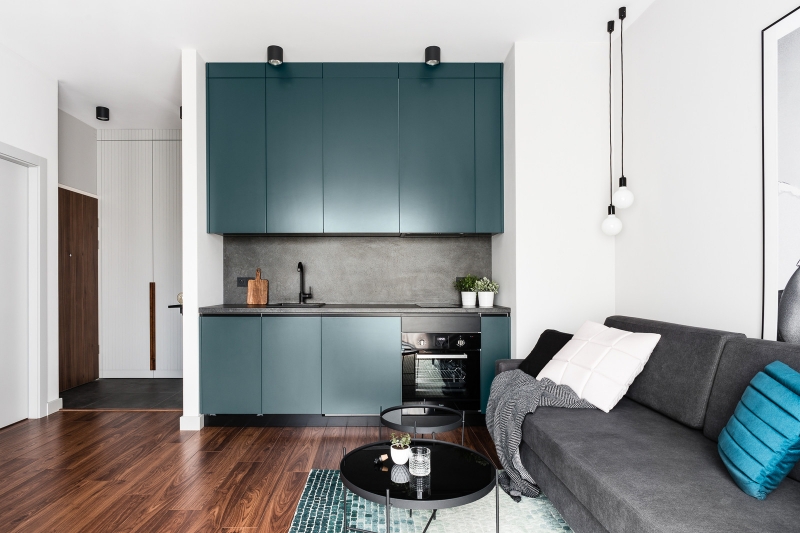 Deep colors emphasize the elegance of the space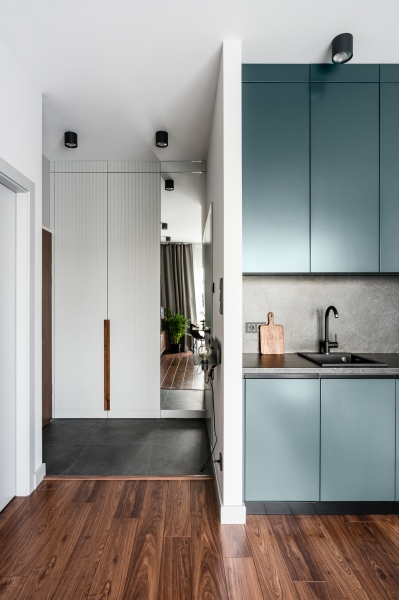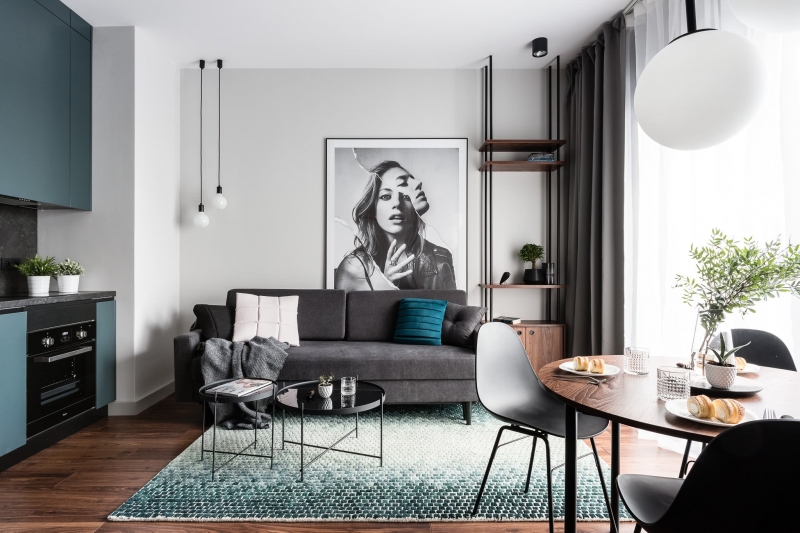 A harmonious relationship of materials, selected color palettes and decor
The materials and decor
The main material in the decoration of the room was a tree. The elegant structure of the walnut has become an organic Supplement selected color palette, it is the decoration not only for flooring but also for furniture in General. Simple form and straight lines of the outdoor furniture create a feeling of spaciousness and add to it a special charm. The complement industrial décor: mobile coffee tables, metal furniture and lighting.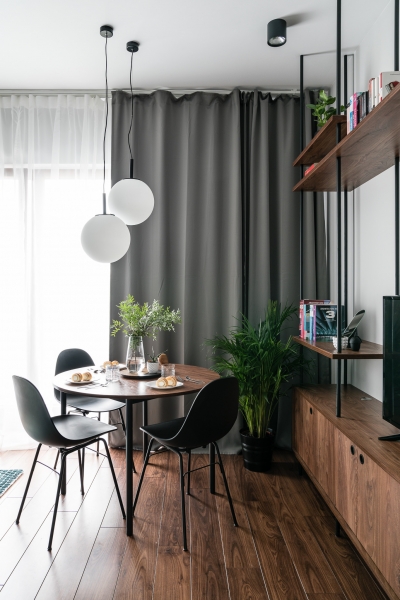 Wood in interior acts as a collective item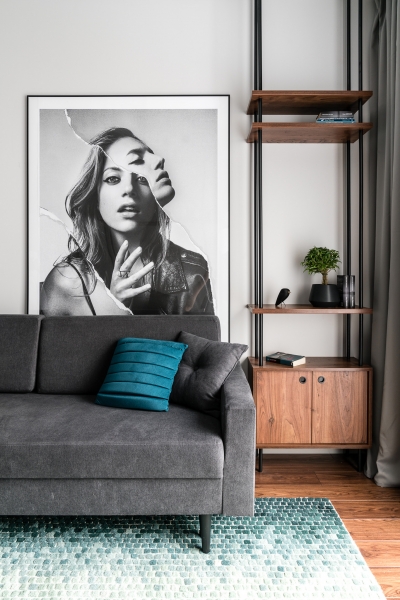 Low drawers with metal pylons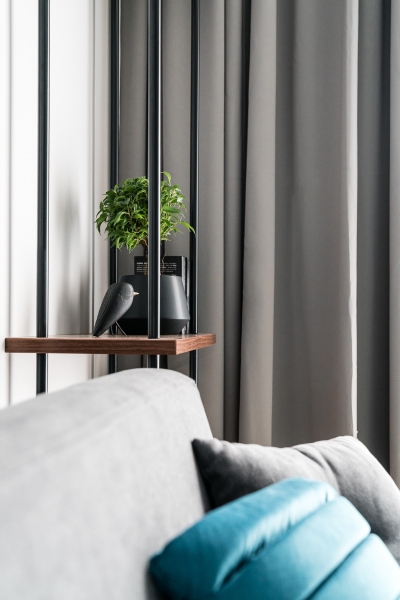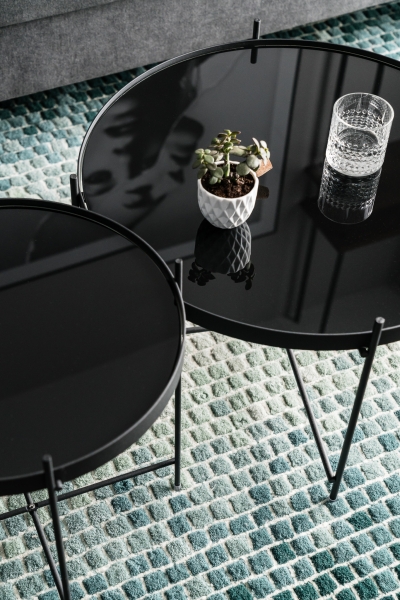 Personal space
In the design of personal space can be traced to a single concept color schemes. Cool calm tones create a calm and relaxing atmosphere.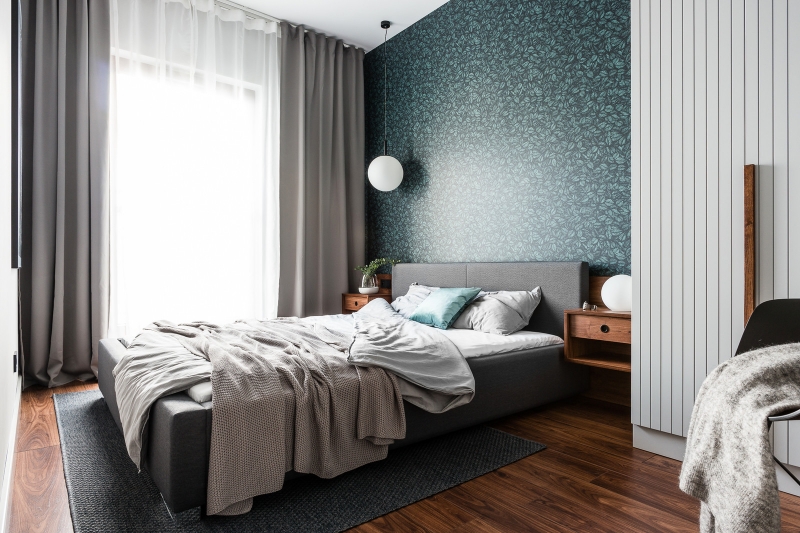 Modern furniture allows you to create stylish and at the same time cozy and comfortable atmosphere. To diversify the interior of the bedroom was solved by decorating one of the walls, so the wall beside the bed was wallpapered with a rich floral ornament.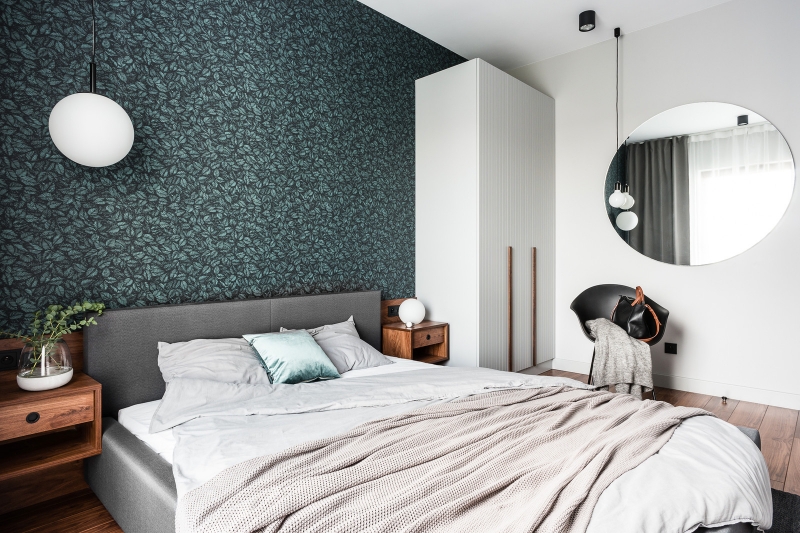 Dark shades give expression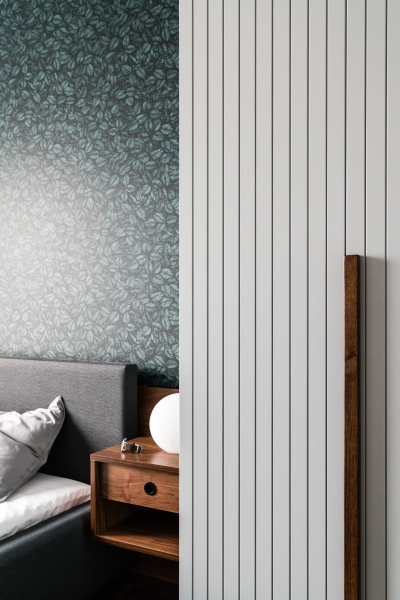 Cabinet knobs echo base material
The finishing touch — lighting. The original light-balls over bedside tables and lamps-glasses around the room help to enhance the aesthetic perception of the interior.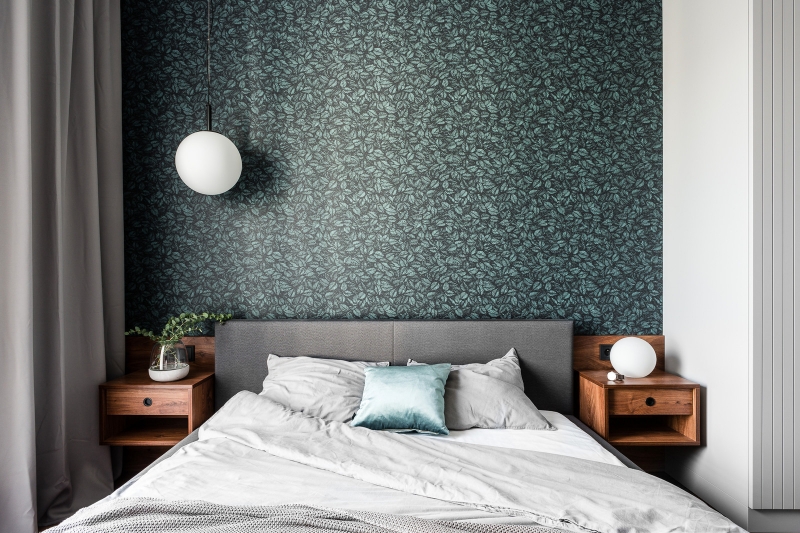 Accent the wall at the head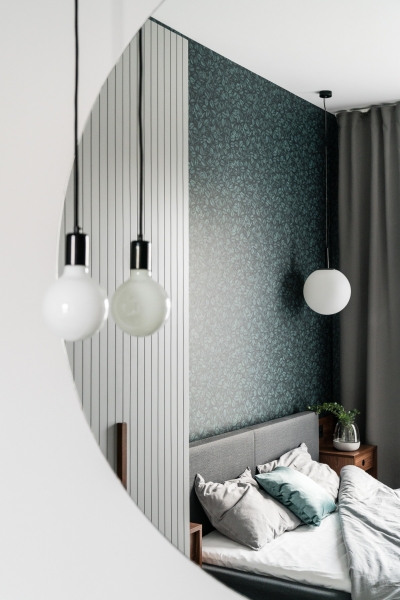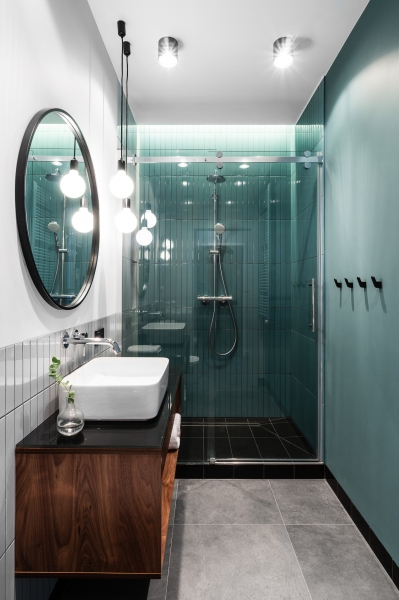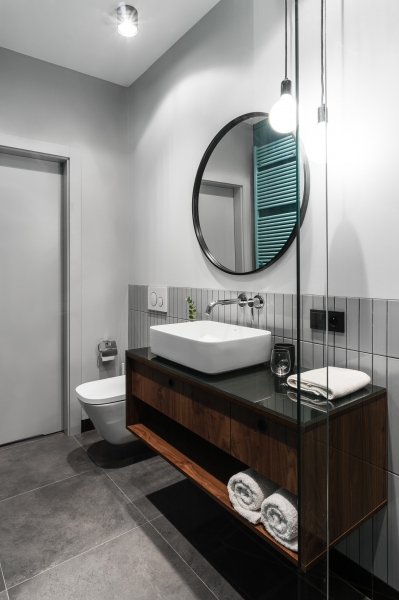 Photo: FOTOMOHITO
Source: raca-architekci.pl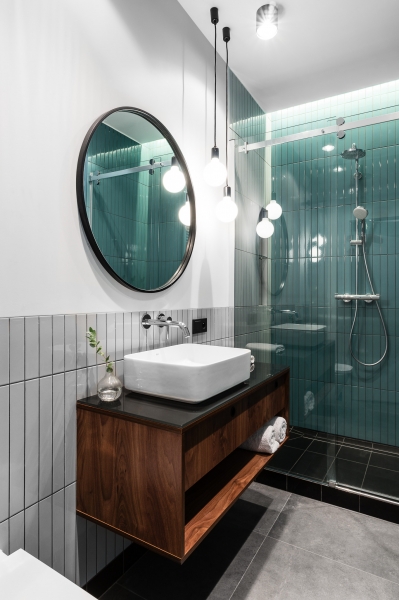 Our view:
With the right mix of design ideas even small housing can look spacious and luxurious