Modern trends in "smart homes" become more integrated, more intelligent and more stylish than ever. This is a system that can learn our preferences and make life more convenient.
Associated with one network entertainment, security and climate system now is a required element of residences of the highest class. According to the report of iProperty Management, the number of such devices doubled in 2015 and will reach 75 billion by 2025. "Smart" technology has become synonymous with luxury.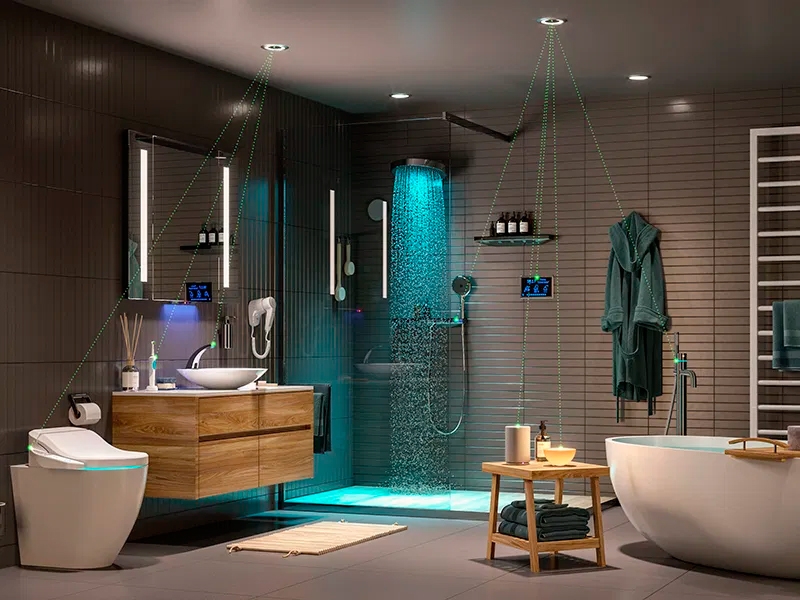 Wi-Charge.
1 Invisible charge
The number of smart devices is growing and one revealed their lack of wires and batteries needed for charging. New wireless charging technology from companies such as Wi-Charge enables ultra-compact battery charger R1. They connect to the outlet or technology could be built right into the device partner brands. The system operates at a distance of 9 metres by means of infrared rays, so charging is literally invisible.
2 Invisible screens
An example is the LG OLED TV R Signature, 2019 CES award winner for innovation. It's more of a futuristic kit with voice control, not just TV. It has a panel with a built-in Assistant Google and Alexa, as well as five other modes, including music, mood and lighting. One of the main features of the model — 65-inch (165 cm) retractable screen which can transform a room into a home cinema or curl up in a coil and hide in the stand when not in use. Partially extended screen can work as a photo frame, a music center, to show the time, weather and other useful information.
3 the Intuitive kitchen
The latest smart kitchen gadgets offer the hidden technology and training opportunities, to make cooking fun and more intuitive. Pedini Italian brands and Tipic that have partnered with Offmat the added feature of artificial intelligence that responds to voice and gesture commands. You can ask the app Hi Pedini to change the mood and lighting, open cabinets and even to remind you that you need to add to the shopping list. Conceptual Tulèr kitchen has a built-in modular technology — open drawers can be a flick of the wrist. Smart mixer U from the Moen company is included without hands and can measure out only a tablespoon of water at a desired temperature. And mixer Grohe Zedra features an intuitive SmartControl and SmartControl technology. Water activated by pressing a button.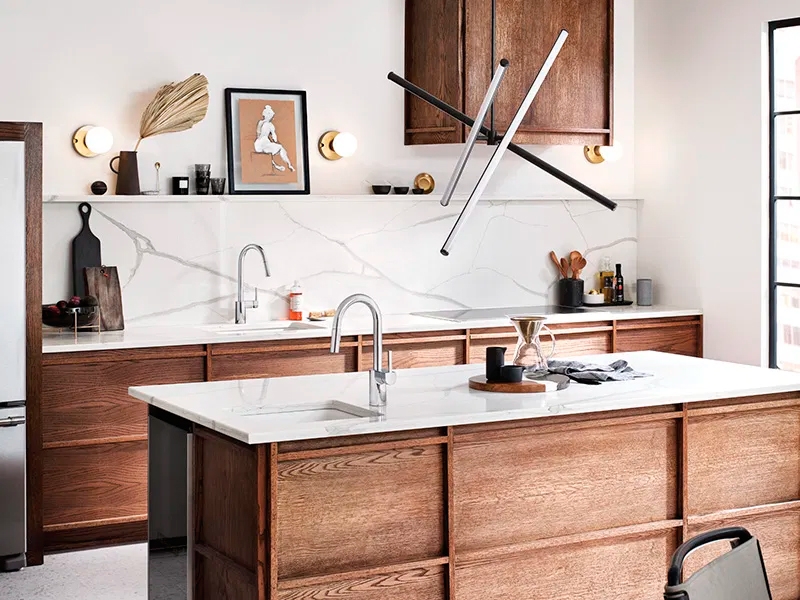 U Mixer, Moen.
4 Houses that create the mood
Emotional design and things which are subject to the mood — innovations for our homes. In 2020 the growing trend for luxury homes became the voice control of everything else. Residence with 1000 built-in devices can be controlled using the systems Savant or Crestron Home. For example, you can ask the control system to call user-defined modes, such as "relax", to simultaneously dim the lights, draw the curtains, turn on the selected playlist and immediately ignite the gas fireplace, or press the "Goodnight" button to stop all devices in the house.
5 Personal assistants on the basis of the AI
The most exciting event of the CES 2020, fairs, consumer technology, has become a miniature robot in the form of a tennis ball Ballie from Samsung. This intelligent voice assistant is able to make decisions in real time based on the mood of its owner and the previous queries, for example, to take pictures in good light or to clean up a mess the dog before he was asked to do. On the market there have been voice assistant Josh.ai, which uses information processing in their native language, which means that it may eventually predict the behaviour and to make difficult decisions.
6 Personalized security
According to Parks Associates, in 2019, 35% of U.S. households that have home high-speed Internet access, faced with the problem of data security, which included the hacking of smart doorbells and other security devices. Thus, systems that identificeret individual family members, have obvious advantages. Most of the "biometric" security systems offer commercial brands, but the market goes more and more consumer decisions. For example, Kwikset has just launched lock using fingerprint Touch Halo, for access to which requires only your finger. The system can contain up to 100 profiles from 50 users.
7 Home gym on the basis of VR
The latest smart devices appear in the field of fitness and health. Treadmill NordicTrack X32i can rise to provide a gradient to 40%, and also offers virtual tours in different parts of the world. Personal trainer on the other side of the screen will automatically adjust variables such as speed and motivate to achieve goals. For lovers of yoga or meditation fitness platform Peloton for Amazon Fire allows you to attend interactive sessions from leading coaches in any room with smart TV.
8 is self-sustaining and self-contained accommodation
Homeowners value energy efficiency more than ever. With the growing number of houses with zero energy consumption and increased connectivity in the house have the opportunity to create an integrated system for energy management of the house Is the area already developed S2A Advanced Modular Construction, whose house Green Lux declared "the first electrically self-sufficient, private luxury home". It even has the potential for producing "excess power revenue" due to the excessive production of electricity.