Luca Nichetto designed the new Venetian boutique Barovier & toso. It is located on the most famous street of fashion and luxury shopping, Calle Larga XXII Marzo, a few steps from Piazza San Marco. In this small space, Niketto made an impressive installation – bright green Murano glass flowers are visible from a block away.
The boutique has become a precious showcase where the historical heritage of one of the oldest factories in the world, founded in 1295, is cleverly played up. In contrast to the multi-storey Palazzo Barovier & Toso, created in Murano a few years ago, the emphasis here is on a compact display installation, rather than interior decoration. The Flower&Flutter composition looks like a spring meadow – standard chandelier parts, which craftsmen have been making in Murano workshops for centuries, have been attached to metal rods. This approach aimed to change the point of view, to turn elements that are usually overhead so that they can be examined in detail. The color was chosen from the existing palette of the factory – the main requirement was its versatility and brightness.
Luca Nichetto talks about the choice of materials: "The architecture of the boutique is based on the repetition of the beamed ceiling motif typical of Venice. All niches where vases and sconces were placed are arranged as a continuation of these beams, but only on the walls. These arches give a sense of depth. Travertine was used to emphasize the historical significance of the factory. The combination of materials is a harmonious combination of Venetian terrazzo, finished in soft colors on one side and modern smoothed concrete on the other side.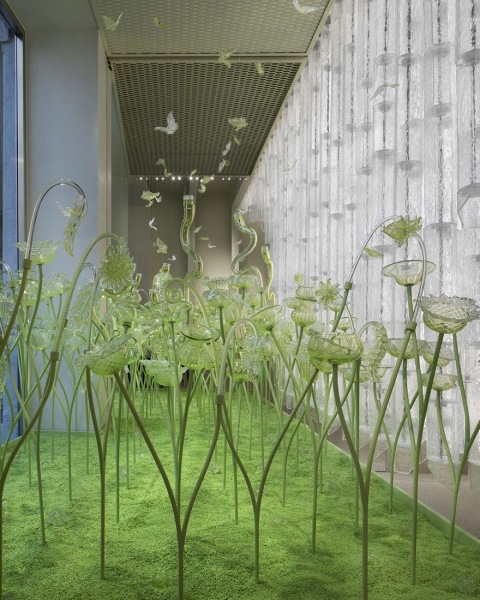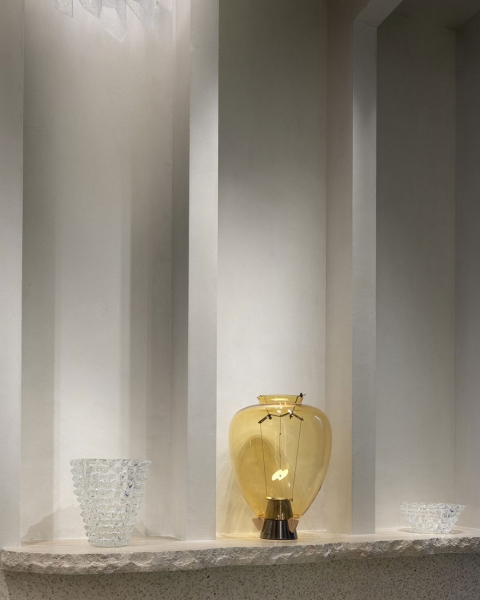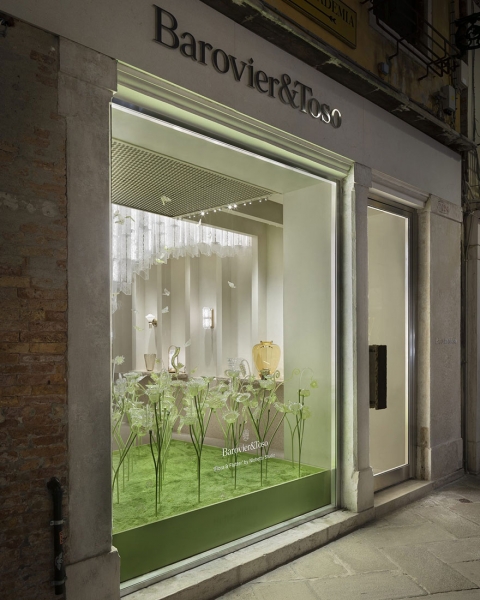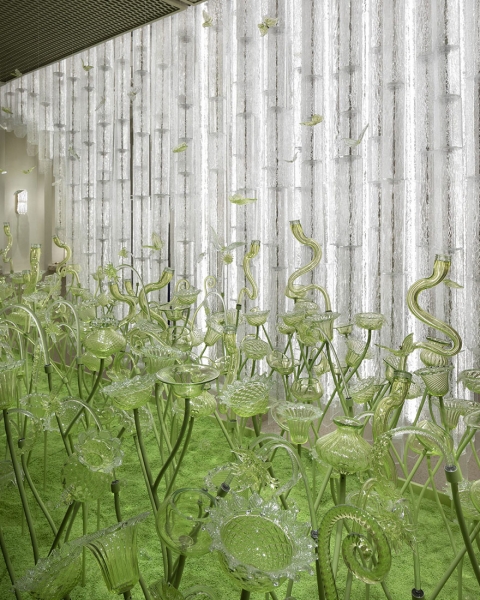 "Our installation is a metaphor for the art of glasswork and the brand's corporate identity. Our goal was to convey that, like plants growing from soil, glass objects sprout from fertile quartz soil – in this case, we used a layer of crushed glass. At the top, we added glass butterflies and other decorative elements to celebrate the intricate craftsmanship of traditional Venetian chandeliers. The monochrome palette emphasizes the materiality of the glass. The boutique is conceived as a jewel," Nichetto says.