Sofas in the modern apartments are an integral part of the design.Often, buying quality furniture that matches the interior in color and shape is too expensive.Making a sofa with your own hands is much cheaper, and its manufacturing does not cause difficulties.
Materials for use
Depending on the desired model, the place where it will be installed in the future, you can choose completely different materials. To make a simple sofa, you can use several wooden pallets or others. The furniture made of them is simple, cheap, and today it is very popular. It is only necessary to supplement the extracted sofa from the pallet with soft pillows, and this will turn into a great place to rest in a room in the Loft style or become an indispensable object of furniture for installation on the veranda of a country house.
Material for making one of the simplest and cheapest options for a self-made sofa can be the most ordinary cardboard. Old cardboard boxes, for example, from household appliances, pieces of cardboard binding, corrugated cardboard – everything is suitable. The main difference of such a sofa is that in this model no nails and screws will be used, the binding of parts of the sofa will occur with the help of carpentry glue. Since the cardboard is easily cut, it is possible to make furniture of any shape and size. In addition, such a design will weigh less than a sofa on a full wooden frame.
Wooden boards as material open a huge field for creativity. From them you can create a full-folding fold-out sofa with any chosen mechanism, make both a frameless version and furniture on a sturdy wooden shaft, create a comfortable sleeping bed or just a place for meetings with friends. The abundance of wood species offered for sale in specialized stores and the thickness of the used boards allows you to adjust the weight of the finished product, its durability and functional features. From wood you can also make interesting non-standard models of furniture for rest.
Also, you can easily make an outboard sofa swing. It can be a great option, for example, for gazebos or verandas. Slow swing and soft pillows will create a relaxing effect and give you a real break from the pressing issues.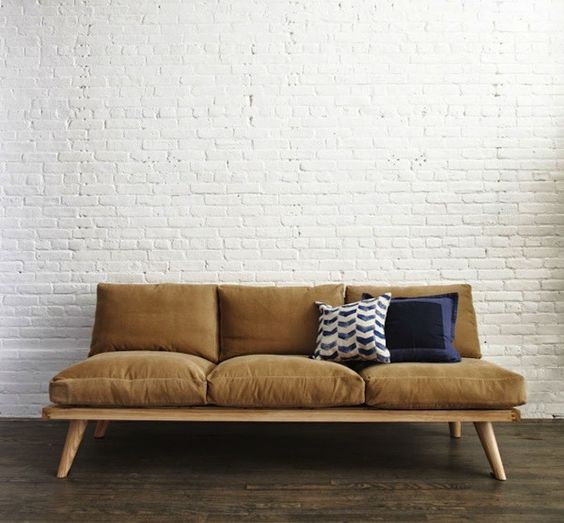 You can also make a completely new piece of furniture by restoring the old frame. Grinding and impregnating wood with a special solution will help to renew the old wood material and create the basis for the future project.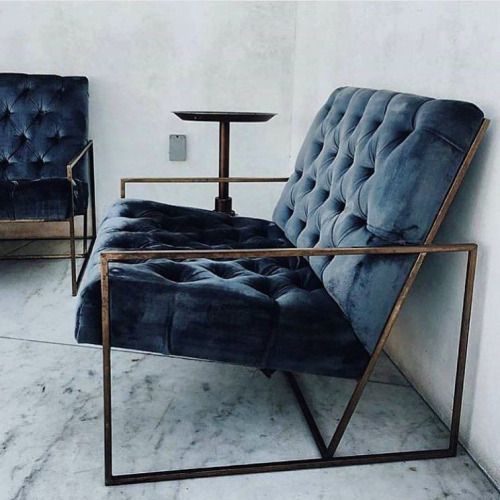 In addition to the material for the frame, depending on the model to be manufactured, it may be necessary to have another material for upholstery. Dense upholstery materials that are most often used for the manufacture of upholstered furniture will come in handy.
The choice will be determined by the interior design, the amount that the craftsman will be ready to allocate to the materials and functions laid on the sofa.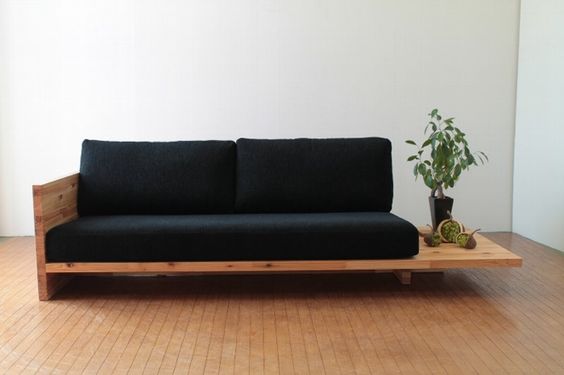 The most popular materials for upholstery:
Genuine leather – one of the most durable materials, gives the sophistication and solidity of the furniture, but it is highly costly and requires special tools for joining parts.
Eco-leather – a material that has all the benefits of genuine leather, among the pluses can be identified lower cost and a larger assortment of colors.
Dermatitis is the cheapest analogue of skin, strong enough, eco-friendly and stylish. Among the minuses is the risk of mechanical damage.
Shenill is a comfortable cloth for masters who do not have much experience in sewing, since it does not stretch and slip, but also has a high degree of wear resistance.
Velor – a soft and pleasant to the touch material, also applies to materials, suitable for sewing, however, and has a significant disadvantage – it is difficult to remove spots from such a fabric and it is verydifficult to care for it.
Tapestry – a solid and durable two-sided material with a drawing. You can buy it in absolutely any store of fabrics, but you must remember that a sofa with such upholstery does not tolerate direct sunlight, because the fabric burns out quite quickly.
Jacquard – durable, pleasant to the touch material resembling silk. Has a characteristic brilliance. When choosing, it's worth bearing in mind that when sewing materials can slip and will have to put some effort to make the product made beautiful and neat.
You can use old furniture for your decor ideas.