New year is one of the most fabulous holidays that is loved by all, both children and their parents. And that would create a fabulous atmosphere that will be remembered for many years, you need to prepare well.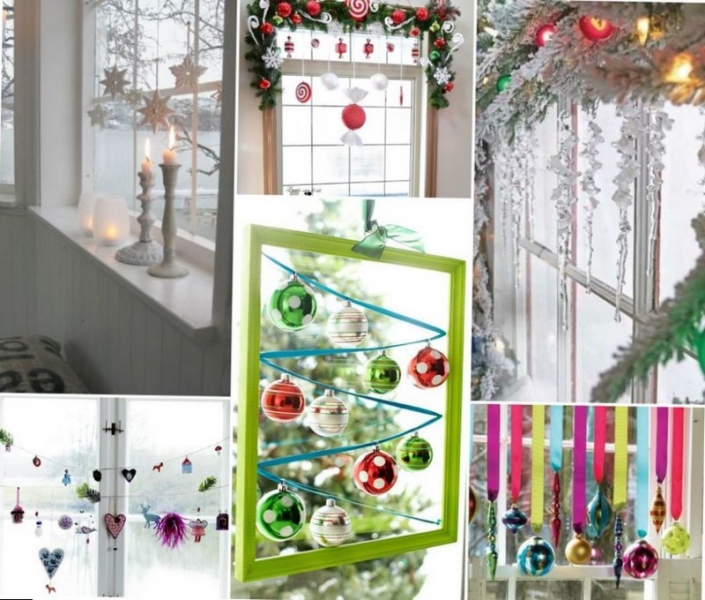 The decoration on the Windows for the New year
Of course, that the most important attribute of New Year is the tree on which we spend the most time, but today has become very popular decoration of the Windows with their hands. The window decoration will not take you a lot of time and everything can be done easily with available tools. Homemade decorations will last you much longer than the market. And design you can develop yourself after watching step-by-step instructions. We are ready to help you, on our website you can find a lot of original yet simple and inexpensive ideas for decorating Windows.
merry snowmen
The decoration on the Windows for the New year
Very many people in the beginning of December are beginning to look for decorations for the new year. Special attention to decoration is the window in the room.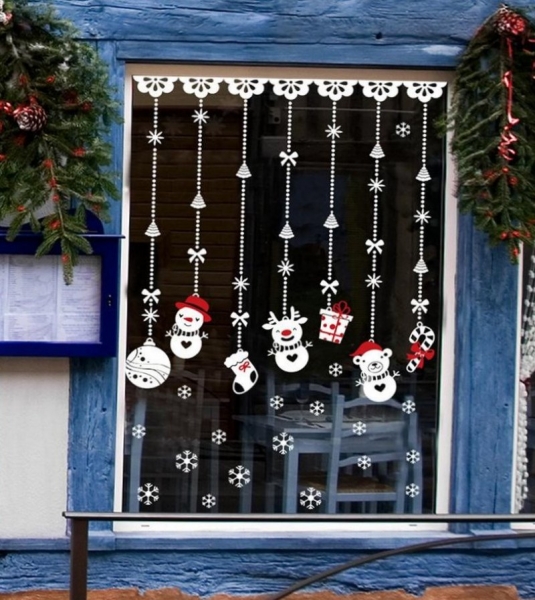 Christmas stained glass
This decoration you can also involve your children, who will be happy to help you to draw, cut, glue, because all children love a story.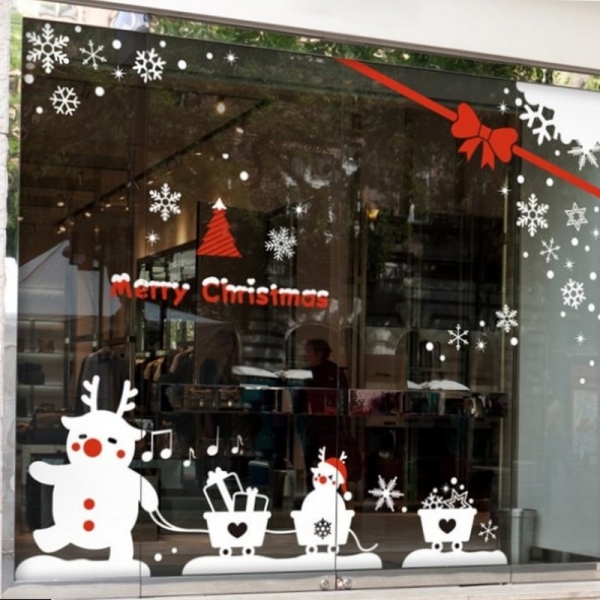 Merry Christmas
And the guests who come to you on holiday will appreciate your efforts and will give you special mood. Previously, in Soviet times was the most popular decoration on the window with toothpaste, but now in stores you can find anything with Christmas paraphernalia.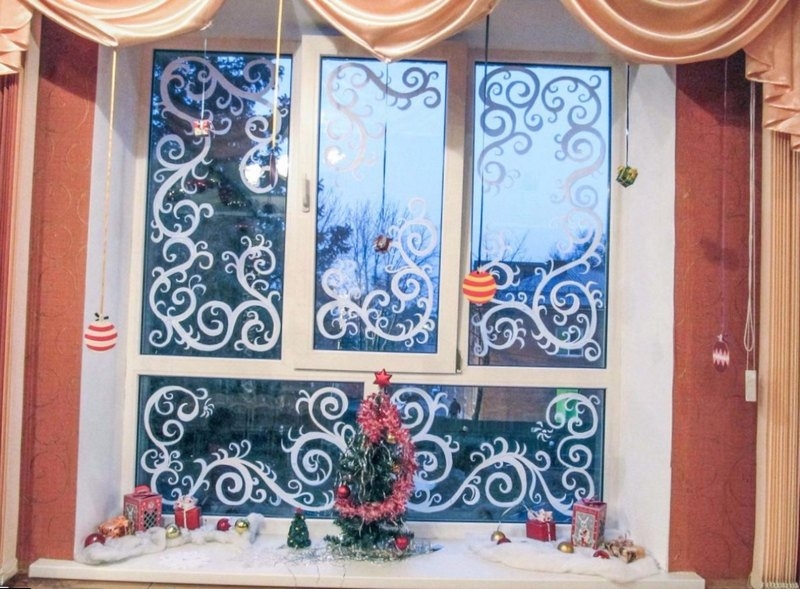 Ornament Christmas window
But to simplify for you, we find the most original ideas to decorate Windows for the New year.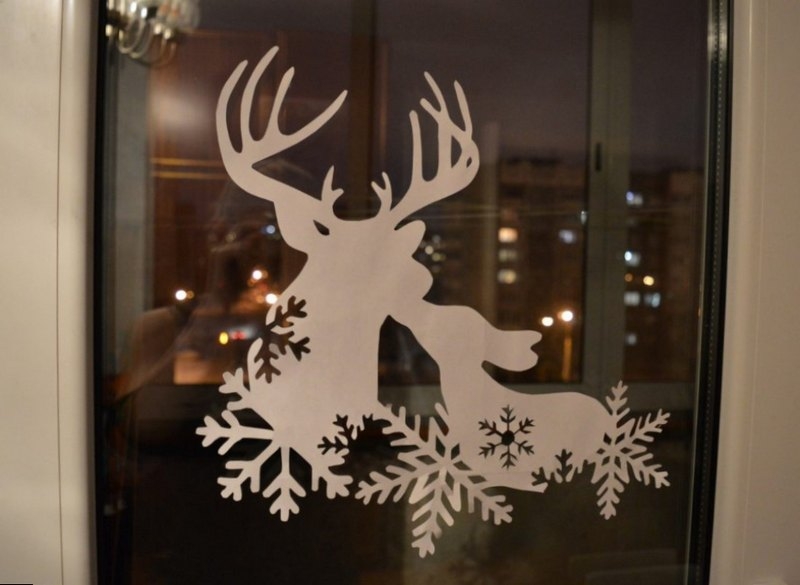 Fabulous deer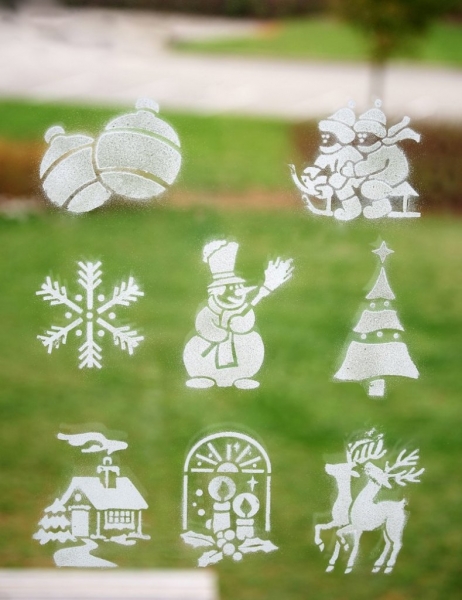 Christmas paraphernalia on the window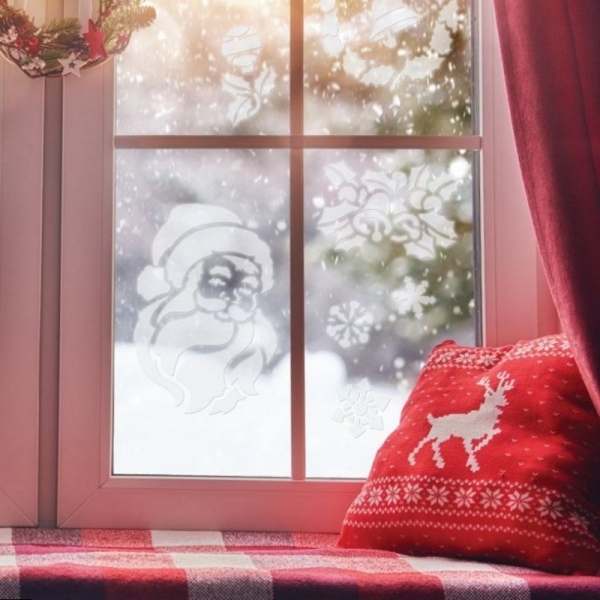 Santa Claus window decoration
Read also: 55 Interesting ideas of design of houses and apartments by the new year 2020 with their hands
Stencils on Windows to the New year with their hands to cut
The most popular decoration for any occasion is paper. Very easy to make decorations with stencils for Windows.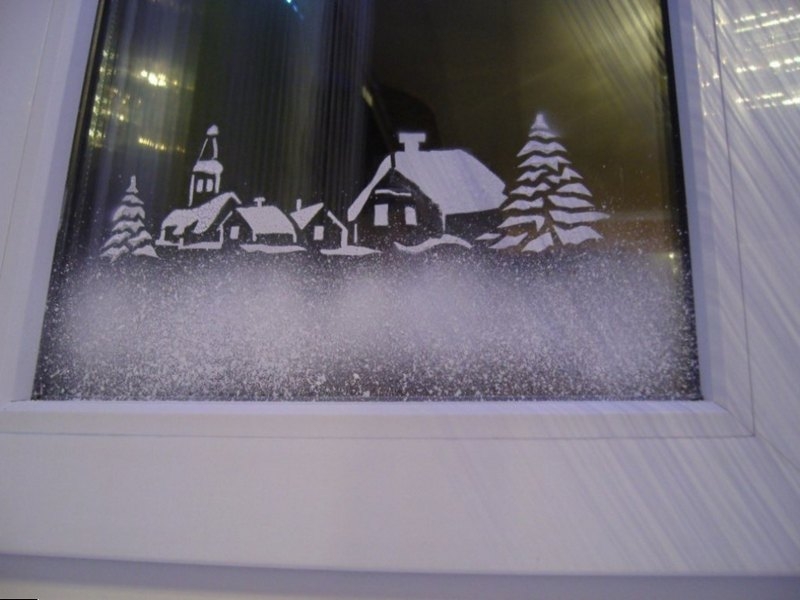 Cold winter
It can be purchased in store or download from the Internet and then print and cut. Or to dream with the child and to draw yourself, it can be Grandfather frost, the snow maiden, reindeer, sleigh, snowflakes.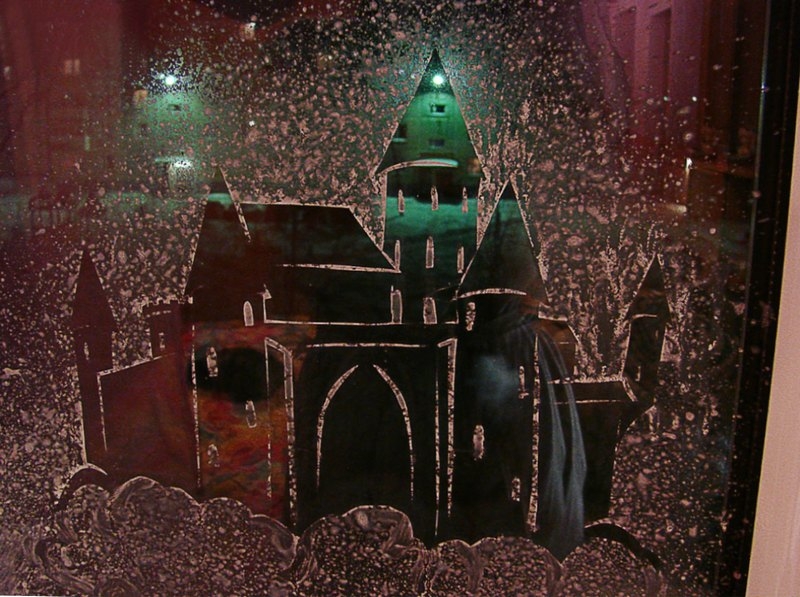 Vintage winter castle
And don't forget about the host of this year of the Rat. When you have a backdrop made, you can proceed directly to the decoration.
Multyashnye merry Christmas heroes
If the picture you want to transfer in the window can this be done with the help of toothpaste diluted with water and just pobrisati and when it dries the window will display your masterpiece.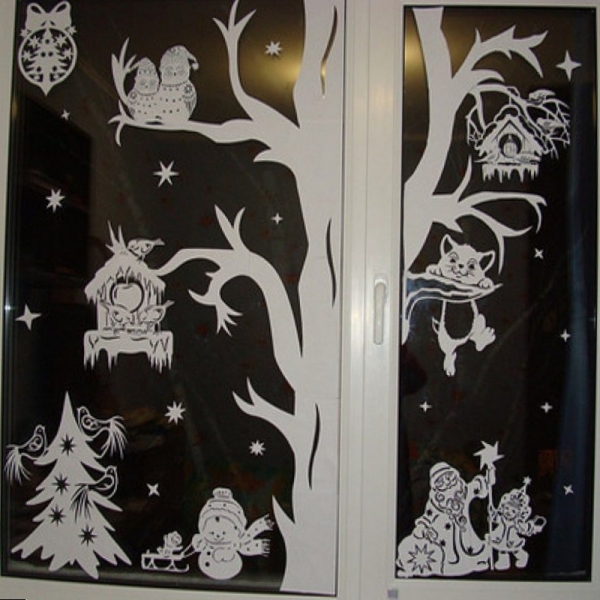 Christmas stained-glass Windows from paper
Or just glue your stencil using conventional bar soap. Please note that large items are best placed at the bottom and a little top, looks so much harmoniously.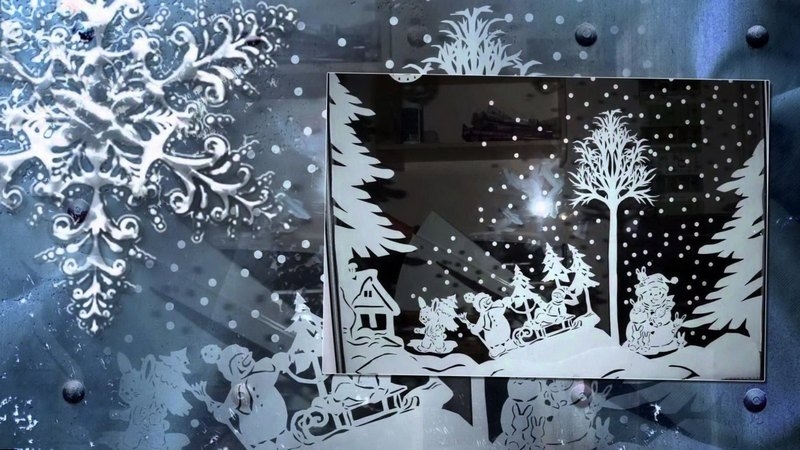 stencils for stained glass new year
All actually very easy, because you can decorate your party with the available tools and minimal effort.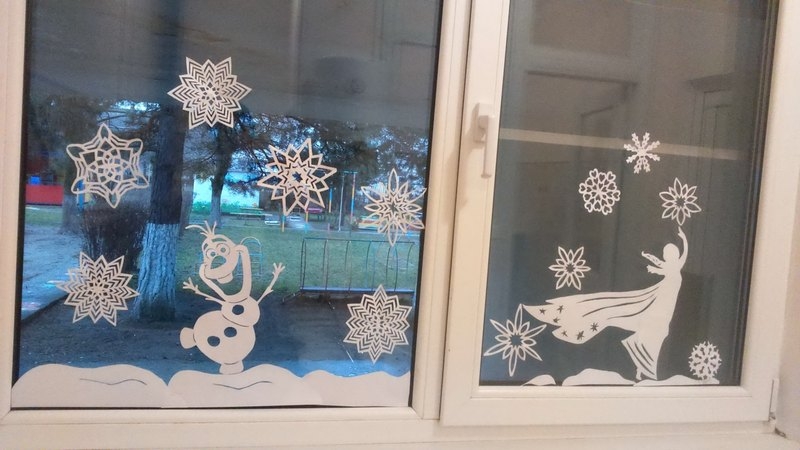 Funny Olof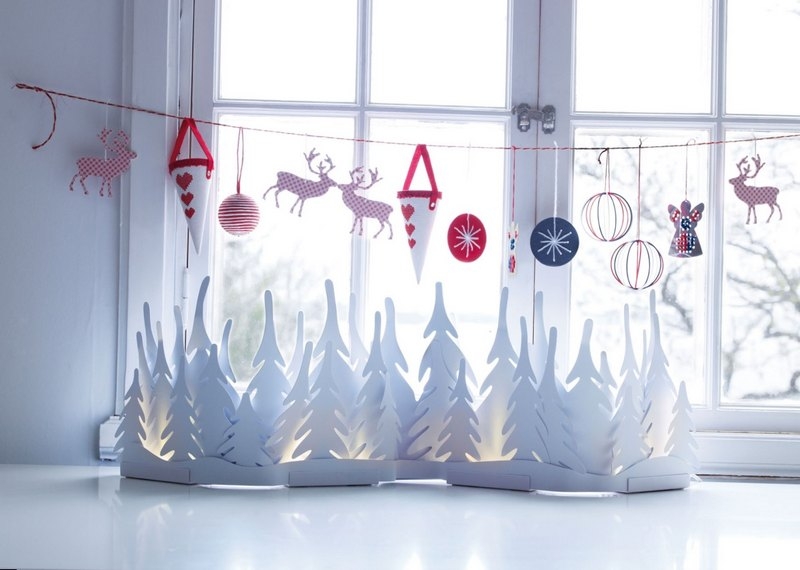 Christmas forest on the window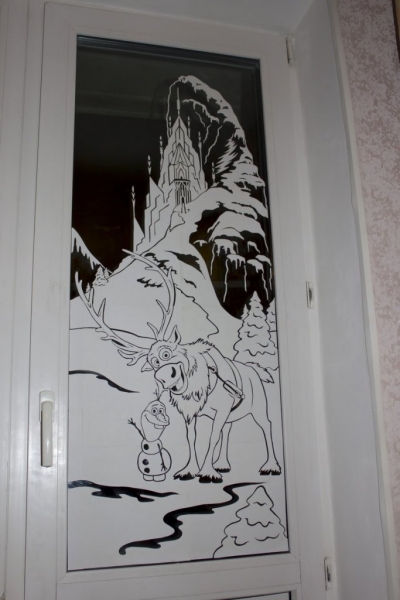 Christmas decorations on the Windows of paper stencils heart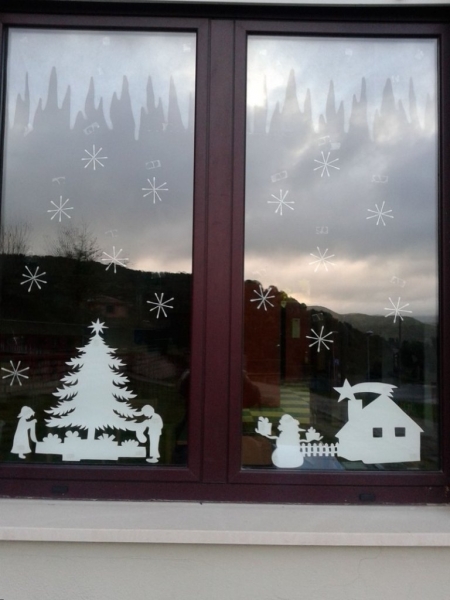 decoration on window of paper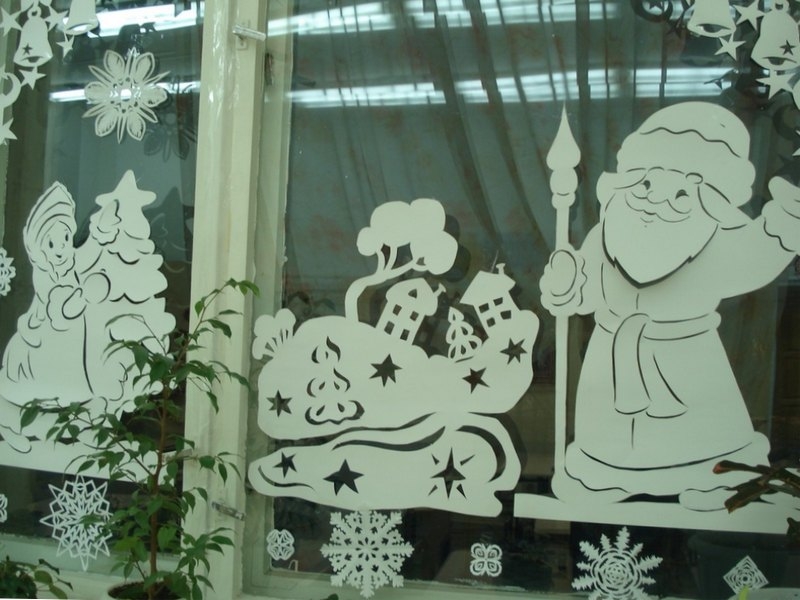 decoration on window Santa Claus and snow maiden
Decoration of Windows in vytynanka for the New year
Paper cutting is a kind of equipment which is depicted on paper using a pattern or drawing. This technique can be called refined because the subtlety of this work is striking in soy beauty.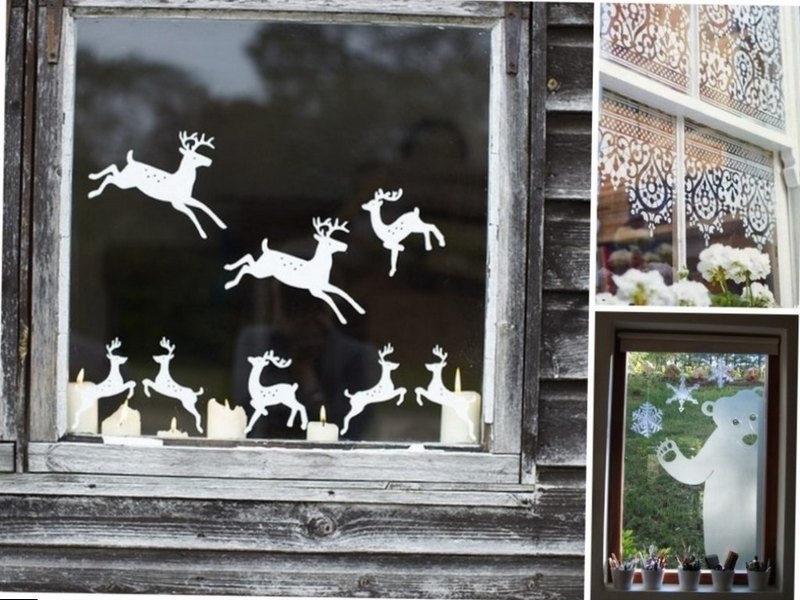 new year paper cutting Deer
This technique came to us from very ancient China of the seventh century. They adorned the Windows of the bride for the wedding, and also for New Year and Christmas, Easter.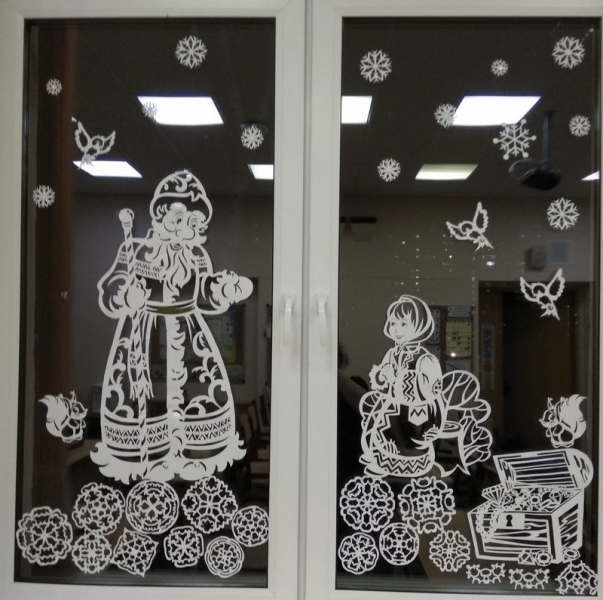 paper cutting on the Windows with Cartoon
To make such a creation is very easy, just need a little time and imagination, a very popular paper cutting to a New year, a snowflake with a song in the middle.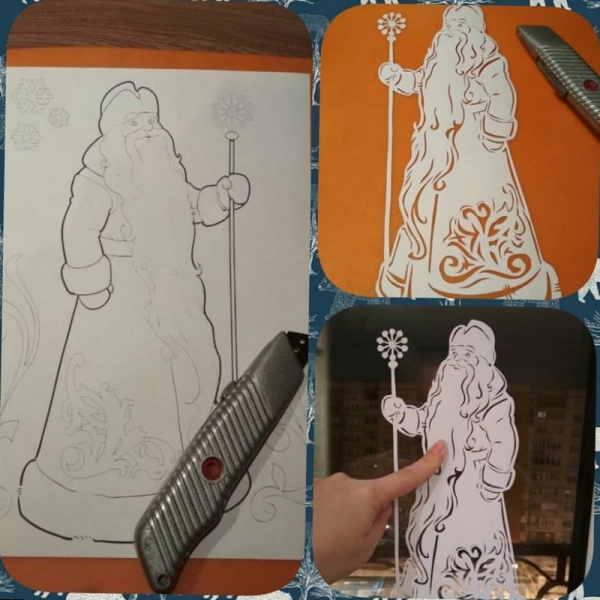 paper cutting of patterns and stencils Santa Claus
Also not inferior to the popularity of the composition in the form of Christmas toys. And for Christmas very nice to decorate Windows with candles clippings in paper cutting techniques, they will create an atmosphere of your home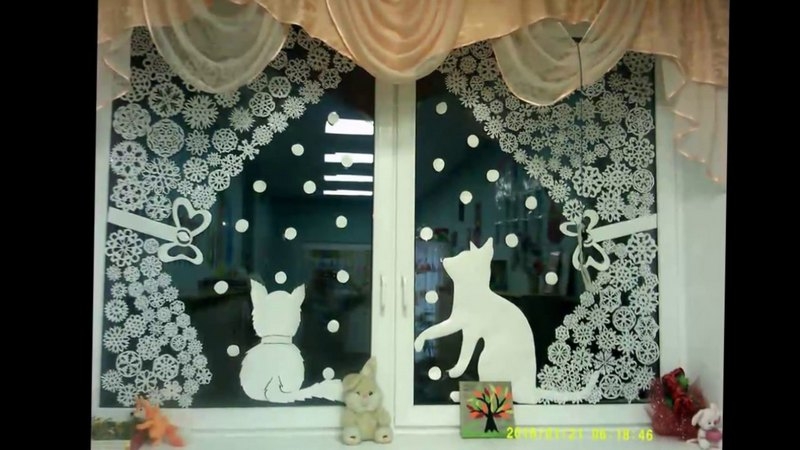 paper cutting new year Seals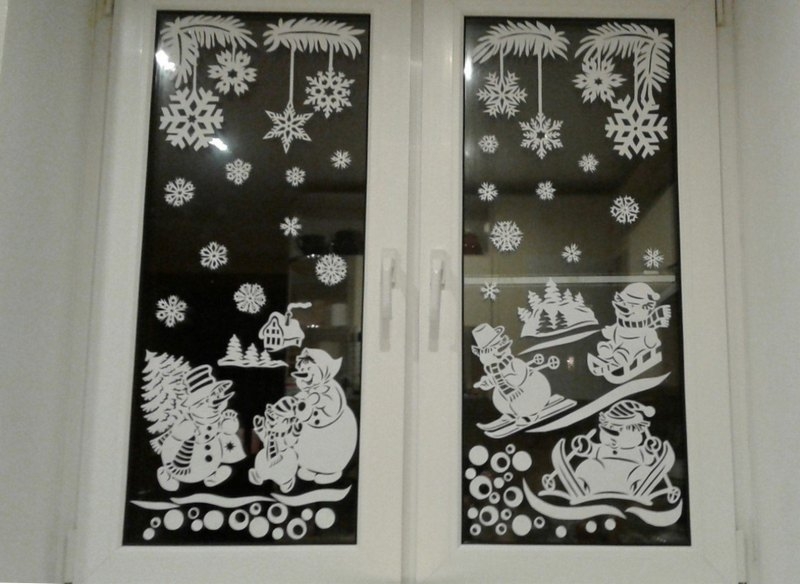 paper cutting fun winter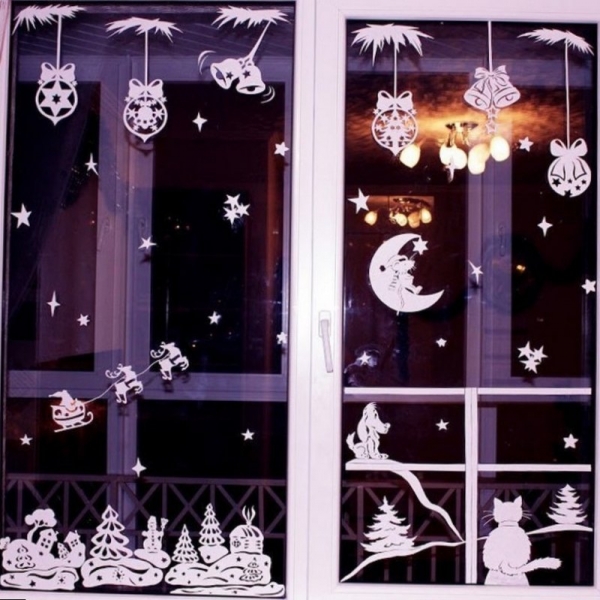 paper cutting Christmas trees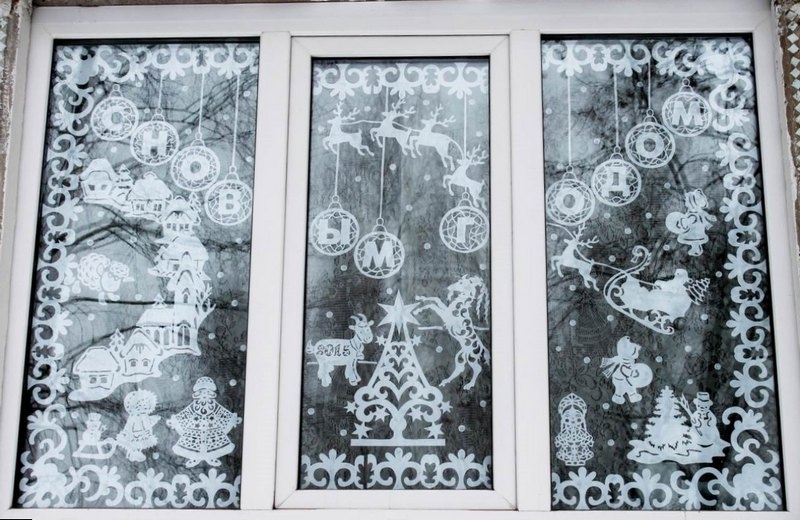 new year paper cutting for Windows patterns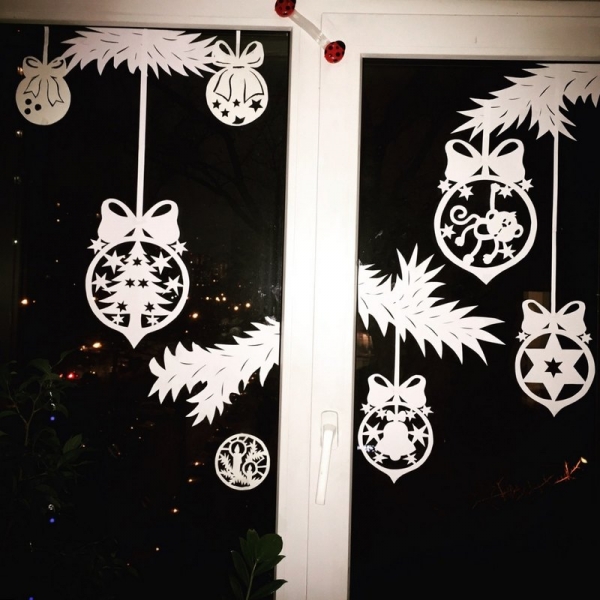 Christmas decorations on Windows with paper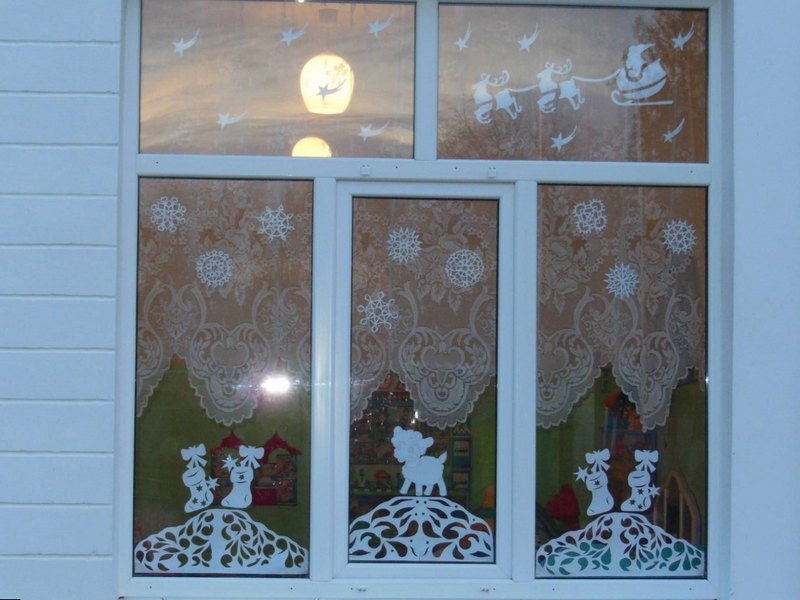 new year paper cutting on the window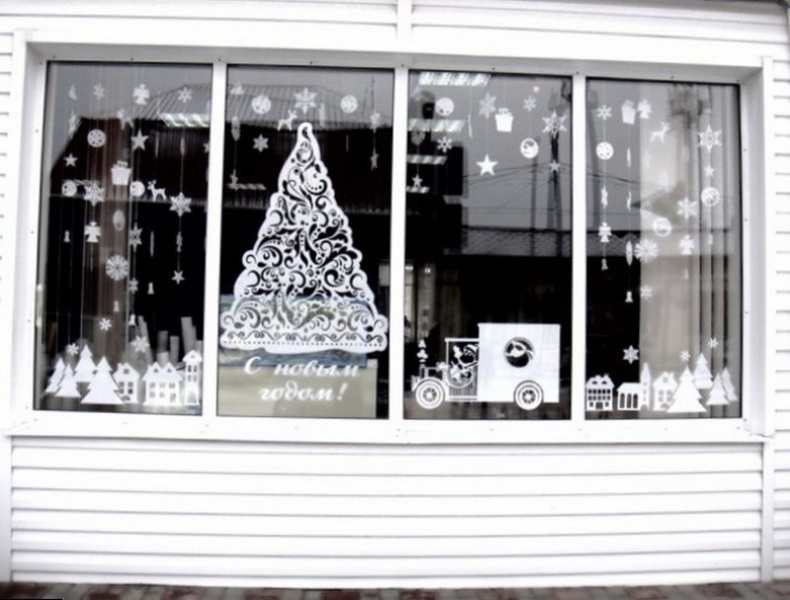 With the New Year in a big window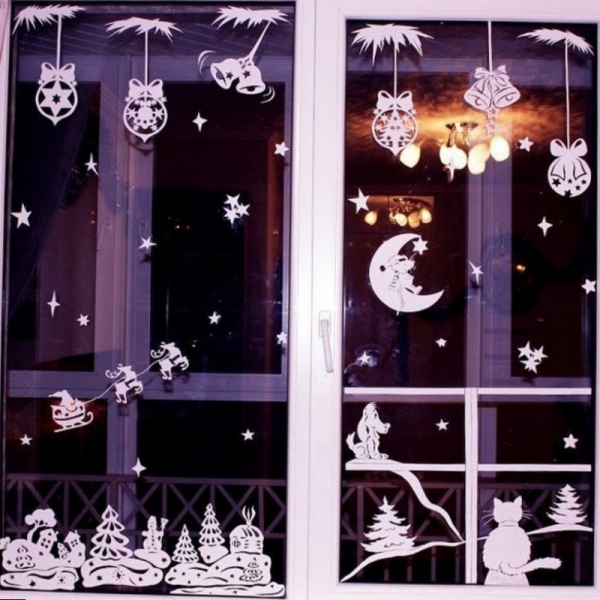 paper cutting Christmas trees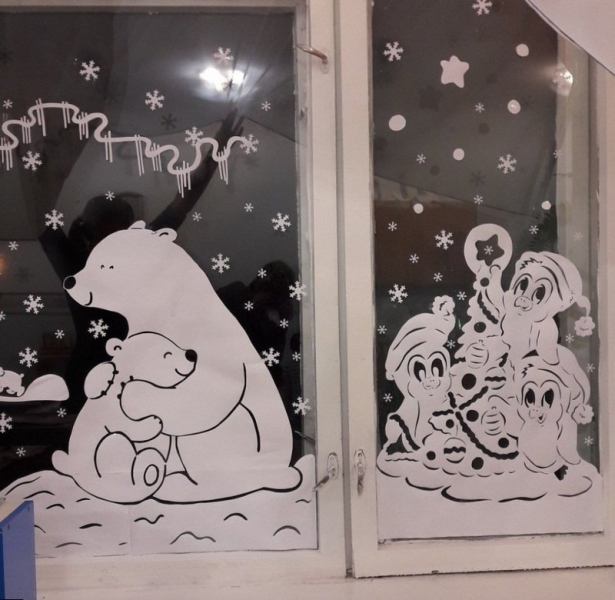 vytynanka winter Bears and penguins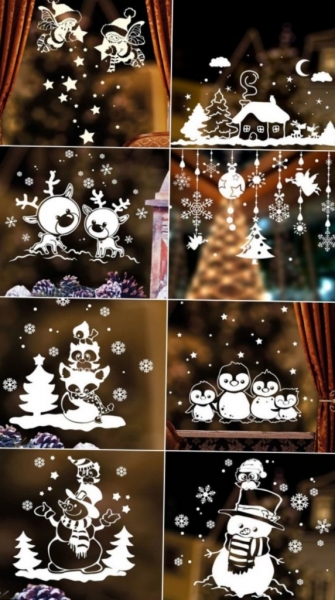 paper cutting new year different animals
Stained glass designs on glass Christmas themes
For the New Year is time left and if the weather is as you are not too pleased with the lack of snow and frost. You can create a winter atmosphere in the house, and with the help of various jewelry, hand made.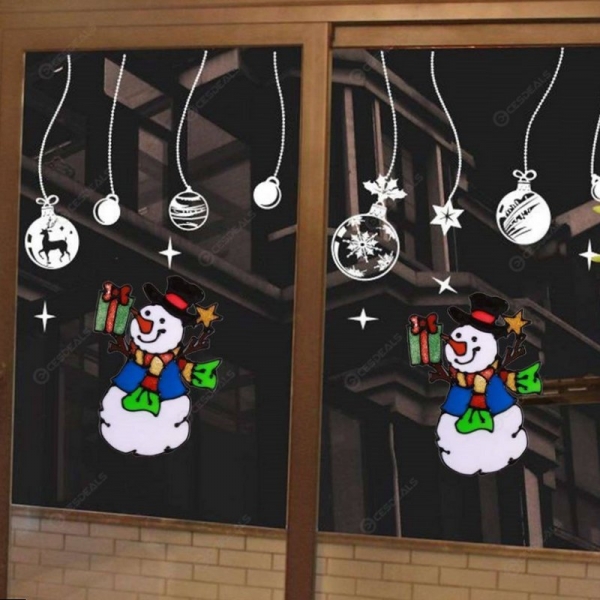 stained-glass Windows for the new year colorful Snowmen
After all, the picture on the glass is first and foremost beautiful and fun. Stained glass technique is very simple, but if you meet her for the first time, you need to watch a couple of lessons to understand what was happening. And most importantly the desire to learn something new.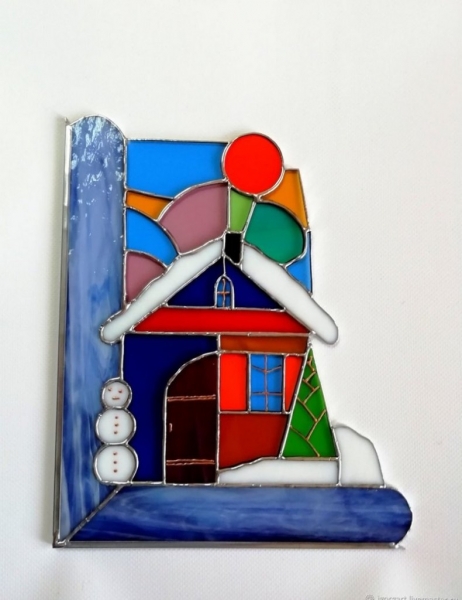 Christmas Winter stained glass window home
The beginning is to paint with acrylic paints the outline on the glass, and then stand to dry the creature.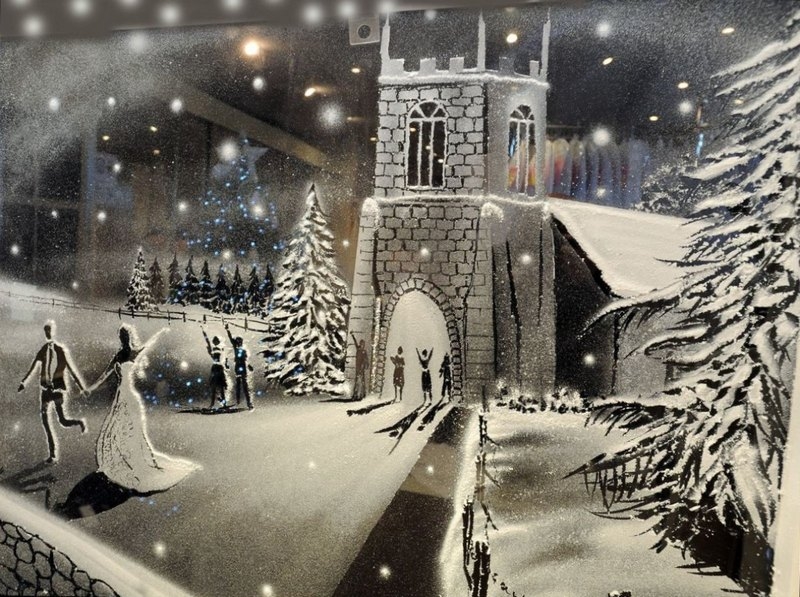 stencils for stained glass new year
When the drawing is dry you can start painting the sketch when you are all painted, but in your opinion little gloss on top it is possible to cover with a transparent paint with glitter.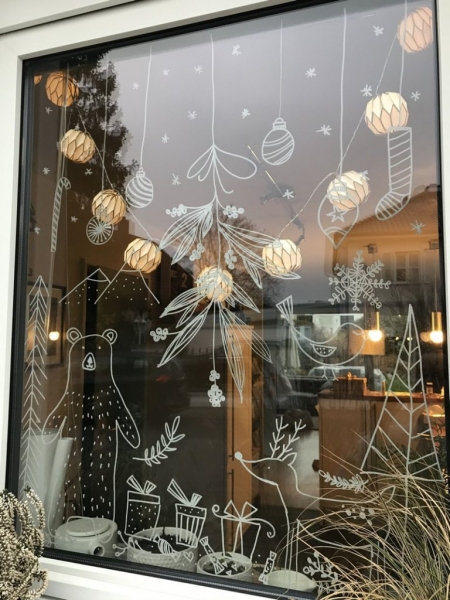 images for stained glass new year
And again allow to dry. And you can decorate your window. Festive mood and a happy New year.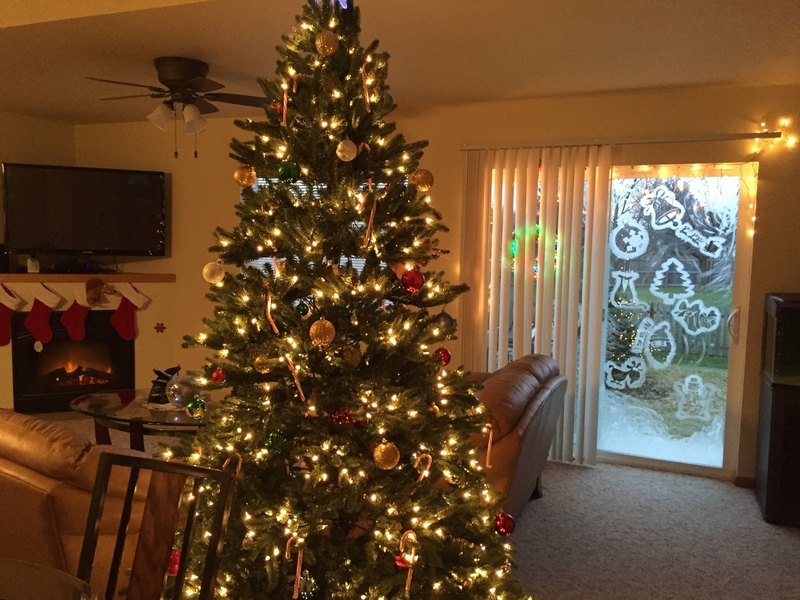 Christmas stained glass Windows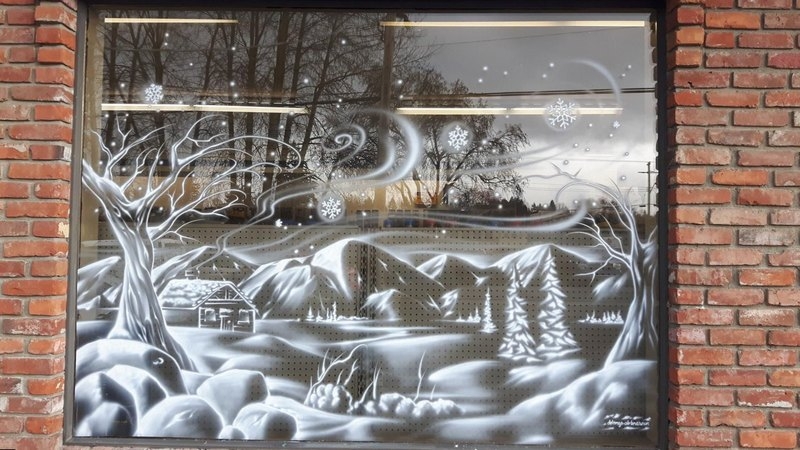 Blizzard on the window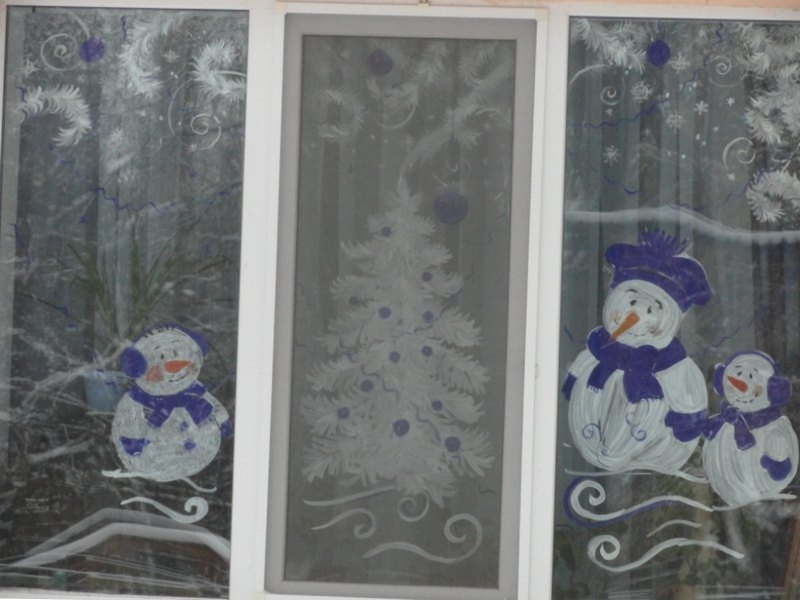 new year images for stained glass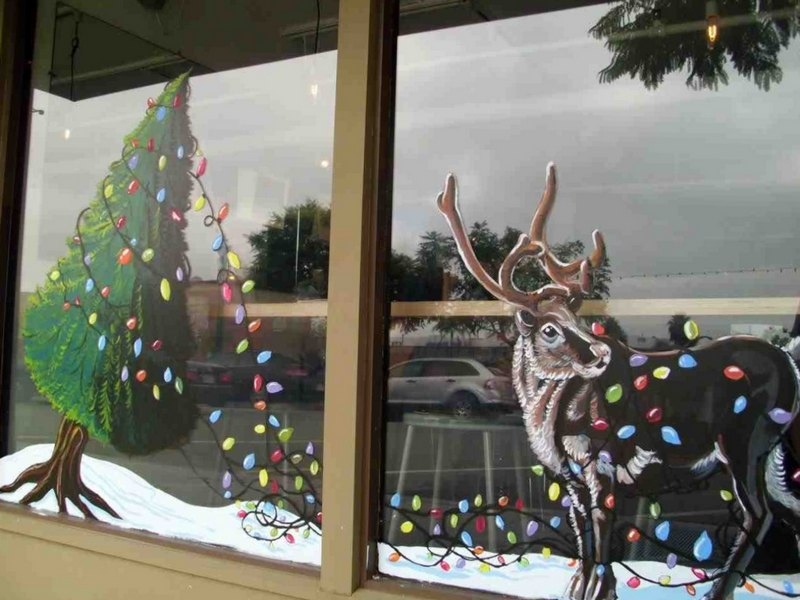 stained glass window decoration Deer lost in the city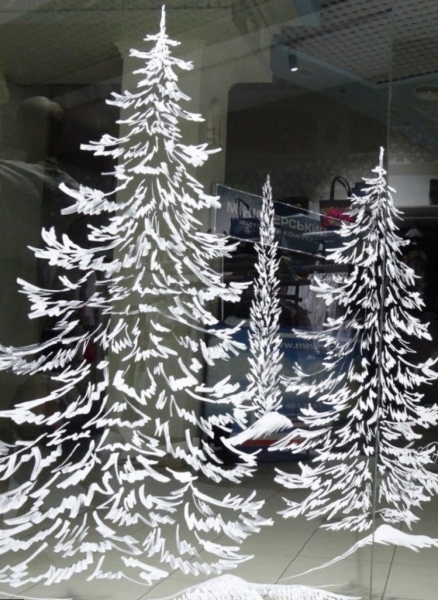 winter forest on the window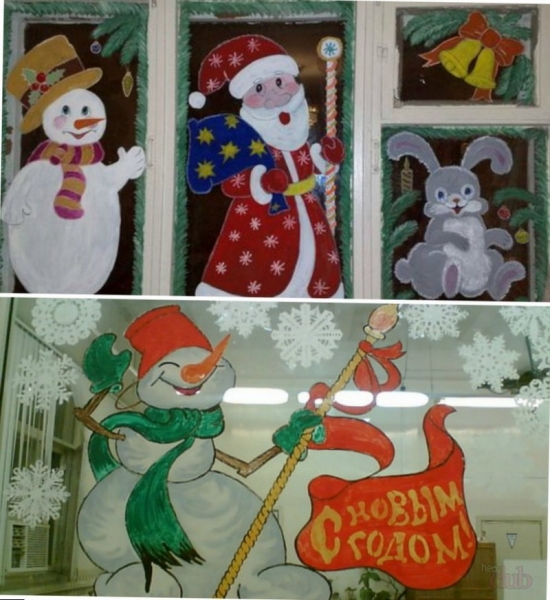 window decoration New Year and all its characters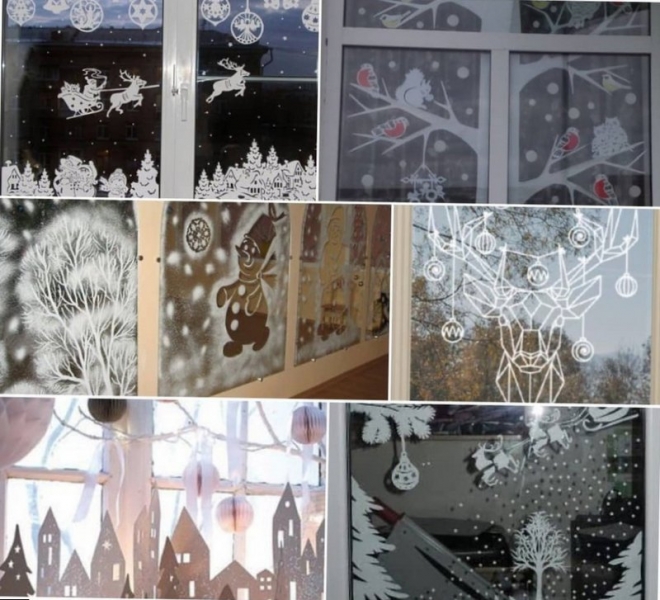 a kind of stained glass window decoration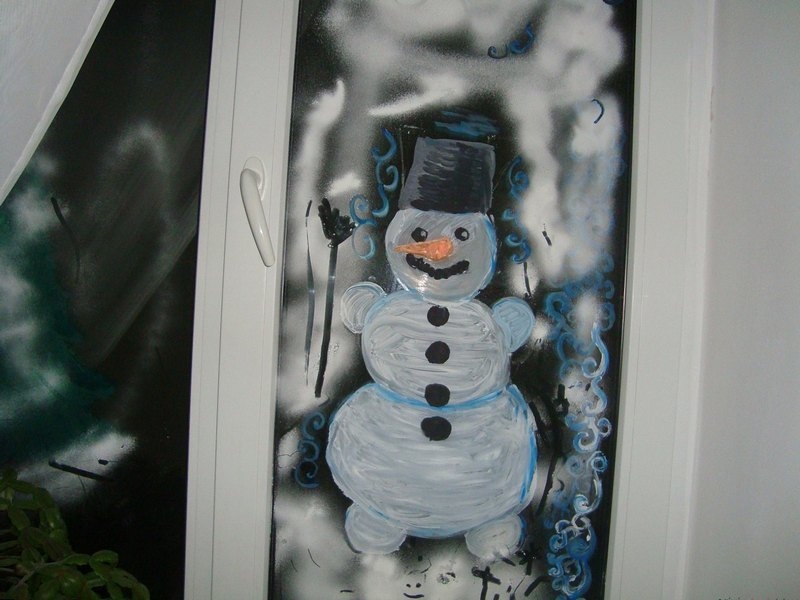 In anticipation of the holiday Snowman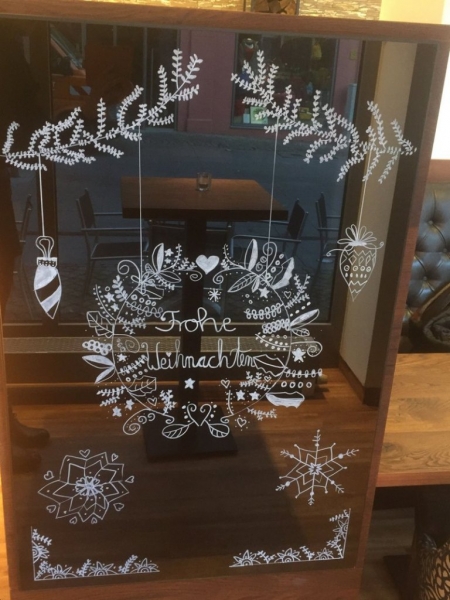 Christmas stained glass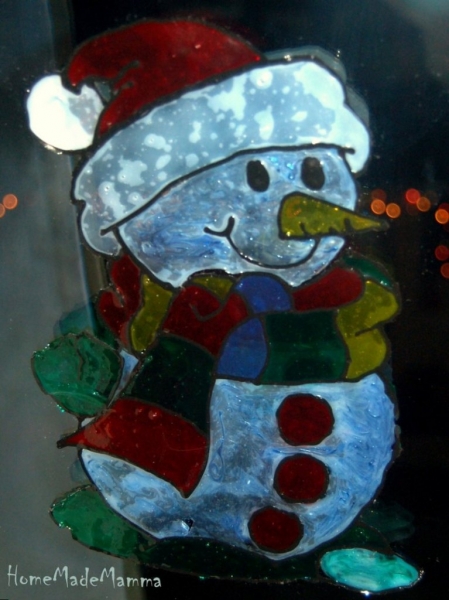 a large snowman on the window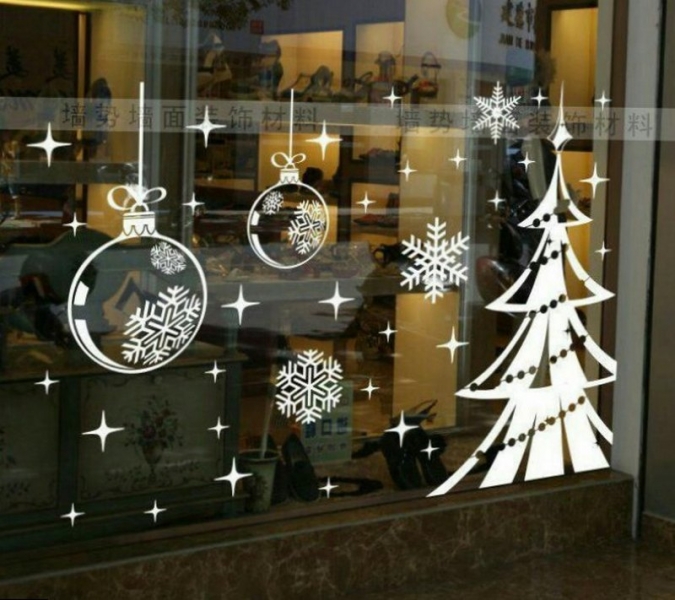 drawing on the window for the new year
the pictures for the new year large pictures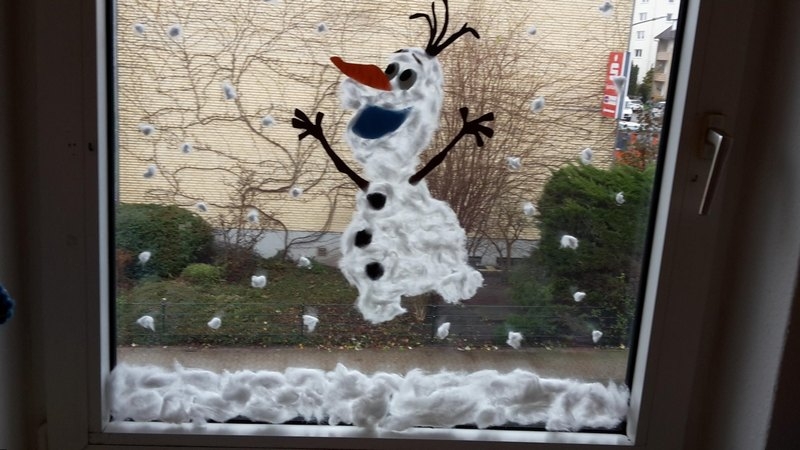 the pictures for the new year merry Olof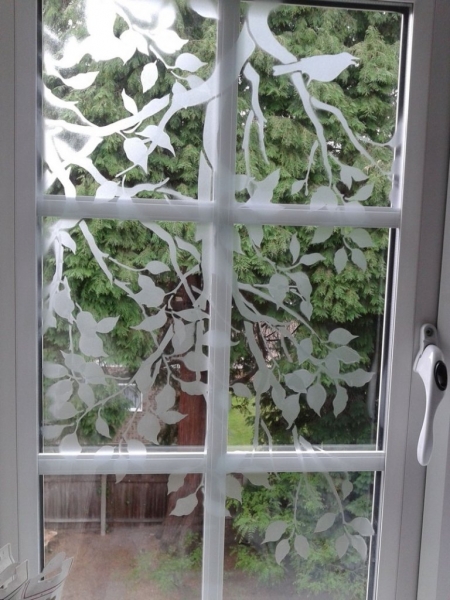 Christmas decoration on the window of tree Branches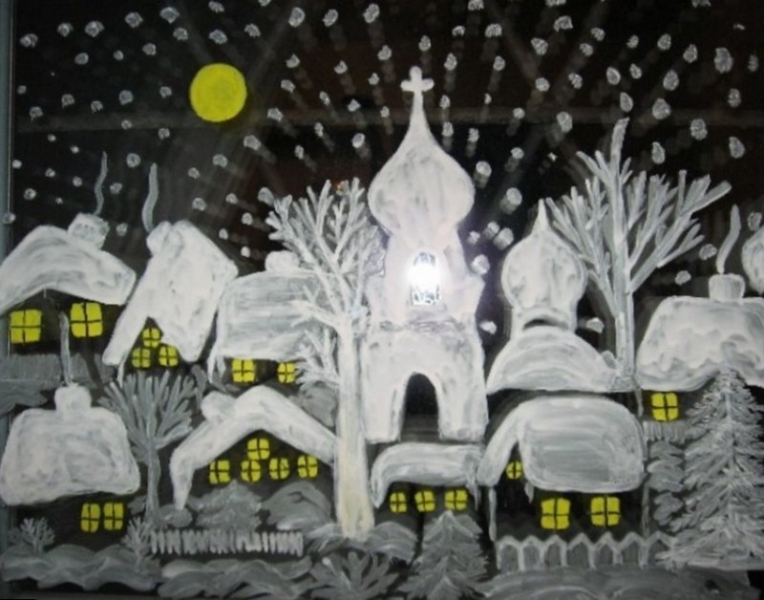 Christmas drawings on the Windows of the Village
Paper decoration for Windows for the New year
Ideas how to decorate Windows of paper came to us for a long time. And even today, with many varieties of jewelry on the Christmas tree, and decor for your apartment.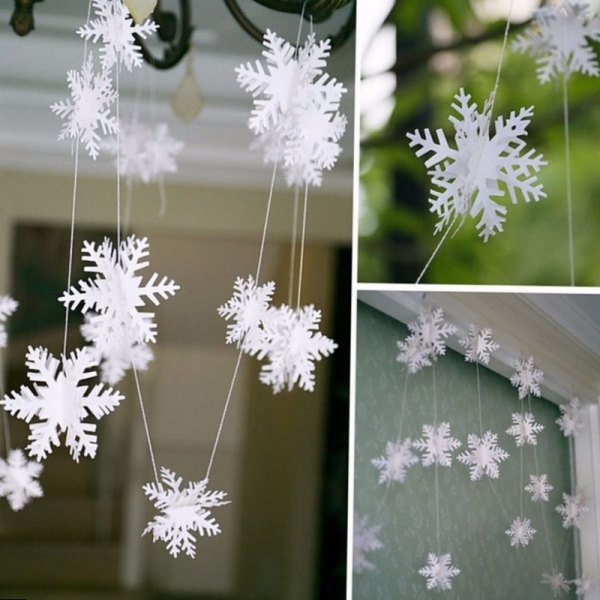 Christmas decoration paper Snowflakes
But even for estates of all this, you can always come up with something creative. And to decorate this decor does not need a lot of time and cost.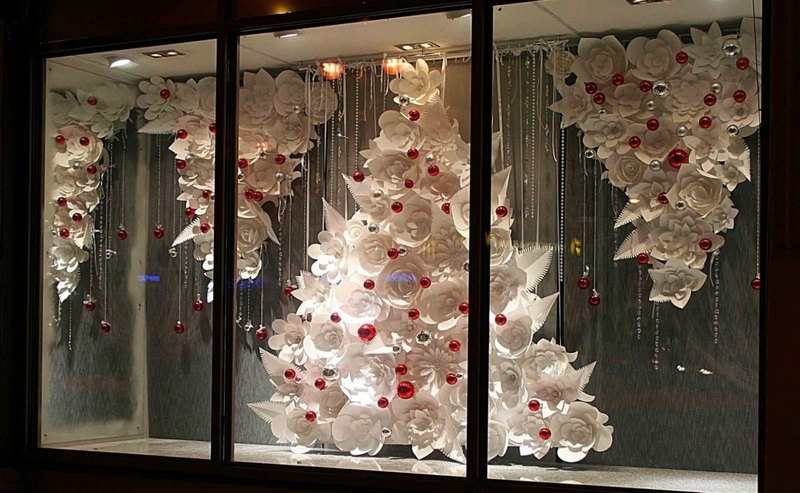 decoration new year paper tree of roses
The paper is very comfortable material that is easily attached and easily peels away leaving no trace. You can make the decoration the technique of quilling.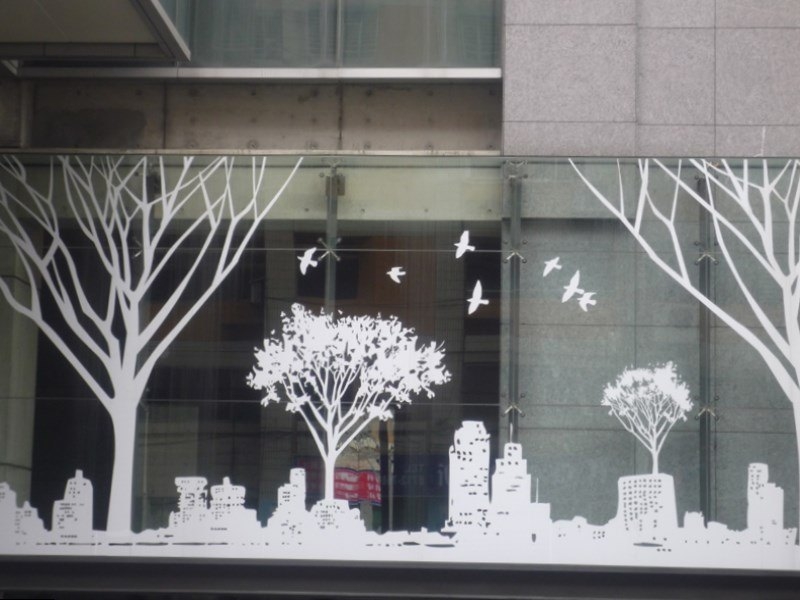 Christmas decoration from paper with your own hands City
For such figurines need a special paper tool, and glue. First, you wind a lot of spirals, and then begin to gather the application with glue.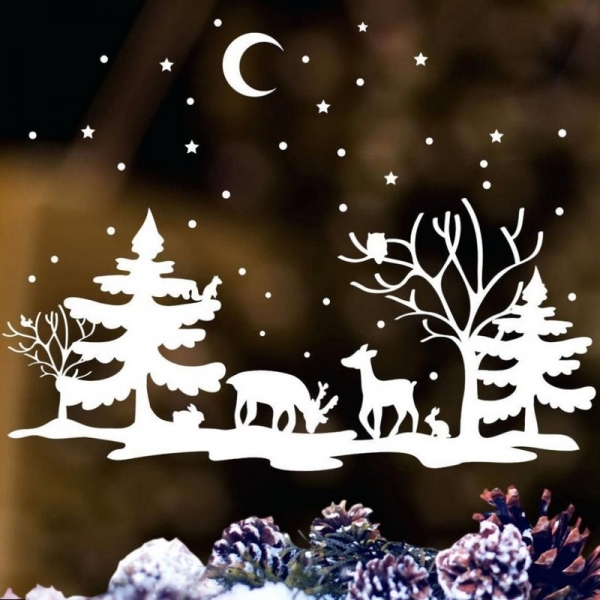 Christmas decorations on the Windows of paper stencils Winter Forest
They can additionally paint colors, or sparkles, and you can also add rhinestones. Very quickly you can decorate the window with napkins purchased in the store.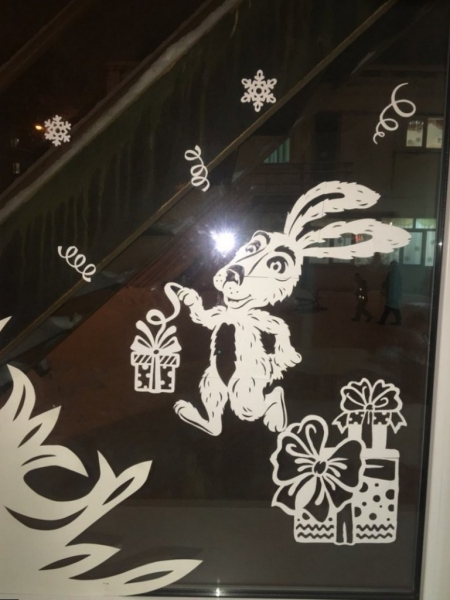 decoration on window of paper Bunny with gift
Cut out different snowflakes of different sizes can decorate your decor.
Christmas decorations window candles
Very interesting you can decorate the window for the New Year with decorative candles. Candles can be as different and the same in its design and will look very beautiful.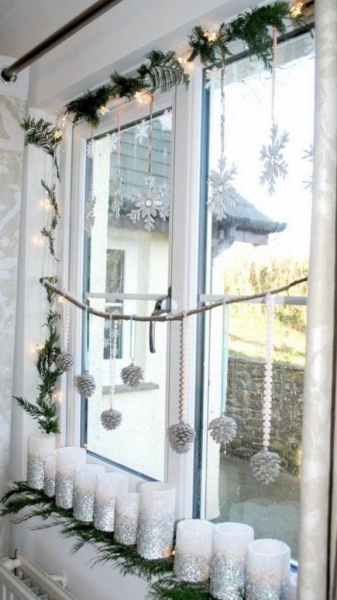 composition with candles for the new year
And you can do a whole composition with candles in the window. For example, suppose that your sill is a miniature scene that you want to decorate for the performance.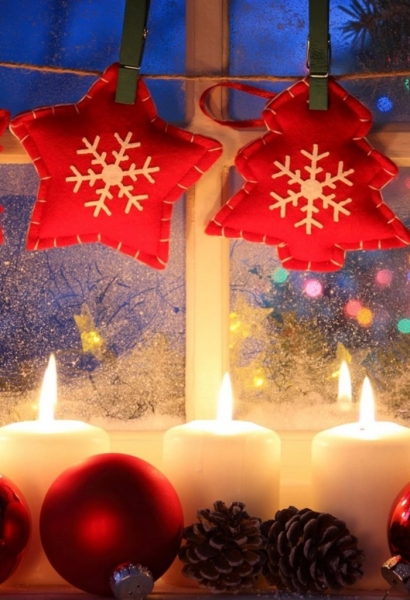 Christmas candles in the window
Needs a lot of light, take candles on high candlesticks, add sprigs of fir cones, Christmas toys and so you do the chic composition.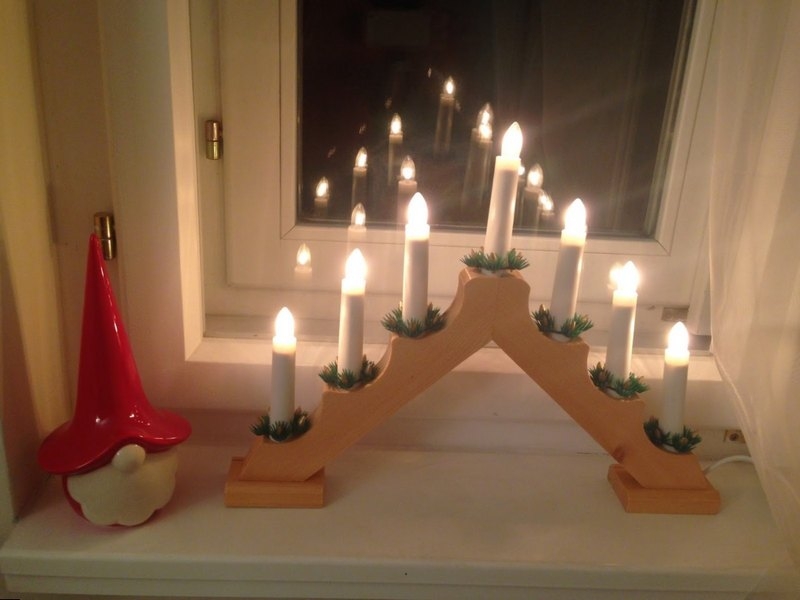 composition with candles for the new year
You just need more simple ideas and add a bit of imagination.
Christmas candles in the window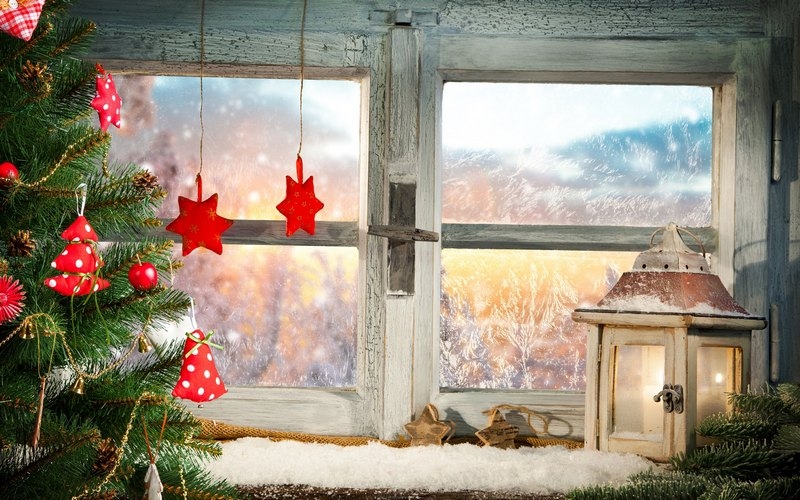 decoration on window for the new year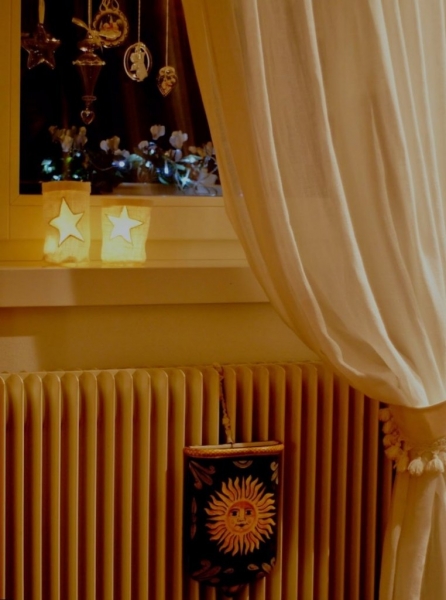 decorations on the window, candle in pouch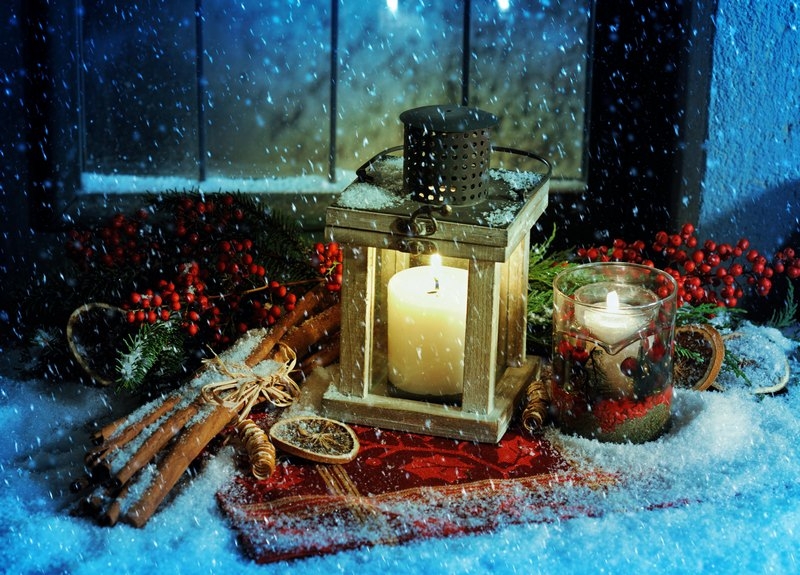 window decor for the new year winter song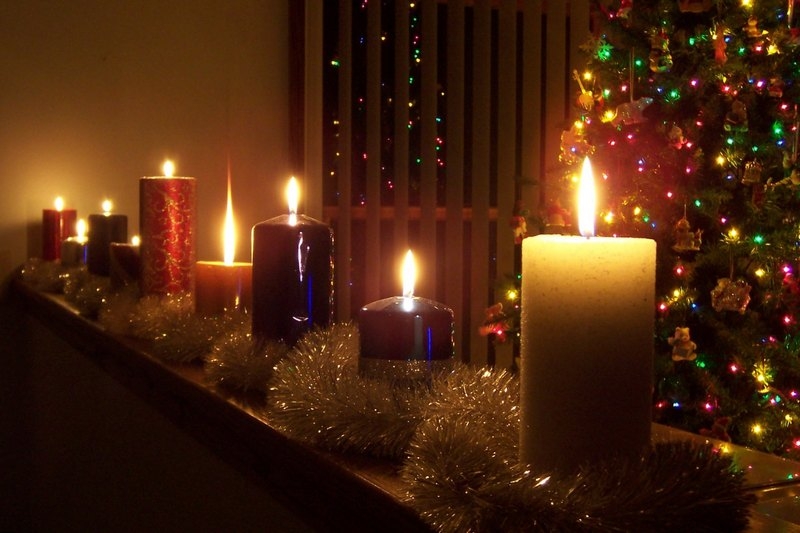 Christmas decoration on window candles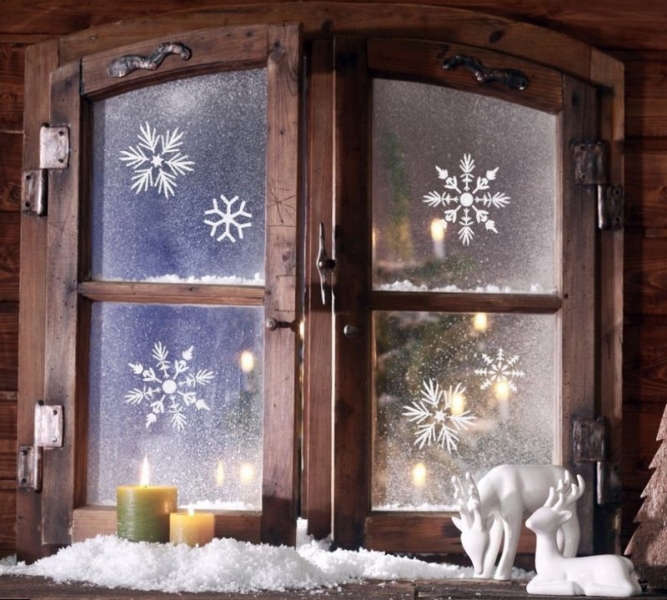 Winter fairy tale forest
Decoration window stars
To create a festive atmosphere do not have to spend a lot of money. Home decoration can start with Windows, creating a story with their hands. For example, you can take garlands, candles, ready-made products on the shelves of the store. And you can just take paper and create yourself. Now a very popular decoration asterisks. You will need paper, scissors and toothpaste. First cut out just the star. Not necessarily to have it perfect, take the stencil and attach to the window and translate it with diluted toothpaste. How you put stars in the window, it depends on your desires and fantasies.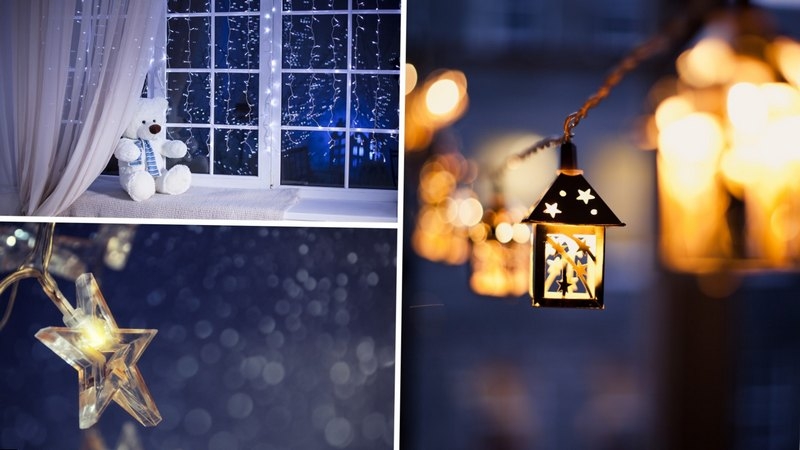 Christmas star in window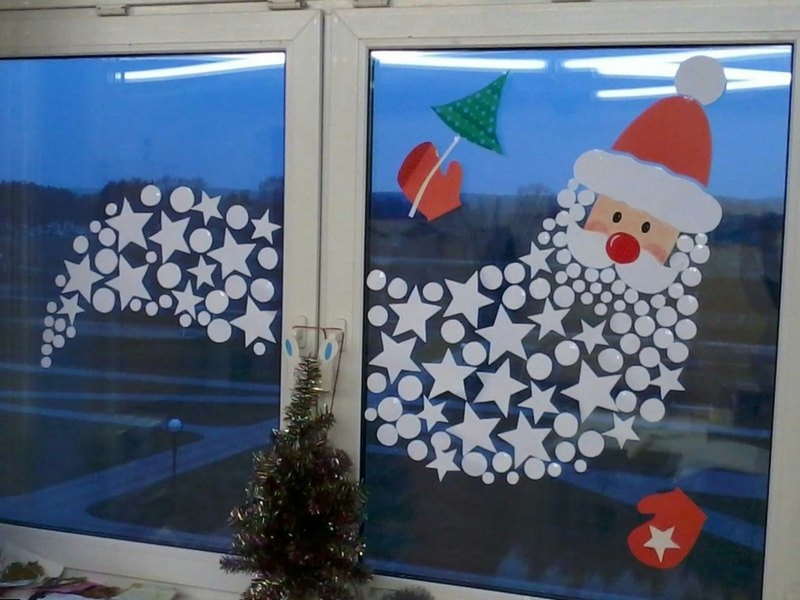 window decor for the new year cardboard stars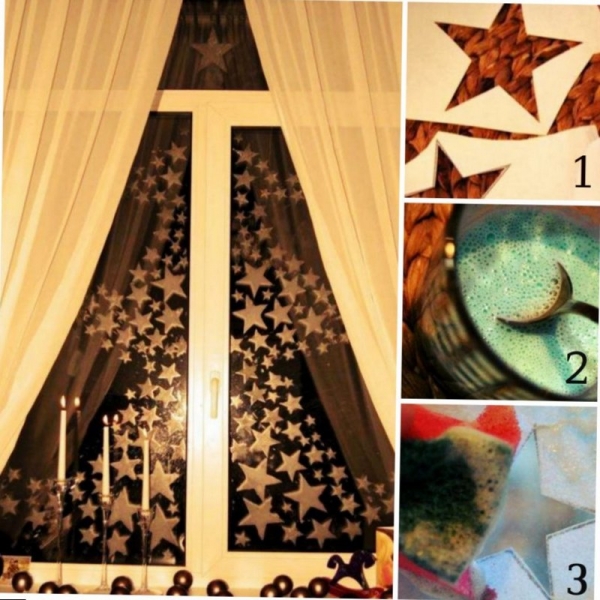 to paint Windows in the new year in the form of stars
Beautiful box out of cardboard to decorate the Windows
Each of us loves a story. To meet new interesting need for this issue to go in creative. For example, decorating window boxes very interesting and not expensive idea. For this we need choose box ribbon, thread, and glue. Can make the new year the suspension or garland with mini boxes and place over the window and will be very harmonious look. And you can make a winter arrangement in a large box decorated her winter decorations can be Christmas decorations. The branches of spruce, mountain ash, viburnum different sweets. Your finished composition, you can put on the window, to light the next candle and will you have in the house to reign a Christmas story.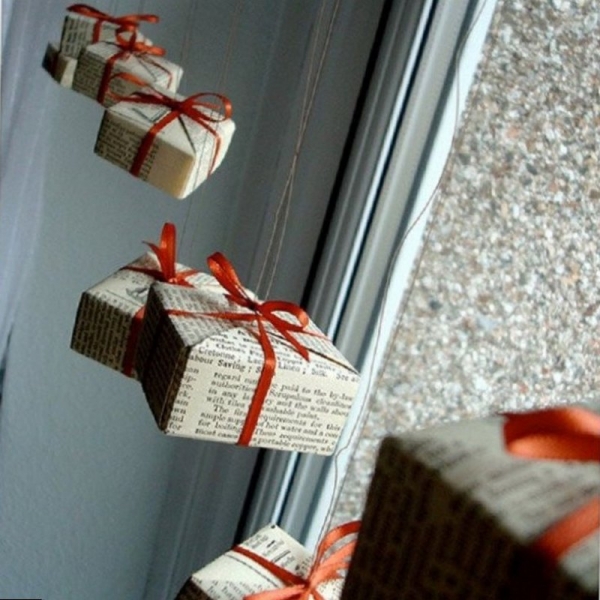 Christmas decoration boxes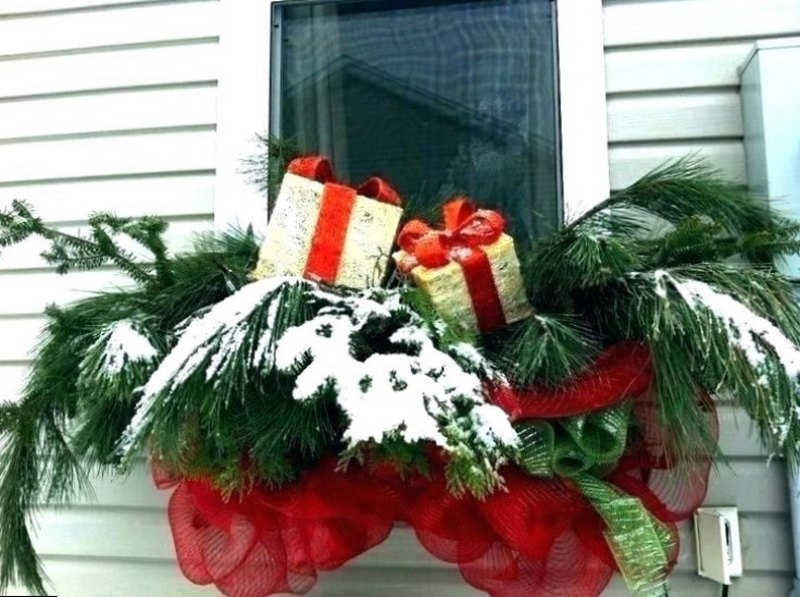 making a Christmas window
Window decoration snow foam
The foam is very light and affordable material. With this material you can make plenty of ornaments and decorations for the new year. It can be snowflakes, houses, snowmen, Christmas trees, garlands. Decorating with this material you will serve not one year. While, your family looking at your beautiful window will immediately begin to understand that you eve special and fabulous. It is the expectation of the holiday season, a merry household feasts, nice gifts. Don't be afraid to dream, cut out stencils, invent something new, experiment.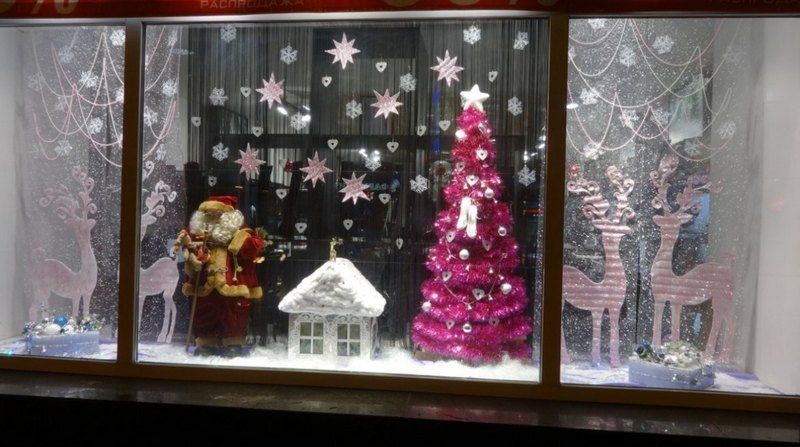 Christmas decor on the Windows of the house with foam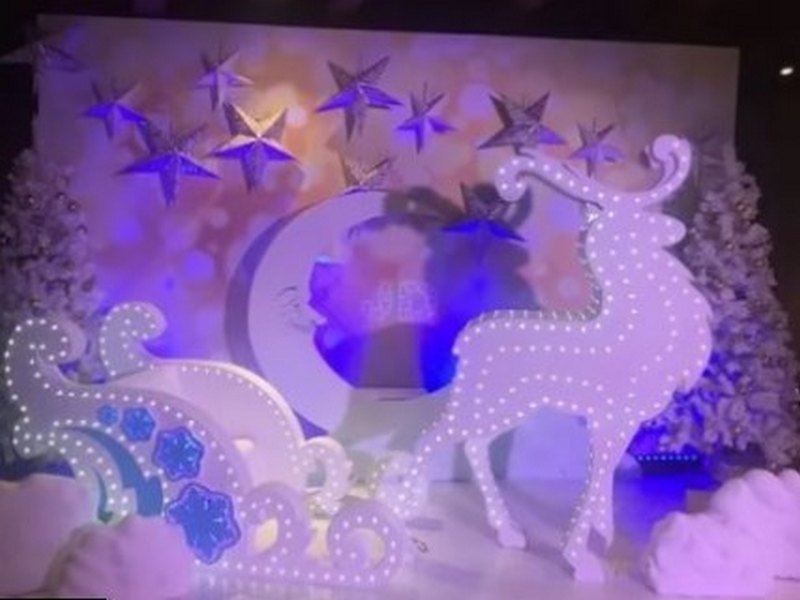 creative decoration for the new year the Sleigh of Santa Claus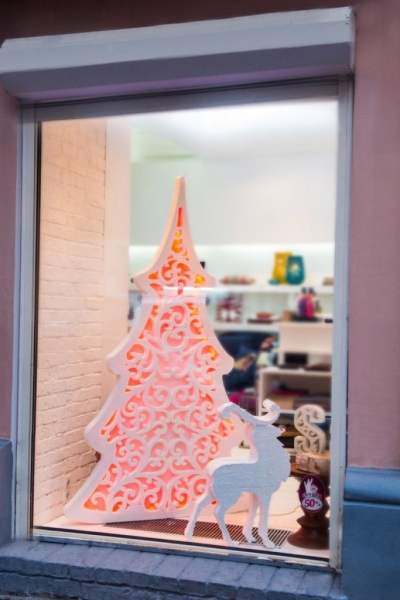 Christmas window decoration hollow tree with foam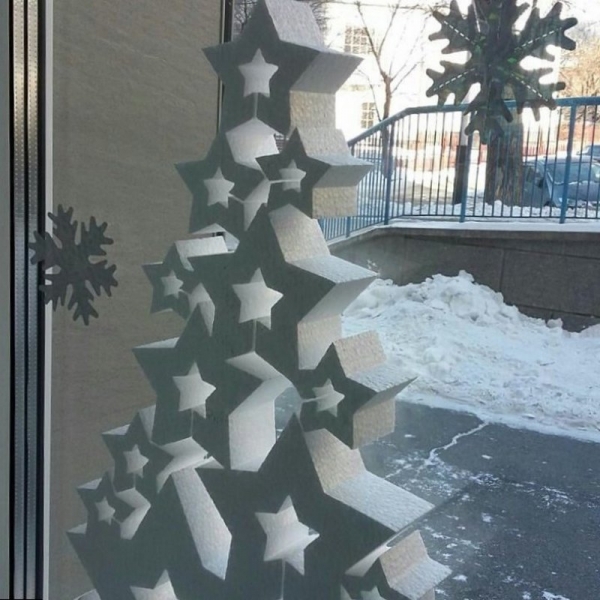 the scenery in the new year with their hands starry tree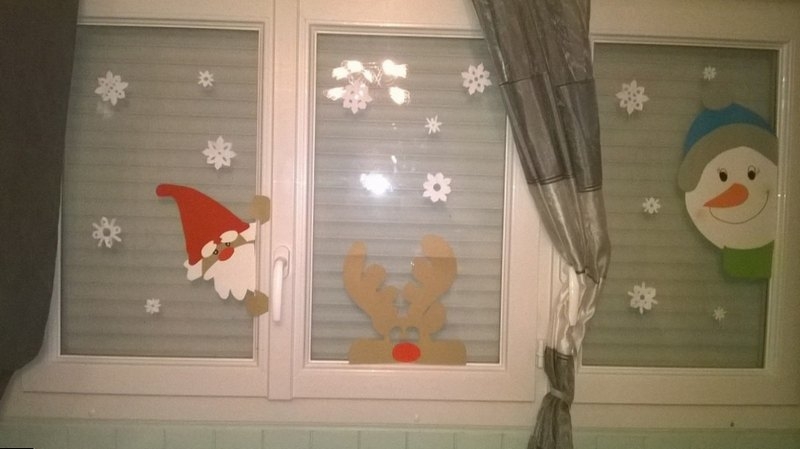 the scenery in the new year with their hands favorite characters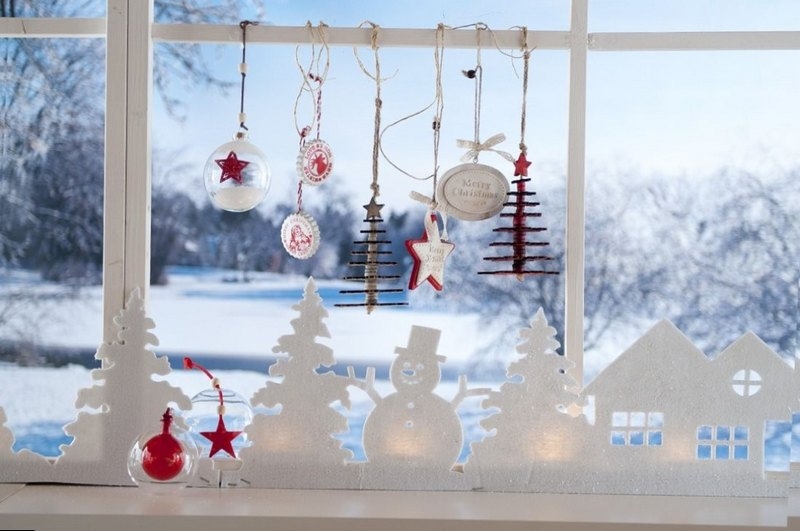 new year's installation on the window with foam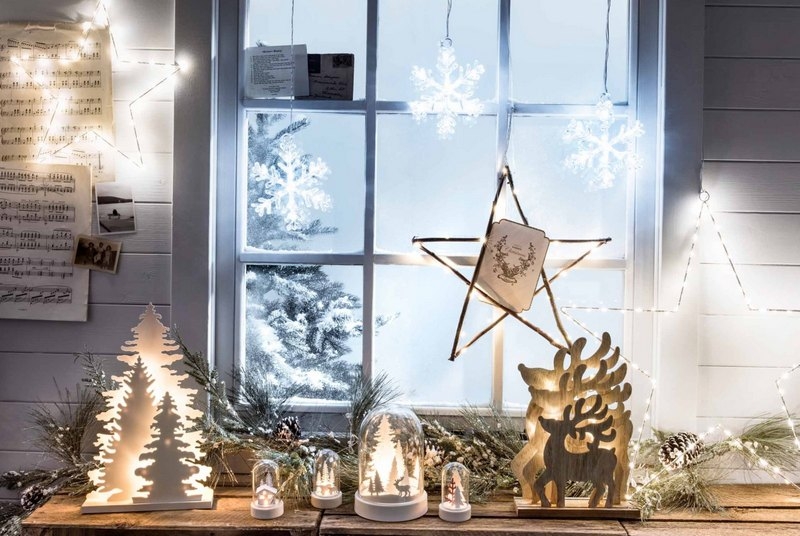 Christmas window design Forest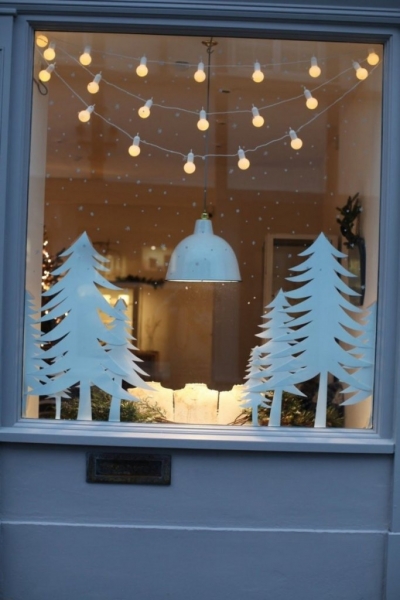 winter stained glass decorations for Windows with lights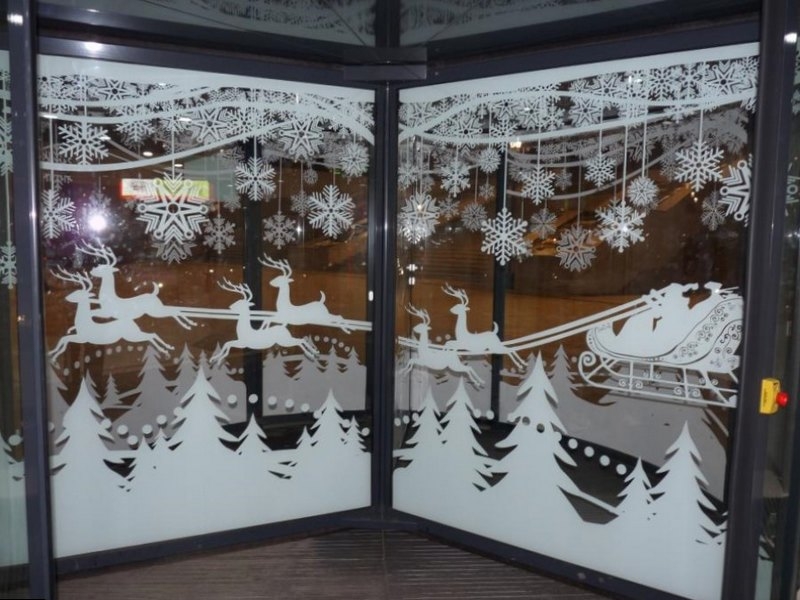 how to originally decorate the window in the new year with the help of the foam